This Week in AG History -- Nov. 22, 1964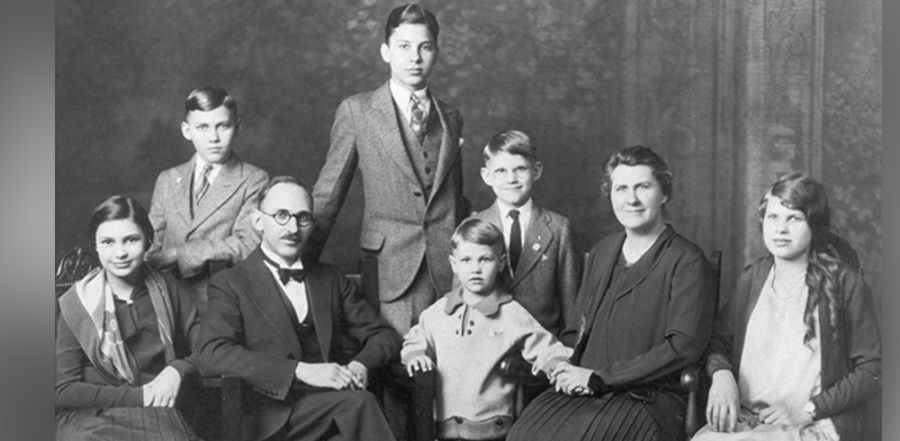 Don't miss any stories. Follow AG News!
Alice Reynolds Flower (1890-1991), affectionately known as "Mother Flower," was known far and wide for her godly example, her preaching and teaching, devoted prayer life, her writings, and pearls of wisdom. She also was very thankful to God for His many blessings in her life.
She was thankful for healing. Her mother experienced a dramatic healing in 1883 (which was seven years before Alice was born). Mary Reynolds was an invalid, suffering for seven years from incurable diseases brought on by a nervous collapse. Mrs. Reynolds had ulcers in her throat and lungs, and eating caused great pain. She visited prominent doctors across the country, seeking relief from her chronic pain, but the medical profession seemed incapable of helping her.
After years of suffering, Mary Reynolds' thoughts turned to God. A question formed in her mind:
Why don't you take your case to the Lord in prayer?
A friend suggested that a Quaker evangelist, R. H. Ramsey, could come and pray for her, and he did.
"When Mr. Ramsey anointed me," said Mrs. Reynolds, "I urged that he not only pray for me bodily, but my spiritual welfare also." The next day she was overjoyed when she realized that she had been healed — both body and soul. This was such an astounding miracle that the editor of the
Indianapolis Journal
(who was a friend of the family), wrote an article entitled, "Another Cure By Faith," which was published on the front page of the paper. Other newspapers also reported on her healing. Mary's healing served as a visible reminder that God is real and that He continues to provide for His people. She gladly shared her testimony of healing for the rest of her life, and this had a profound influence on her daughter, Alice.
In later years, Alice herself, while in her early teens, was near death with double pneumonia. After much prayer, her mother knelt by her sick bed and said, "My dear, the Bible conditions have been met — use what breath you have left to praise God." Between gasps, Alice followed her mother's advice, and her condition changed within the hour. "My recovery was phenomenal — a real miracle," recalled Alice. She was back in school within a couple of days.
Alice Reynolds Flower was thankful for salvation and for the baptism in the Holy Spirit. As a young girl of 16, she attended a meeting conducted by Rev. Tom Hezmalhalch in Indianapolis on Easter Sunday of 1907. She had been seeking the baptism in the Holy Spirit, and at the meeting she prayed: "Lord, please give me this baptism of the Holy Spirit. I believe You to do it just now and I thank You for it in Jesus' name." That was her simple prayer of faith. Then she lifted her hands and boldly declared, "I thank You, Lord, for the baptism of the Holy Spirit." Soon she felt the physical manifestation of God's power and sank to the floor and began speaking in tongues.
"Wave after wave of glory swept over me," said Alice, "until there seemed to be a shining path reaching from my opened heart right into the presence of God."
Mother Flower was thankful for her family. She dedicated one of her books of poetry,
From Under the Threshold
, to her six boys and girls — "whose care and training has been my greatest school and richest joy in life." The first poem is called "My Blossoms Six." The first stanza follows:
Rich are the lessons that you have brought
Since first one by one you came,
Lessons of patience, tenderness, trust,
As daily we played life's game.
I gave to you the best I could
And you gave your best to me
But oh how little you each one guessed
How rich would those lessons be.
She raised six children, one of whom died while preparing for the mission field as a student at Central Bible College. Her other five children all became ordained ministers with the Assemblies of God and served Christ with distinction.
Alice Reynolds Flower was the wife of J. Roswell Flower, the first general secretary of the Assemblies of God (elected at Hot Springs, Arkansas, in April 1914). She also was an ordained minister herself, preaching for revivals and other special events. She and her husband started what became known as the
Pentecostal Evangel
. The Flowers also helped to found what today is the University of Valley Forge in Phoenixville, Pennsylvania. Alice also taught Sunday School and led a weekly prayer meeting at Central Assembly of God in Springfield, Missouri, for over 60 years.
Her anointed writings included many tracts and poems as well as a few books, including
The Home — A Divine Sanctuary, Building Her House Well,
and
Grace for Grace
. She emphasized holiness and godly Christian living.
She liked to write about thankfulness. Three of her poems are "Thanksgiving Grace," "Thanksgiving Hymn," and "Thanksgiving Praise." In "Thanksgiving Praise" she answered these questions: Whom shall I praise?, How shall I praise?, When shall I praise?, For what shall I praise?, and How long shall I praise? In the poem she recounted "countless days of His rich mercies" which followed her all the days of her life.
Fifty-five years ago, Mother Flower wrote a piece on thankfulness for the
Pentecostal Evangel
called, "Rejoice in the Lord Alway!" She emphasized that for those "who rejoice in the love of a faithful Heavenly Father and His wonderful redemption, thanksgiving is far more than a seasonal occasion." She emphasized that one needs to be thankful even in the midst of hardship and even when answers to prayer seem slow. Alice reminded her audience that "He told us to lift up our head and rejoice for our redemption draweth nigh." She closed out the article with these words of wisdom: "Whoever you are, wherever you live, whatever your circumstances, may your life in its every expression be a song of praise unto Him this blessed Thanksgiving season."
Read Mother Flower's article, "Rejoice in the Lord Alway!" on pages 5 and 6 of the
Nov. 22, 1964, issue
of the
Pentecostal Evangel.
Also featured in this issue:
• "Thank God and Take Courage," by Elva J. Hoover
• "Women of the Harvest," by Ann Ahlf
• "We Are Thankful," by Mildred Pitts
And many more!
Click here to read this issue now
.
For the poem, "Thanksgiving Praise,"
click here
.
Pentecostal Evangel
archived editions are courtesy of the
Flower Pentecostal Heritage Center
.