A Balm in Sherman Park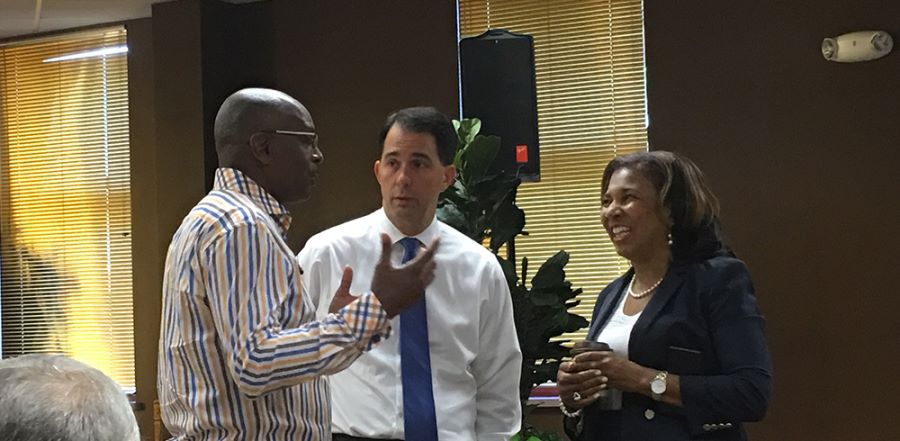 Don't miss any stories. Follow AG News!
A large Assemblies of God church is taking the initiative to facilitate community dialogue in the wake of unrest in the Sherman Park section of north Milwaukee.
The fatal shooting of a black man by a police officer Saturday and subsequent burning of a trio of neighborhood businesses all occurred within three blocks of Parklawn Assembly of God, pastored by Walter Harvey, vice president of the AG's National Black Fellowship.
While various shootings in urban areas in recent months have involved white police officers firing upon unarmed black men, Milwaukee police say the Aug. 13 incident involved a 24-year-old African-American officer shooting a black man, 23-year-old Sylville Smith, who fled while carrying a handgun. The angst over the shooting isn't lessened by the circumstances, Harvey says.
Police tactical teams subsequently commandeered the Parklawn AG parking lot as a strategic command site in an attempt to reduce rioting. Harvey indicated that while the Parklawn pastoral staff views law enforcement as beneficial for establishing peace in accordance with Romans 13, the church decided today to no longer permit police to establish a beachhead on site. Because of the volatility of the situation, Harvey says the church — where he has been senior pastor since 1993 — doesn't want to be perceived as sanctioning the killing.
Over the weekend, protests turned violent, with demonstrators burning down a gas station, auto parts store, and beauty supply shop. Eleven police officers were injured in skirmishes.
After Sunday services, staff and members of the church went to help clean up the debris from the rioting and to talk to frustrated residents.
Starting Sunday evening, church staff and members have been outside the church praying and engaging in peaceful, thoughtful dialogue with distraught local residents. That will continue every night at least the rest of the week, Harvey says.
"We've made our church a sort of spiritual command center," Harvey says. "We want to rally pastors and congregations to a place of unity. It's a multiethnic, multiracial, interdenominational, and intergenerational move."
The Christians are present to listen to the grief and pain of the loss of relatives and friends of the deceased young man, Harvey says. A feeling of hopelessness pervades much of the city — one of the most segregated in the nation — because of high unemployment and poverty rates, lack of jobs, and high incarceration rates. A recent study noted that Wisconsin had the highest black male imprisonment rate in the U.S.
"These are all ingredients of a baked cake that doesn't taste so good," Harvey says. "We're trying to rewrite the narrative and add some new ingredients."
Harvey was among 40 pastors to meet in Sherman Park this morning with Gov. Scott Walker.
"Black youth and young adults feel unheard and lost," Harvey says. "They feel disrespected and disenfranchised, which is the cry in many inner cities of America. That this violence and brokenness could take place in Sherman Park, which is one of the most racially diverse and strongest neighborhoods, is indicative of the powder keg our nation is sitting on."
Friday night, Parklawn AG, which has an average Sunday morning attendance of 1,000, will host an outdoor barbecue and basketball event for youth and young adults. Inside, local politicians, business leaders, and clergy will listen to the anguish of young people.
Starting Aug. 22 and continuing every Monday thereafter, community leaders, elected officials, pastors, and police will meet at Parklawn AG to strategize long-term solutions to improve the quality of life of city residents.
"We have to dialogue and seek resolution to problems that will strengthen family structure," Harvey says.
Pictured: Walter Harvey (left) and African-American Chamber of Commerce President Eve Hall (right) were among those who met with Wisconsin Governor Scott Walker on Aug. 16 in Sherman Park.