Appealing to Broader Masses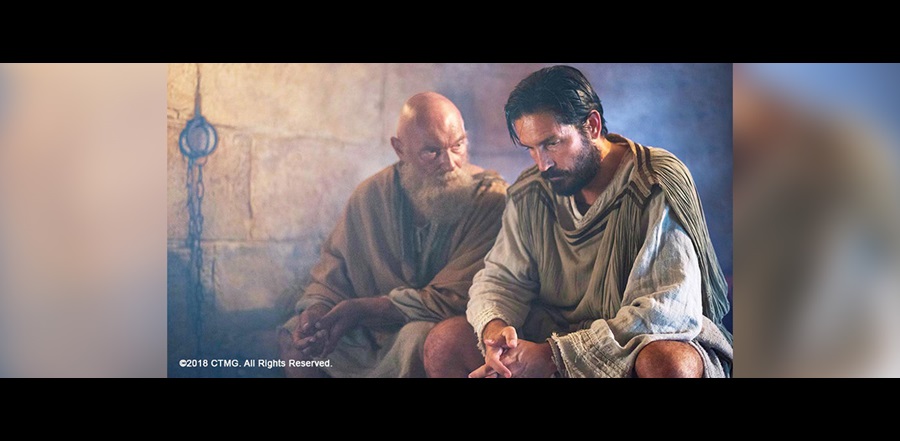 Don't miss any stories. Follow AG News!
A trio of faith-based movies that came out just before Easter garnered mixed results at the box office. However, it is clear that Christian filmmakers can extend their influence by producing a message designed to do more than preach to the choir.
I Can Only Imagine became a surprise hit this spring, climbing to sixth place on the all-time box office take for a Christian movie, with more than $81 million in domestic receipts. The motion picture tells how the death of the father of Bart Millard inspired the MercyMe lead singer to write the top-selling Christian single of all time 17 years ago.
Paul, Apostle of Christ garnered over $17 million in ticket sales and received largely favorable reviews from critics. The movie's cast includes Jim Caviezel, who portrayed Jesus in 2004's The Passion of the Christ, the top-moneymaking Christian film in history. Paul, Apostle of Christ had limited appeal, though, because few outside the faith wanted to watch an Early Church leader's final days in prison before his martyrdom.

God's Not Dead: A Light in Darkness did poorly, drawing just $5.6 million, despite being booked in almost 1,700 theaters. It marked the third entry in a series in which the previous films performed much better. As with its predecessors, the latest God's Not Dead installment contains elements of how Christians who believe they are oppressed can triumph in the midst of a hostile secular culture.
"The narrative about Christians in America in movies like the God's Not Dead series has been far more interested in bolstering a certain sort of persecution complex than in encouraging its audience toward Christlike behavior," says Alissa M. Wilkinson, film critic for Vox and criticism and cultural theory professor at The King's College. "So-called Christian movies cater specifically to a demographic — conservative white evangelicals — that view themselves as more persecuted than any other group."
"I'm afraid some of these movies tend to portray the antagonists in a two-dimensional way," says Cameron A. Pace, film and television professor and Communications Department chair at Evangel University. "Situations are more complex than the straw-man scenario."
"Cinema reflects the culture it helps to create," says William D. Romanowski, author of the 2012 book Reforming Hollywood: How American Protestants Fought for Freedom at the Movies. "Evangelical Christians believe they are beleaguered and in a battle for the soul of America."
The theme of evangelicals standing up for rights in an ungodly environment has been imitated often in recent years. In 2014, the original God's Not Dead, shot on a budget under $2 million, grossed over $60 million. The film tells how a first-year college student responds to a professor's demands that he declare God doesn't exist.
Even if such movies don't become hits, the investment can be easily recouped. Regardless of whether nonchurchgoers attend, such films are certain to draw Christians who want to see their values reinforced.
"These films can be extremely profitable because they don't cost much money to make and they have a reliable audience," says Romanowski, 63.
"The glaring problem with most films marketed for the faith audience is that instead of challenge the imagination of their audience, they shut down imagination," says Wilkinson, 34.
Pace suggests a better way might be to follow the path Evangel University adopted in 2006 when launching its film program: the premise of students learning moviemaking while injecting their Christian values into secular stories.
"How can we still present truth in a story that doesn't have an obvious faith element?" asks Pace, 57. "You don't want a movie to play like a Sunday school lesson."
Romanowski, Faith & Communications chair at Calvin College, believes too many faith-based films suffer from being too obvious with the message. Because viewers want to have their basic spiritual beliefs clearly affirmed, presenting the gospel has become paramount to some evangelical filmmakers. Narrative consistency and character development sometimes become secondary.
"Popular art that endures has a way of showing us the truth without telling us the truth," says Romanowski, who is finishing a new publication for Baker Books tentatively titled Rated R for Religious: A Christian Take on American Movies and Culture.
Pace suggests a better way for moviemakers to make Scripture more engaging for a wider audience is to put people who aren't necessarily Bible figures into a biblically themed background. He notes that some of the biggest biblical epics of the 1950s merely used the Bible as a backdrop. For instance, The Robe attracted more than twice as large an audience as any other 1953 film. Ben Hur topped the box office in 1959 and won an unprecedented 11 Academy Awards.
These days, faith-based films aren't summer blockbusters; they tend to be released at Easter or Christmas. And next year will be no exception.
Assemblies of God pastor Samuel Rodriguez is executive producer on Breakthrough, a 20th Century Fox film to be released on Easter weekend 2019. The movie stars This Is Us actress Chrissy Metz as Joyce Smith, in a real-life account of an Assemblies of God laywoman whose son is resurrected. Topher Grace portrays AG pastor Jason Noble. The powerful story will feature a medically validated modern resurrection of someone who came back to life with no brain damage after being dead for an hour. Rodriguez sees parallels with the story of the prophet Elisha raising the Shunammite woman's son back to life (2 Kings 8.)
"There is a faith narrative undeniably embedded throughout," says Rodriguez, 47. "But we want to reach agnostic, atheist, nonbelievers, and nominal people."
In addition to the miracle, Rodriguez says the picture will contain subtle prolife threads of Smith enduring multiple miscarriages and adopting her son, John, from Guatemala.
Rodriguez, who is president of the National Hispanic Christian Leadership Conference, also just signed on to a Fox Searchlight movie project, tentatively called The Richard Montañez Story. That film depicts how an illiterate janitor rose to become the North American vice president of PepsiCo. Montañez devised Frito-Lay's best-selling snack.
"He attended a Bible study and became a born-again Christian," says Rodriguez. "He went from mopping floors to creating Flamin' Hot Cheetos."
Another reason faith-themed motion pictures need to find a broader audience is because of market realities. Many films can do poorly in the U.S., yet still turn a profit because of burgeoning overseas audiences. That isn't customarily the case for Christian movies, however. With limited access to communist or Muslim-dominated countries, the foreign proceeds frequently are nil.
IMAGE -
James Faulkner (left) as Paul and Jim Caviezel as Luke in
Paul, Apostle of Christ
.