Banking Commissioner Doubles as a Minister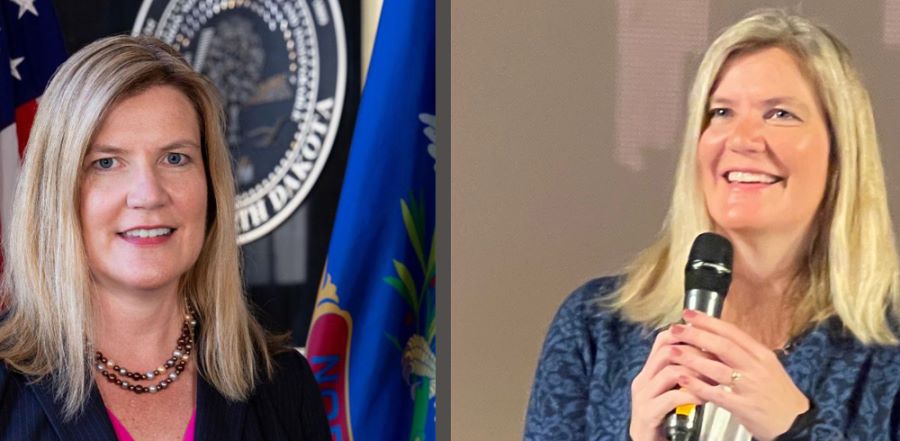 Don't miss any stories. Follow AG News!
Inger Lise Kruse obtained Assemblies of God ministerial credentials in 2012, as she anticipated devoting her full attention to helping her husband, Scott, launch a church plant in West Fargo, North Dakota.
Yet the Lord kept opening doors for Kruse to remain employed in her first profession: financial management. She remains bivocational, leading worship and occasionally preaching at
Rock Church
as a volunteer.
Today, her primary role is
commissioner
of the
North Dakota Department of Financial Institutions
. Appointed by Gov.
Doug Burgum
in 2017, Kruse as the department's commissioner oversees 63 banks, 20 credit unions, and 7,000 nondepository consumer licensees, covering everything from mortgage companies to money transmitters such as PayPal.
Her chief job is to ensure that financial institutions operate in a safe and sound manner, don't commit fraud, and don't fail.
It's an unlikely career path for the 47-year-old Kruse, who spent the first 18 years of life in her native Norway. Leaving her family of origin behind, Kruse says she felt called to attend college in the U.S. After securing an academic scholarship, she settled on Concordia College in Moorhead, Minnesota.
Although she planned on returning to Europe after graduating, Kruse met future husband Scott Kruse at First Assembly of God (now
Northview Church
) in Fargo, North Dakota. Scott served as youth pastor, Inger Lise sang in the choir. They married in 1997, a year after she graduated from college, and the couple remained in the area.
Inger Lise is a fourth generation Pentecostal, with her maternal ancestors converting under the revival ministry of Thomas Ball Barratt, who brought Pentecostalism to Norway in 1906. As a teenager at her small Assembly of God church in Elverum, Norway, Inger Lise led worship, taught children's church, and even preached sermons periodically. Although she contemplated becoming a missionary, Kruse says she didn't have the confidence for such an adventure.
But she did have skills in business, so she resolved to financially support missionaries with money she made in her career. Initially after graduating from Concordia, she found work for a life insurance company, then earning a master's degree in business and information technology from the University of Colorado in 2003.
When a state bank examiner job opened up in 2004, she started her career with the North Dakota Department of Financial Institutions. When the chief bank examiner post needed to be filled in 2011, Scott encouraged Inger Lise to try out for the post, even though she knew other more qualified and more experienced candidates existed. She applied, and secured the position, even convincing her superiors to allow her to work from her home in Fargo instead of moving to the capital Bismarck, a three-hour drive west.
Soon after, the Kruses received approval from the AG North Dakota Ministry Network to launch a church in West Fargo. Inger Lise expected to help in the ministry full time, but the Lord kept presenting financial vocational opportunities.
TOP BANKING POST
When the commissioner job became available, Scott again encouraged his wife to try for it. In 2017, Gov. Doug Burgum appointed Kruse as commissioner of the Department of Financial Institutions to fill an unexpired term, again with the proviso that she be allowed to live in Fargo. The state senate confirmed Kruse to the nonpartisan regulatory post and in 2019 to a four-year term of her own. She also is on the
executive board
of the Conference of State Bank Supervisors, which works with the U.S. Congress. Her specialty is focusing on issues to benefit rural American financial institutions.
"Banking law shouldn't get involved in party politics," says Kruse, whose Norwegian dialect is nondiscernable. "My views on anything besides finances are irrelevant."
When it comes to business matters, Kruse has earned a reputation for being tough, but fair. She tackles difficult issues, such as a addressing a
shortage of appraisers
in North Dakota, which ranks 47th among U.S. states in population, but 19th in square miles. Because home buyers had to wait an average of six weeks for a necessary loan appraisal to proceed, Kruse pushed a plan for the process to be completed without certified appraisers. Although she incurred the wrath of some appraisal organizations throughout the U.S., the measure passed the congressional appraisal subcommittee in Washington, D.C.
"It brought about needed dialogue on how to make appraisers do their job better, how to have service in a timely manner, and how we can recruit appraisers," Kruse says. "It was the right thing to do."
Kruse has testified repeatedly before the North Dakota House 14-member Industry, Banking, & Labor Committee.
"Inger Lise is always incredibly well prepared," says Rep.
Austen Schauer
, a member of the committee. "She makes everything, even complicated money and banking issues, easy for others to understand. She knows her stuff and delivers it well."
Schauer, who lives in West Fargo, commends Kruse for her professionalism, communication skills, sense of humor, cheerfulness, and high energy level.
"She has integrity backed by her actions," says Schauer, 64.
Although she still lives in West Fargo, Kruse must be in Bismarck for the four months the state legislature meets every other year. She seeks the Lord's help in her role, listening to Michael W. Smith's "Fight My Battles" and Hillsong's "I Surrender" before being called to testify before state or federal lawmakers.
"When I took this job, I knew integrity meant everything," Kruse says. "A bank regulator can't look the other way. As a Christian, I can't separate my faith from what I do for a living."
FAITH AT WORK
Assemblies of God evangelist Cal D. Thompson has known the Kruses since before they married. Scott served with him as an intern at Northview Church. The couple have been involved with Thompson on various evangelistic outreaches over the years.
"She's a very smart woman," says Thompson, who for the past three decades annually has led students from both North Dakota and Minnesota to the poorest and most violent neighborhoods in inner-city Chicago on
summer outreaches
. "She's had the favor of God in the roles she is playing in government."
Thompson, 65, calls Kruse an encourager who has a take-charge personality. He believes she is a visionary who uses a matter-of-fact approach to resolving difficulties.
"Her faith is one of her strengths," says Thompson, who added Minneapolis and three rural communities this year to his
Reach the Heart
ministry. "She has a real understanding of the world and the church world."
While she doesn't push her faith on anyone, Kruse does stress the significance of certain virtues.
"It's important to be kind and civil in all my dealings," Kruse says. That goes for establishing relationships at Rock Church as well. Rock Church is nontraditional in that it welcomes non-Christians who may not feel wanted in some other evangelical congregations: the homeless, the poor, the transgendered.
"We believe people can come to church and belong before they believe," Kruse says. "The Holy Spirit convicts people of sin; that's not our job. If people don't come into the presence of God in the first place, they won't have the opportunity to be confronted by the Holy Spirit."
The Kruses have a 12-year-old daughter, Elizabeth, who helps with setup at the movie theater where Rock Church meets, assists in children's church, and senses a calling to be a missionary to Africa. The family tries to travel to Norway on an annual basis to see relatives of Inger Lise, whose maiden name is Hammer.