Barna Group Survey Offers Key Insights on Bible Engagement and the AG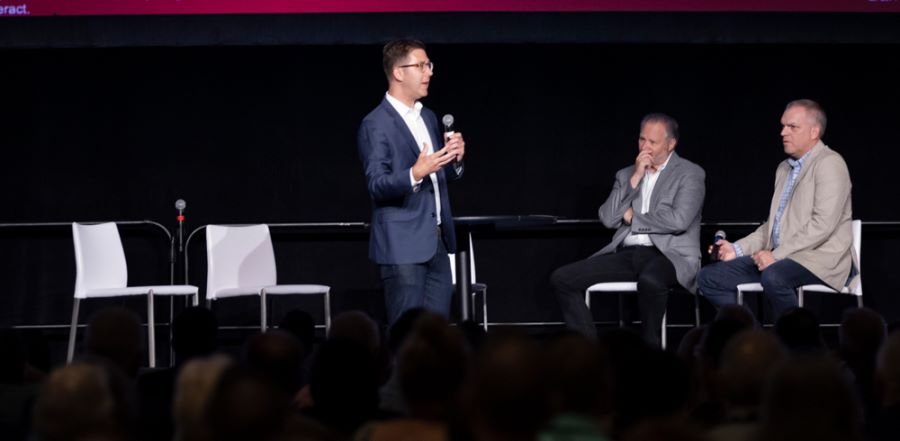 Don't miss any stories. Follow AG News!
During the Bible Engagement Project Banquet held Thursday evening at the Rosen Centre during the 2019 General Council in Orlando, the results of a
Barna Group
survey, commissioned by the Assemblies of God, concerning biblical engagement were presented and discussed. The survey was sent to 7,500 AG pastors for individual personal responses and inclusion of the members of their churches.
Following is an
AG News
Q&A with the three AG leaders who worked with the Barna Group to create the survey and have had the opportunity to thoroughly review its findings. Leaders include: Rick DuBose, AG general treasurer; Jon Catron, senior director of the Bible Engagement Project; and Ryan Horn, director of advancement for the Bible Engagement Project.
AG News: Was there a particular survey response/statistic that surprised you in a positive way?
Rick DuBose:
I'm not sure if it surprised me, but there is a definite correlation in the level of Bible engagement of a person and the baptism of the Holy Spirit. Results show that the more Bible-engaged a person is, the more likely they are to have experienced the baptism in the Holy Spirit with the evidence of speaking in tongues.
It is also very obvious that higher levels of Bible engagement leads to a greater display of the gifts of the Spirit in an individual's life, and there is a large appetite for resources surrounding Bible study from our AG people — larger than those in other denominations.
Jon Catron:
On the positive side, we are glad to see that the AG participants were more likely to actually apply the Bible to their lifestyle.
Ryan Horn:
It was encouraging to find out that the AG views the Bible specifically as God's Word more than any other practicing Christian group. This is good news because understanding that the Bible is God's Word is strongly correlated to how much value someone attributes to the Bible.
AG News: Was there a particular survey response/statistic that really concerned you?
Horn:
For me, it was concerning to see where AG pastors rank the importance of Bible study in their church compared to other activities. The AG ranks Bible study as less important than other practicing Christian groups. If we understand more than any other group that the Bible is more than a collection of stories or books, but rather the living Word of God, we must place a greater emphasis on the reading and studying it.
DuBose:
Our churches do not value Bible study as high as other churches comparatively and based upon the assessment of the pastor. We also have a lower percentage of pastors that preach expository messages when compared to other churches.
Catron:
It was very concerning to see how low the Church, AG and non-AG, rated the importance of evangelism.
AG News: For ministers, what do you see as an important takeaway [from the survey]?
Catron:
I believe the takeaway for ministers is the powerful impact Bible engagement has on church participants and culture.
Horn:
There is serious work that needs to be done regarding Bible engagement. Don't be discouraged, but rather use this information to begin shaping the culture of your church to one that fully understands the value of strong Bible engagement and begin making small changes to create an atmosphere where engaging Scripture is commonplace.

DuBose:
Our church members have a hunger for a focus on Bible study and a need for resources to help in that journey, but on the whole, we as leaders have been less likely to offer and focus on those tools when compared to non-AG churches. The statistics show clearly that Bible engagement changes the way people view the world and live in the world. With this in mind, we must return to a focus on a systematic approach to Bible study in our churches.
AG News: As a result of this survey, have any decisions already been made for moving forward?

Catron:
We are restructuring our teams and redesigning our systems as we develop a process that will empower our pastors to help their people engage, understand, and apply the Bible in everyday life. We are also working with
Faithlife
, who is helping us develop a digital delivery system, and American Bible Society, to help us accurately address the need. We have hired outside, Spirit-filled, Pentecostal curriculum writers to develop lessons that align with an all-inclusive process. It will start with an overview of the Bible as one book, one story. The second phase will focus on the reoccurring themes found in multiple books of the Bible. And will ultimately empower the local church to continue to feed the ongoing, growing, practicing Christian.
DuBose:
The AG is committed to stewarding the conversation within the church as it relates to Bible engagement. We feel like God is directing us to recalibrate our efforts and ministries to be singular focused on Bible engagement. All ministries and resources will flow from that vision.
We recognize the first step to a renewed passion for Bible engagement at the local church level starts with the pastor. We are partnering together with Faithlife (makers of Logos Bible study software) to develop a new delivery platform for the Bible Engagement Project that includes Logos for the pastor and leaders of the church. This platform will also deliver a newly designed small group curriculum to give people a foundation of the story of Scripture in a new and fresh way. It will accomplish this with synchronization across all age levels and empower the family and church to partner together. We also are currently focusing all of our ministries/efforts of the national office around the idea of Bible engagement. God's Word never changes and it is STILL living and active.
Horn:
The Bible Engagement Project is also putting together district experiences where we will come to districts to train and equip leaders to create a culture of Bible engagement at the local church.
AG News: Is there anything else you would like to share concerning this survey?
Horn:
Bible engagement is too important to not be a priority in the Church. Pastors may feel like they are alone in this struggle, but research shows the problem is systemic. Research shows that a great deal of Spiritual transformation is directly related to frequent encounters with God's Word. The Bible Engagement Project is excited to not only lead this conversation, but to put tools into the hands of pastors and individuals to help them more effectively connect to God's Word and apply it to their lives.
Catron:
One takeaway from the survey was that being filled with the Spirit with evidence of speaking in tongues, without being Bible engaged, had very little impact on the transformation of the believer. When the Bible is added to the Spirit-filled Christian, transformation was evident.
DuBose:
Coupled with the input from our districts and churches, [this survey] is providing us with the foundation to know what tools and resources are needed. We want to make sure that we are actively pursuing those efforts that will help our pastors and churches increase Bible engagement in their churches and the world!
___
According to the 67-page Barna Group report, the purpose of the study was to measure the current landscape of biblical literacy and engagement among Christians and more specifically the Assemblies of God denomination and to identify a path to greater competency. The goal is to inspire pastors and church leaders to feel an urgency that preaching alone may not sufficiently engage people with the Word.
Within the report, there were three "benchmark" groups of Christians whose results were recorded: practicing Christians, Spirit-empowered practicing Christians, and non-mainline practicing Christians, with the comparison group being AG churchgoers (recruited by AG pastors and AG office).

To view the full Barna Group survey results, click here.