Bittersweet New Beginning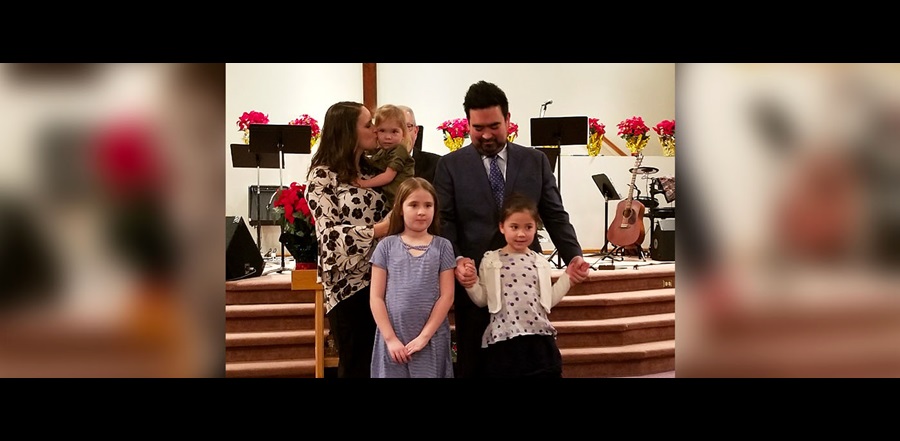 Don't miss any stories. Follow AG News!
David Hertweck's emotions ran the gamut of celebration to sadness during his installation as lead pastor of Trinity Assembly of God in Clay, New York, on Dec. 10, 2017. His heart was heavy, because he hoped that his father Thomas J. Hertweck, Trinity's founding pastor who died 10 months earlier from stage 4 pancreatic cancer, could be beside him. There were few dry eyes among the congregants and visitors.
Hertweck's mother, Eunhee, a native of South Korea, who served as co-senior pastor since 1999, stood by acknowledging God's will in her son's new role. During the installation service, she reminded David of a prophetic word spoken over his life more than 20 years earlier: "Every single thing you have ever learned, I (God) will turn to good use."
It's a return engagement for Hertweck, who served as Trinity youth pastor for 12 years before being appointed director of youth ministry and Chi Alpha for the New York Ministry Network in 2011, a post he will relinquish at the end of this month.
A frequent speaker at leadership and youth ministry conferences, Hertweck has written three books, Good Kids, Big Events & Matching T-Shirts, The Word and the Spirit, and Better Talks.
Besides the death of his father a year ago, Hertweck's younger brother Joshua died in October 2017.
"But in the midst of the pain God has provided such tremendous clarity in this season of life," Hertweck says. "From this I want to build on the disciple-making environment that my father and mother began."
Planted by Hertweck's parents in 1986, Trinity first met in the New York Ministry Network's office building in Liverpool with 25 congregants. Today the church has more than 200 regular attendees and meets on a 22-acre campus in Clay, a growing suburb north of Syracuse.
Hertweck never felt left behind as a pastor's kid.
"I had a great relationship with my parents, and at a young age I sensed God's call to serve Him through the local church," he says. "The kingdom of God is not a ladder that you climb."
Equipping young people to discern truth has been the bedrock of his ministry. As Trinity's youth pastor, Hertweck led teenagers and young people in local ministries, Fine Arts Festivals sponsored by AG Youth Ministries, and mission trips to Ecuador, the Dominican Republic, Northern Ireland, and England. He served as chaplain of the Liverpool High School football team, leading pregame prayers.
Hertweck feels honored to follow in his father's footsteps. He and his wife, Erin, have three daughters, Lilia, Caraline, and Madelaine.
"I want people to know Jesus and our vision as a church is to see gospel transformation in every area of our lives and in every life in our area," Hertweck says.