Camp GC Ready to Bless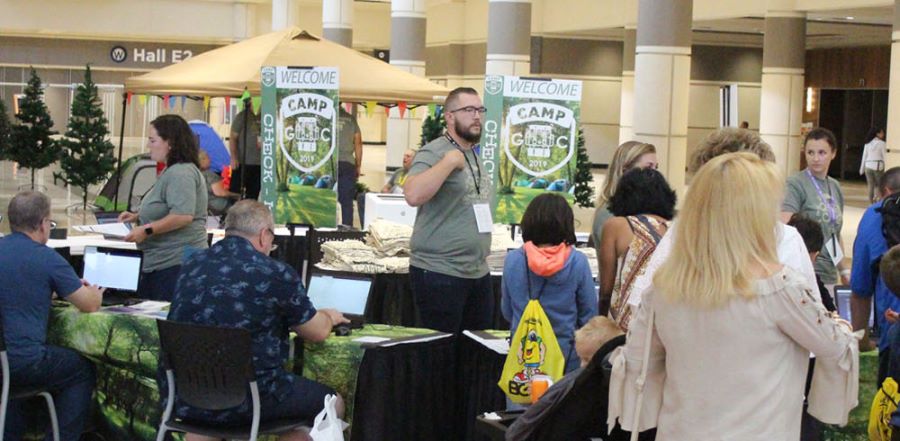 Don't miss any stories. Follow AG News!
ORLANDO -- For the 630 kids registered for the sold-out Camp GC at the 58th General Council this week being held at the Orange County Convention Center, scores of volunteers are ready and waiting — prepared to make the event a memorable one for campers.

"We're excited about investing in pastors' kids, missionary kids, and deacons' kids," says Patti Chapman, Camp GC director for the past four General Councils. "We want all these kids to walk away with a deeper knowledge of God and sure of who God is in their lives — He's not just their parents' God, but their God and they can do greater things because of that."

Terra Wouters, who is children's pastor with her husband, Andrew, at Verdigris (Oklahoma) AG, agrees.

"I want this place to feel special for them," Wouters says. "This is a time we get to pour into them and minister to them."
Chapman, who has more than 40 years of children's ministry experience, says her Camp GC ministry team of nearly 70 volunteers is mostly made up of children's pastors from all over the nation who wanted to invest in this special group of kids.

This year's theme for Camp GC is "Quest Camp," and one of the ongoing adventures throughout the week is joining with Sam the Sasquatch Hunter in potentially finding Sasquatch (Bigfoot). "Let's just say I think that the kids will be better than Sam is in finding him," Chapman says with a laugh.

In preparing for Quest Camp, Chapman and her crew have more than 75 tents and 50 (undecorated) Christmas trees set up in the spaciousness of Halls E/F. They also have 9,000 buttons and 4,000 stickers to distribute.

"For the older kids, we will be doing button trading," Chapman explains. "Each camper receives a starter pack and then every event they participate in, they receive a button, which they can keep or trade." For the younger children, they will be collecting stickers.

Each day, preschool and elementary kids will have scheduled play times and experience a kids ministry service, where songs, a special Bible-themed message, and games combine for a memorable experience. They will also have age-appropriate activity rotations to enjoy.

Rachel Pilcher, children's pastor at Victory Life Church in Fruita, Colorado, says she grew up attending Kids Council, later renamed Camp GC.

"I was a PK and I remember coming [to Camp GC]," Pilcher says. "I am still friends with kids from camps that I met 15, 20 years ago. I want PKs and MKs to have blast and feel that while they're here that they're the only people that matter and they're our special guests."

On Thursday evening, Buddy's Birthday Party, a separate-ticket event, is going to be held at Camp GC from 9-11:59 p.m. for kids ages 5-12.

"We're celebrating Buddy Barrel's 70th birthday," Chapman says. "Each child attending will receive a gift bag filled with Buddy goodies, we'll be making Buddy cookies, popcorn, and have illusionist David Laflin performing. We'll also have a lot of carnival games, inflatables, and lots of other stuff to do." Chapman says there are still a few available tickets ($45) available and can be purchased at the Camp GC entrance in Halls E/F.

There are several groups for kids at Camp GC, including: Adventure 512 for kids ages 5-12, Camp 34 for kids ages 3 and 4, and Adventure Zone for kids ages 5-12 with special needs. The area also offers Adventure Club for kids 0-5 not enrolled in Camp GC, but need a place to stay (a parent/guardian must remain with their child). All volunteers have a background check on file and have been personally recommended by their pastors.