Church Planting Takes to Social Media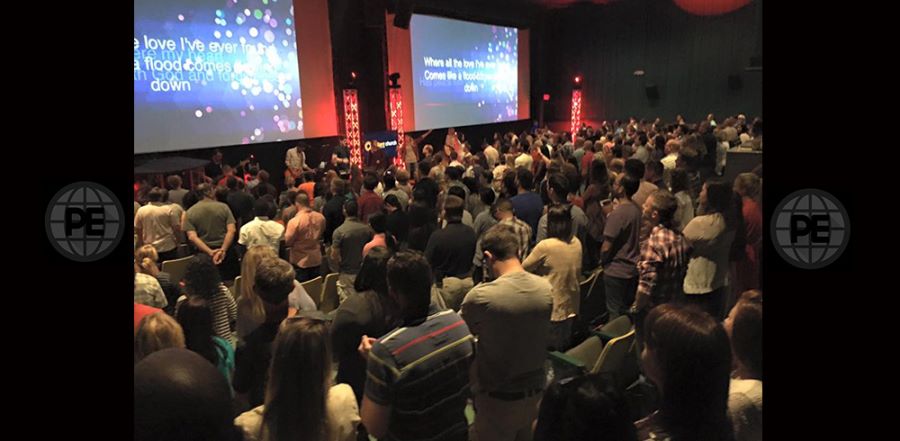 Don't miss any stories. Follow AG News!
While real estate salesman Chad Daniel only started using Facebook because his broker insisted, that connection wound up leading him to faith in Christ and the Florida church he calls his 24/7 community.
A native of Albany, Georgia, Daniel initially noticed a welcome video on Facebook for Radiant Church in South Tampa when back home visiting. Everything about the images caught his attention: the demeanor of Pastor Aaron R. Burke and wife, Katie; the lively worship band; friendly faces.
"This was unlike any church I had ever seen," says Daniel. "When I walked in the doors for the first time I thought, Wow, the same energy I saw in that video is here."
This story is repeated multiple times at Radiant, started by Burke and a core group of 17 people less than three years ago.
Aaron, former youth pastor at Brownsville Assembly of God in Pensacola, Florida, and Katie felt God leading them to start a new work in Tampa when they read a newspaper story indicating nearly two-thirds of residents didn't attend church.
In 2012, Burke met with various pastors and asked where they would suggest the couple start a new work. One called South Tampa the "graveyard" of church plants, backed by a demographic study showing 87 percent of those in that area had no church affiliation.
"We had a desire to start a church for unreached people in an area not saturated with churches," Aaron says.
In 2013, the Burkes gathered supporters in a hotel, encouraging them to use social media to recruit others interested in joining a "life-giving and dynamic church."
That outreach helped expand the core group to 45. The newcomers also jumped on Facebook and Twitter to reach the area's upper-middle-class movers and shakers, plus personnel from MacDill Air Force Base a couple miles away.
At the launch service that September, 348 people showed up. Lately, the church is averaging 980 worshippers at three Sunday morning services in a renovated movie theater. Last October, Radiant recorded its 1,000th conversion.
It isn't just social media outreach that marks the church as nontraditional. Radiant intentionally searched for space in a commercial setting, which led them to the onetime discount theater.
Gradually, the congregation outgrew that facility and moved to a more modern multiplex. Still, the new home only held 200 — until Burke had a vision for tearing down a wall to double the theater's capacity.
"We raised about $50,000 in one day to cover construction costs and got approval from the city," Burke says. "Now we have a beautiful auditorium to use. What people said was impossible God made happen."
Radiant became one of the first churches to implement social networking as a means of attracting newcomers, according to Chris Railey, director of the Church Multiplication Network, which offered $30,000 through its Matching Fund to help launch Radiant, monies since "paid forward."
However, Railey says other congregations are employing a similar strategy, with social media a major tool nationwide for starting new congregations and creating community awareness. Among others using this method effectively are Michael Santiago of Focus Church near Raleigh, North Carolina, Caleb Cole of Project Church in Sacramento, California, and Warren G. Curry Jr. of Life Changers Church International in Fairfield, Ohio.
"We get a greater platform or audience for our own work with quick-hit Internet platforms or Twitter," Railey says. "Social media allows for the message to be multiplied to a much wider audience."
Burke says pastors are fooling themselves if they think the public is going to search for them by traditional means. While seekers used to look for churches with huge buildings and stained glass, today they want to know about its online presence, the pastor says.
"People are online looking for hope," Burke says. "They're looking for someone who can connect with them. There's a purpose for social media and that's to reach people."
Still, once they come, a church must offer community, Daniel says. He found that at Radiant. After his baptism last April, he became usher coordinator and a men's group leader. He also met his fiancée, Erin Lapp, there after she found Radiant via a Google search.
Doing life together means several men showing up at the hospital after a group member suffered chest pains. After a member's sister died, 15 people came to the airport to see her off before she flew to the funeral.
"All of that takes place outside the church," Daniel says. "It's real community, not surface stuff. Real friendships and true family."
A family that met online.