Eye-Opening Pentecostal Heritage Lesson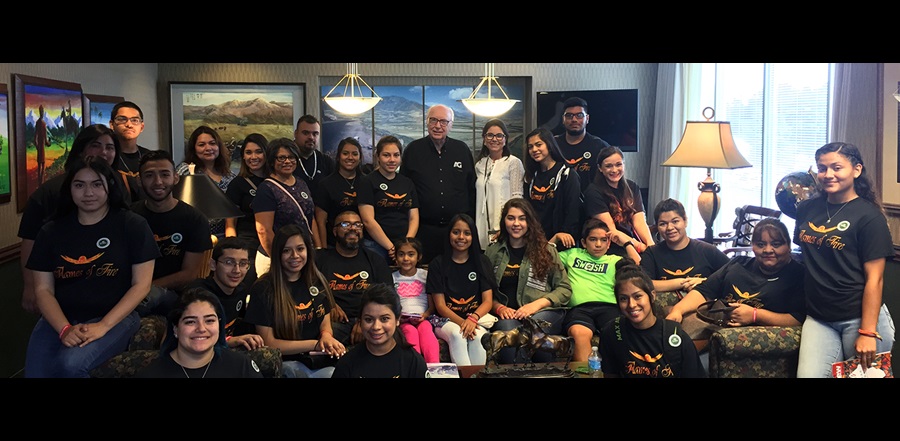 Don't miss any stories. Follow AG News!
On June 23, Maricela H. Hernandez, 48, director of Flames of Fire Bible School in Peñitas, Texas, was leading a classroom discussion about the founders of the Pentecostal faith. A textbook Global University uses, Assemblies of God History, Missions, and Governance, included the pioneers' biographies.
The lessons featured William J. Seymour, an African-American who endured societal racism, sought the Holy Spirit, and went in 1906 to Azusa Street in Los Angeles. Bethel Bible College founder Charles F. Parham, Seymour's teacher at the school in Topeka, Kansas, articulated key tenets of Pentecostal doctrine. Healing evangelist Maria Woodworth-Etter's style of ministry became a model for Pentecostalism.
Flames of Fire students undergo intensive classes to prepare themselves for ministry. But for Hernández , assistant pastor of Centro Cristiano Familiar in Peñitas, nothing could take the place of actually visiting the National Leadership and Resource Center of the Assemblies of God in Springfield, Missouri. Eight years ago, she had toured the national office and inspiring exhibits at the Flower Pentecostal Heritage Center that trace the origins of the Fellowship. As she taught the lesson, she found herself referring to her experience over and over.
"Every Bible student needs to make the trip," emphasized Hernández, who is also secretary-treasurer of the Texas Gulf Hispanic District. She told them she had waited 40 years before she made the trek to Springfield. She urged them to go sooner.
Many Flames of Fire students never have ventured beyond the Rio Grande Valley of Texas, let alone traveled out of state. Then the Holy Spirit gave her an idea: Why not now?
Right there in class, Hernández phoned Chuck Jones, the missions director at a supporting church, First Assembly of God in Humble, Texas, and explained her "crazy idea." The big expense in transporting 27 students to Springfield would be renting large passenger vans. She asked Jones whether the ministry could finance the rental. She placed another call to a retired pastor friend in Springfield, who connected her to a church with a big kitchen where the students could spend three nights. Within short order, logistics fell into place.
That same Friday afternoon, she told her students they would leave the following Friday for Missouri.
Two Hispanic churches in Springfield welcomed the Flames of Fire students to minister. The students also visited Maranatha Village, an AG retirement community, to receive prayer from retired pastors in residence. At the national offices, students visited the office of Greg Mundis, executive director of Assemblies of God World Missions, and students posed for a picture around a table made with woods from different countries.
A serendipitous encounter involved meeting General Superintendent George O. Wood, who had an unexpected opening in his schedule. Wood spoke to the students for 40 minutes about obedience to their calling. In addition, the general superintendent talked to them about the AG's five core values , which include investing in the next generation.
"He said that's exactly what we're doing, investing in this next generation, raising ministers," Hernández recalls.
The whirlwind out-and-back trip already has yielded fruit.
"It's more alive in their minds," Hernández says. "They have a picture. They know they belong to something greater."
Hernández shared with the students about her own pastor from childhood who didn't finish elementary school. When Hernández was 14, that pastor allowed her to preach her first sermon.
"In a sense, he placed me on his shoulders," she told them. "I want you to climb on my shoulders so you will be able to see way beyond."
Hernández recommends that other church leaders bring young people to tour the national office, trusting the Lord will make a way.
"If we don't teach it, if we don't get excited about our heritage, how will they know our history?" she asks.
Jessica Enciso, 19, came to Centro Cristiano Familiar in Peñitas last year with her Dardanelle, Arkansas, church, Centro Cristiano Hispano, to help with vacation Bible school. She ended up not only staying the whole summer, but also studying at Flames of Fire. This year she returned to study.
"Being able to go to the national office really opened my eyes to see the way the AG started," says Enciso, who after completing her studies at Flames of Fire hopes to go to Southwestern Assemblies of God University, become a pastor, and launch a large-scale preaching ministry to women. "For a whole school to get there takes a lot of faith and takes a lot of prayer. It impacts you as a minister."