Farmers to Families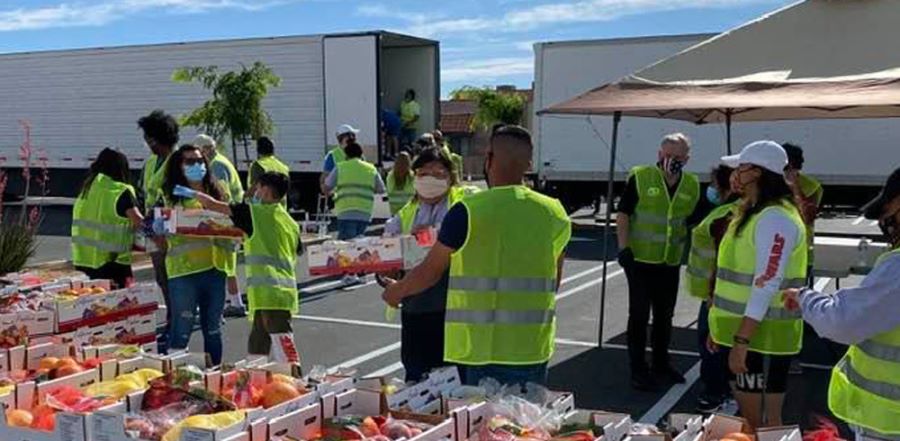 Don't miss any stories. Follow AG News!
In response to the COVID-19 pandemic, the United States Department of Agriculture (USDA) started the
Farmers to Families Food Box
program to support farmers, food processors, and needy families. A number of Assemblies of God churches and organizations have partnered with the program to bring food to what is being called "the last mile of need."
"When COVID-19 hit, farmers were plowing their product back into the ground because they couldn't sell it to restaurants, cruise ships, and so on," says Dave Donaldson, co-founder of
CityServe
and an unofficial liaison between the White House and the faith-based community for Farmers to Families. "It was the same with poultry. Great companies were cutting back their workforces and production."
Farmers to Families has helped keep growers in their fields and packing plants processing. The USDA buys produce, meat, and dairy products, then suppliers process and pack the supplies in boxes to donate to individual families via food banks, local churches, and other organizations. The money for the program came from the stimulus bill. Donaldson says the faith-based community was not included in the program until White House staff called him and
Wendell R. Vinson
, pastor of
Canyon Hills
, an AG congregation in Bakersfield, California, to listen to their ideas and invited them to participate.
"We shared that our chief concern was that the product would end up in warehouses and not get to the last mile of need," Donaldson says.
Donaldson, Vinson, and other Christian leaders were invited to work with the White House economic recovery office to coordinate efforts nationwide for Farmers to Families. The team created an informal logistical team comprised of organizations such as
Convoy of Hope
,
Adult & Teen Challenge
, World Vision, City of Destiny, Citygate Network (formerly Gospel Rescue Missions), various Dream Centers, and thousands of churches nationwide. Within weeks, fruit, vegetables, meat, and dairy products began being shipped in boxes to families around the country, via local churches. By the end of June, Donaldson says the faith-based collaboration will have distributed 1.7 million boxes to "vulnerable seniors, at-risk children, the homeless, and under-resourced families."
Rod M. Haro, 65, pastor of the
Worship Centre Church
, an AG congregation in Fowler, oversees seven churches, six of which are in rural areas around Fresno. For the past two years, he has partnered with CityServe, a
SoCal Network
ministry which has distributed $34.4 million worth of food, apparel, and household items
to families via churches
since April 2018. COVID-19 made those efforts even more critical, says Haro.
"The economy in our area got hit really hard because of the pandemic," Haro says. "People are looking for the essentials: food, diapers, formula. With CityServe, we had a bunch of that stuff, and now with Farmers to Families we have the food."
Worship Centre Church distributes its Farmers to Families food on Fridays at 10 a.m., and vehicles begin lining up by the hundreds before 7 a.m. Boxes go directly from pallets to vehicles.
The church also supplies around 15 other local congregations and nonprofits with pallets of food to distribute.
"We have a network here because of CityServe," Haro says. "We forklift the pallets into other pastors' trucks and they're good to go. These are ministries we know are going to evangelize and feed people."
Haro is amazed by the quality of the products.
"Sometimes donated food can be hit or miss," he says. "This is packaged produce and every box is prepackaged with potatoes, onions, apples, oranges. It's almost like it was picked the day before."
When Haro and his wife, Regina, take their nightly bike ride, people who don't belong to the church thank them for bringing food to places like the local senior center.
"The food is meeting a tremendous need in this area," Haro says. "It's bringing the church back to being a lighthouse with our compassion ministries. We are able to say, 'We really do love you. And we're going to show you in a very tangible way.'"
Stacy D. Lamb, 47, senior director of U.S. disaster services for Convoy of Hope, says Convoy already has distributed more than 300 truckloads of fresh USDA produce, dairy products, and meat through Farmers to Families — in excess of 10 million pounds of food — to both urban and rural partners.
"Every truckload goes out on a refrigerated trailer," Lamb says. "The recipient either has refrigeration or they do immediate distribution. They unload the truck and have cars literally lined up and waiting."
Convoy typically delivers food from its Springfield, Missouri, warehouse, but with Farmers to Families, the compassion ministry is connecting producers directly to churches and other points of distribution.
"It was amazing how fast from the time grants were awarded to how quickly the trucks started rolling," Lamb says. "Just a handful of days."
Donaldson says faith-based partners are playing a key role in the program.
"Regional government agencies and approved USDA suppliers repeatedly tell us they don't know what they would have done without the help of these faith-based partners," Donaldson says.
John E. Johnson
, assistant superintendent of the SoCal Network, says Farmers to Families is a game-changer.
"It's going to bring relief and provide food for the unemployed so they can use the money to pay bills," Johnson says. "We want churches to become compassion brokers for their communities."