Finding a New Way to Minister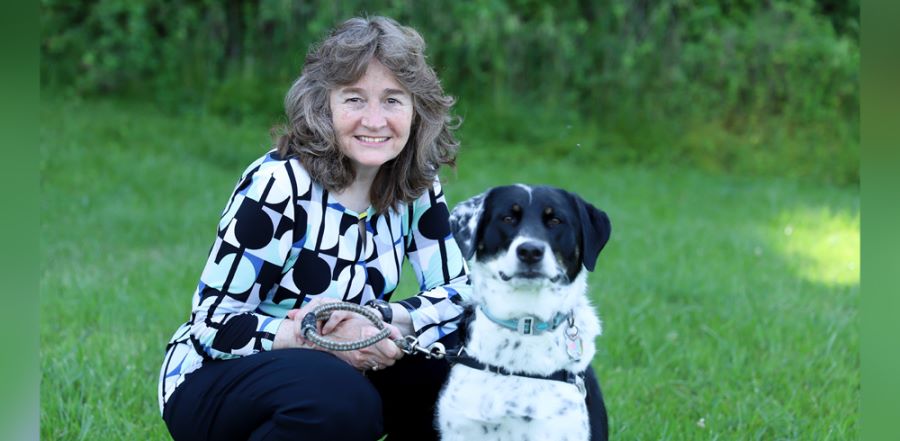 Don't miss any stories. Follow AG News!
The isolation created by the COVID-19 pandemic has been particularly difficult for older citizens in retirement communities. With the separation from family and friends outside their facility and the restrictions on connections even within their shared spaces, loneliness and boredom are prevalent. Belva Dickey is working hard to provide ministry and counseling at Westminster at Lake Ridge, a continuing care retirement community in Virginia, where she serves as chaplain for over 300 residents.

As a board-certified chaplain, Dickey has worked with Assemblies of God U.S. Missions Chaplaincy since 2001. A graduate of Evangel University and Assemblies of God Theological Seminary, she completed her clinical pastoral education at the University of Virginia Medical Center, where she served as resident chaplain from 2001 to 2003. For the next decade, she worked as director of chaplaincy at Culpeper Regional Hospital.

In 2016, Dickey joined the staff at Westminster at Lake Ridge. Until recently, in addition to her other duties, she held services in the memory care area and in the chapel at Westminster. Because of continuing stay-at-home orders at the facility, she has provided ministry in other ways. Residents specifically have missed human connection, and she has helped by serving meals with the dietary team.

"I write my sermons out and provide the residents with a copy of it when we deliver meals on Sunday," says Dickey. "The residents read these sermons and they are sending them to relatives and friends. I try to point the residents toward God and His love and compassion. I encourage them to trust the Lord to get us through all of this."

Because of the availability of the printed sermons, numerous conversations have ensued about a true relationship with God. Dickey is finding many residents are hungry to know God in a more personal way. They also miss the fellowship of being together, singing hymns, and listening to the Word.

"I know the residents more because I have spent time delivering the meals," says Dickey. Daily meal deliveries are one of many services provided to residents during this time as a precautionary safety measure. "Because I deliver meals to them, they feel more comfortable sharing what is happening in their lives."

Frances Stockdale, a 13-year resident and member of the Catholic congregation at Westminster, says Dickey has been a blessing to those of all faiths or no faith. She is impressed that Dickey makes everyone feel part of the community, and that before the pandemic restrictions, she stopped by the Catholic service many Sundays to share a hymn or just offer a thought. Stockdale says she now looks forward each Sunday to receiving Dickey's printed sermon along with her noon meal.

"She is always available," says Stockdale. "I can talk to her, share my concerns, and trust that she will keep my confidence. She knows just what to say to each person, whether a lot or a little."

Dickey must wear a mask all day long, taking it off only to eat or drink. Some areas require additional personal protective equipment to be worn when interacting with residents. Because she cannot see some residents even with these precautions, she makes it a point to contact them by phone. She also does counseling by phone when needed.

Along with correctional facilities and meatpacking plants, nursing homes have become among the riskiest places to be during the pandemic. State data analysis indicates more than 51,000 of the novel coronavirus deaths in the U.S. are connected to long-term care facilities, including nursing homes.
Dickey credits prayer for being able to continue her work. She knows that many people are praying for her and for those in her care. When she is mentally and physically exhausted, those prayers help her to keep going. It is especially tough when she is ministering to those who have lost a loved one. In some cases, she has been able to arrange for a terminally ill patient to receive a visit from relatives before they die. Though family members must be gowned and masked, it still provides an opportunity to say a final goodbye to their loved one. Once restrictions are lifted, she plans to conduct Celebration of Life services to honor those who have died.

Before the novel coronavirus hit, Oreo — Dickey's therapy dog in training — frequently accompanied her to the facility. Residents now often ask how the dog is doing and when he will be able to return.

"Oreo connects with people," Dickey says. "He loves to have belly rubs or someone petting him. On command he will do tricks for them."

Dickey also helps residents Facetime with their relatives. She takes her guitar along on occasion and sits in the hallway playing and singing gospel music. She tries to be a calming presence, not only to residents, but also to staff.

"It is amazing how this pandemic has allowed me to pass a message to all of the residents, some of which do not have a faith group," Dickey says. "Some may read it, and some may not, but as long as I am faithful to what God is calling me to do, He will take care of the rest."