Forming Friendships in Crisis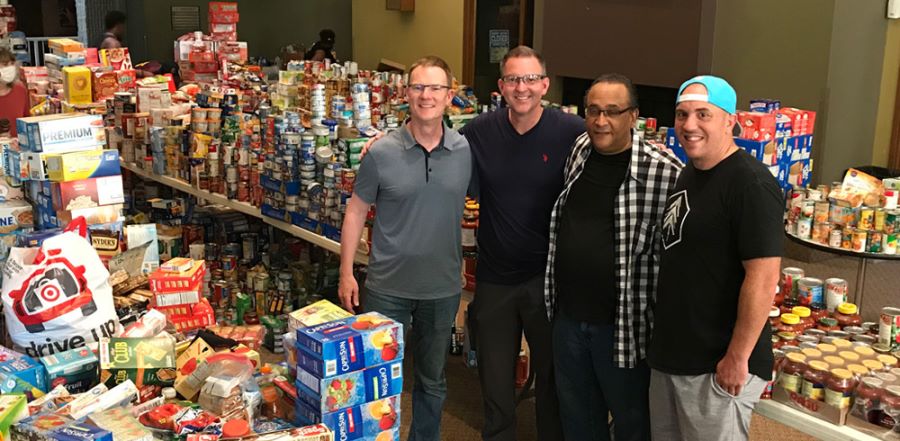 Don't miss any stories. Follow AG News!
Christ Church International, an Assemblies of God congregation at the epicenter of the recent riots on the south side of Minneapolis, distributed tons of nonperishable groceries and household goods on June 6 to inner-city residents who have lost sources for food because of arson and looting.

Pastor Darrell John Geddes Sr. notes that violent protests left a Cub Foods, two Aldi grocery stores, and a Target supercenter burned down. Mom and pop groceries as well as convenience stores in the south side of the city also are boarded up.

"There no longer is any place to buy even basic provisions within the community," says Geddes, who has been pastor of the church for 18 years. "Many residents are battling food shortages. And toilet paper is hard to come by in a place that has no stores."

Suburban pastor friends who have been meeting monthly at Christ Church International for prayer the past six months asked Geddes how they could help in the aftermath of the crisis. That included Nate P. Ruch, pastor of Emmanuel Christian Center, an AG megachurch in the northern suburbs. Ruch has been friends with Geddes since 1991, when he enrolled as a student at North Central University, the AG institution in Minneapolis. At the time, Geddes taught classes at his alma mater.

Ruch, who is part of the Church Multiplication Network lead team, says Emmanuel Christian Center delivered five trailer truckloads of food to Christ Church International last week before the distribution. Emmanuel purchased staple items from its mission funds, but also allowed congregants to donate on their own. Emmanuel Christian Center is about 60 percent white, but 43 nationalities are represented among the attendees.

"People don't want to just give money," says Ruch, 48. "They want to do something tangible — go grocery shopping, load the goods in a trailer, and deliver it to the church."

Grace Church, a predominantly white megachurch in suburban Eden Prairie, also donated groceries as well as $10,000 to buy more food.

Around 315 families received boxed items and grocery bags June 6, both walk-in recipients at the front door as well as drive-through beneficiaries in the parking lot. The AG church is located in the midst of the largest Somali population outside that predominantly Muslim African nation. Geddes made sure his Somali neighbors knew of the distribution and many came.

BONDING OVER MUTUAL THREATS
Over the years, Geddes, 64, has tried to build relationships to break down cultural, ethnic, and religious barriers through efforts such as afterschool tutors and a neighborhood garden. Still, relations between the Pentecostal church and the Islamic neighbors that operate an office building and day care center have been strained because of fundamentally different theologies.

That wall has started to crumble.

In the midst of the protests the night of May 29, four white men climbed onto the roof of Christ Center International. People of color comprise about 60 percent of attendees, including Africans, African Americans, Hispanics, and Native Americans.

A caretaker who has an apartment at the church spotted the intruders and confronted them.

"They claimed they climbed on the roof to gain a better perspective of the protests," Geddes says. "But we feel they had ulterior motives. They fit the description of agitators who came from elsewhere. We know they targeted black-owned businesses and churches."

Five Somali neighbors who had been on patrol protecting their office building helped the church caretaker run the trespassers off the property.

Subsequently last week, one of the office building's owners brought his imam to the church to meet Geddes. "We're great friends for now, for sure," Geddes says of his neighbors.

"As much as I have deplored the destruction that accompanied the rioting, the situation has been an impetus to establish good relationships with our Somali neighbors," says Geddes, who also is secretary of the AG's National Black Fellowship. "We have been praying for the Lord to show us how we can be salt and light."

Geddes spent the night of May 30 at the church in an effort to protect the building from further arson threats. By then, he and the adjacent vigilant Somalis had worked out light-flashing signals to notify each other in case of trouble.

Earlier that day, four other white men dressed in similar clothing set fire to a garage across a 12-foot alley from the church. Geddes believes if the fire department hadn't responded quickly, the fire would have spread and consumed the church in flames. Geddes, who serves on the Assemblies of God U.S. Missions board, looks forward to establishing even better ties once the protests and COVID-19 restrictions dissipate.
Geddes says the food distribution efforts, with the assistance of three suburban congregations, will continue through mid-July. Convoy of Hope also has pledged to deliver a semi-truckload of products.