Fresh Vision for the Inner City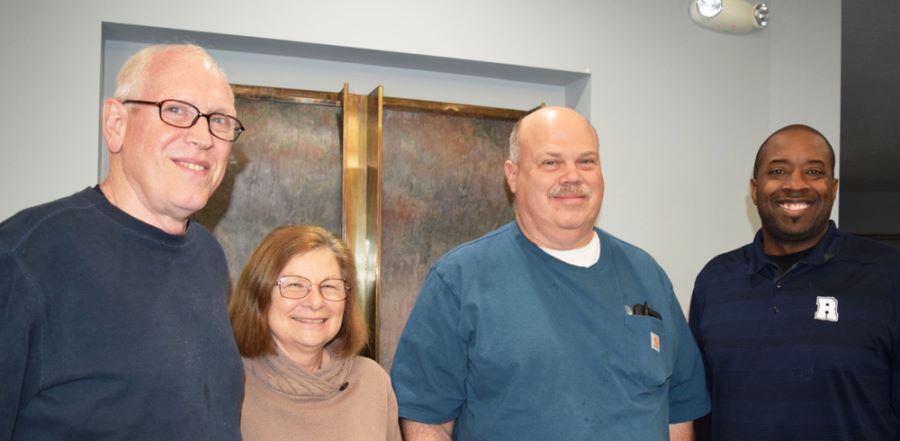 Don't miss any stories. Follow AG News!
DES MOINES, Iowa — Current pastor Jamel Crawford couldn't be much more unlike Helen I. Martin, who planted New Life Church as a Des Moines coffeehouse in 1972.

Crawford is a 42-year-old Brooklyn-born African-American who has tremendous rapport with young people. He and his wife, Melissa Kay, have three preschool-age children.

Martin, who is white, is 96 and retired in California to be near her only daughter. She served as New Life pastor for its first 40 years. A widow at 22 — her husband was killed in World War II — Martin never remarried.

Yet the pair share a passion for ministering to neighborhood residents, which includes many addicted, immigrants, or poverty-stricken people. And whatever the race, whatever the gender, whatever the era, the urban center of Iowa's capital city has plenty of residents grasping for a shot at restoring long-lost dreams.

"Helen and Jamel have different personalities and leadership styles," says Carl Breeding, who has attended the church since 1983. "But they both have a heart to help poor, broken people."

For the past three decades plus, Breeding has been property manager for the church, which owns 40 apartments and single-family homes in the block where the church is situated. His wife, Carol, who started attending New Life in its nascent days, has been director of the church's day-care center for over 30 years.

Last August, New Life Church launched the Des Moines Dream Center, directed by Corey and Tami Thomas, and it already is impacting the community. Fourteen of the 18 kids enrolled in a Dream Center mentoring and tutoring art program made salvation commitments to Jesus.

The Dream Center operates a clothing closet that provides new attire for kids. A medical clinic is scheduled to open in April, beginning with a Christian chiropractor and a Christian dentist donating their services.

Starting in May, New Life will host a Thursday evening free meal to unchurched residents living in the area. Vehicles will be dispatched to shelters to pick up homeless people. Volunteers from other congregations will take turns cooking preservice meals and providing worship during the gathering. A Wednesday night meal already feeds over 100 teenagers in the neighborhood.

A team from Carbondale Assembly of God in Tulsa, Oklahoma, will come for four days in June to carry out a makeover at the church, donating an estimated $100,000 worth of skilled labor and materials. When completed, New Life should have a renovated multipurpose space for worship, a revamped nursery, and a new café. As a teenager, Crawford attended Carbondale AG, and the church already supports New Life with monthly donations as a missionary endeavor.

"We are proud to claim Jamel as one of our own," says Phil A. Taylor, who has been pastor at Carbondale AG, a congregation of more than 600, since 1985. "We want to partner with people who want to reach their neighborhood."

Many of the changes at New Life are the result of Crawford and laity decision makers participating in seminars of the AGTrust initiative Acts 2 Journey, four two-day sessions over the past year designed to help local church leaders better impact their vicinity.

"I'm not a detail person by nature, so the Acts 2 Journey has helped hold me accountable to follow through with the vision that has been implemented," says Crawford, who is an Iowa Ministry Network executive presbyter.

Crawford relies on long-termers at the church such as the Breedings and 62-year-old Bruce Ihnen, who has been attending New Life for two-thirds of his life. Jane, his wife, has been involved even longer.

"God blessed us with a different pastor, but Jamel has a similar vision to Helen: reaching hurting, broken people," Ihnen says.

Earlier, the Ihnens survived a tragedy that would have torn many couples apart. Their only child, Joel, was diagnosed at the age of 8 with Ewing sarcoma, a rare type of bone cancer that strikes children especially. Joel battled the cancer for six years, including a 15-month stretch in which Jane quit her job and moved to Memphis to care for Joel while he stayed as a patient at St. Jude Children's Research Hospital. Joel died in 2006 at the age of 14, after amputation of his right foot and the spread of cancer throughout his body, including his brain and finally his lungs.

"A lot of people prayed for us and got us through it," says Ihnen, who is an installer for Nationwide Electronics. Jane is now a receptionist at Mercy Hospital.

Ihnen, who is on the New Life board, says Acts 2 has helped the church focus on a new direction.

"I've had a lot of good memories in this church," Ihnen says. "But I was too focused on the past. We needed fresh vision."
Photo: New Life Church leaders include (from left) Carl Breeding, Carol Breeding, Bruce Ihnen, and pastor Jamel Crawford.