Gazing Through the Rearview Mirror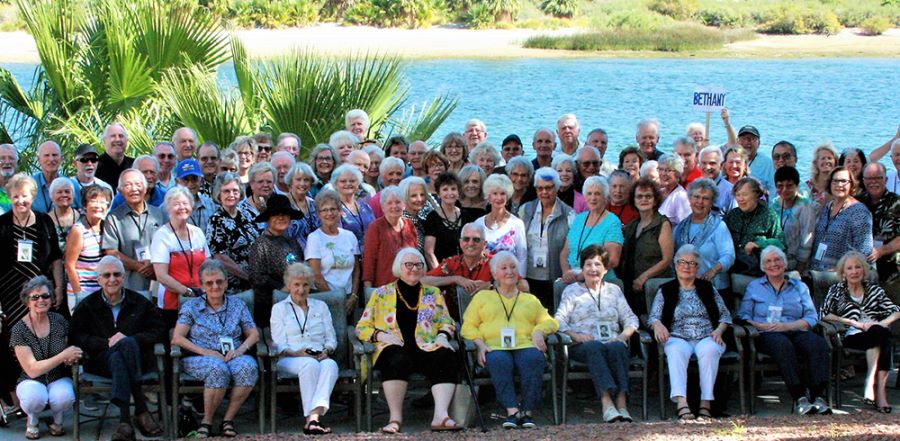 Don't miss any stories. Follow AG News!
From its inception in 1919, Bethany University always had been committed to helping young people fulfill God's calling and discover their life purpose. That mission remained unwavering, despite multiple name changes and the relocation of its campus from the bustle of downtown San Francisco to the Redwood retreat of Scotts Valley, California.
Over a span of almost a century, Bethany gained a reputation as an institution fully committed to the development of influential Christian leaders who would make their mark in various arenas of life. That emphasis continued for 92 fruitful years until 2011, when Bethany University reluctantly closed its doors for the last time.
Though apparently inevitable, that drastic decision created "academic orphans" with no campus to visit, no homecoming to attend, and no hallowed halls to wander. Sadly, there would never be another Bethany reunion.
Or, so it seemed — until the fall of 2019.
That's when three imaginative alumni, Phil Sexauer, Nic Anderson, and Janna (Bennett) Gray, dared to ask if any fellow Bethany students from the 1957-67 decade might want to get together for a classmates' reunion. Through social media and word of mouth, they pieced together a list of names and the invitation went out. They hoped "maybe a dozen or so" would respond. Ultimately, the actual attendance exceeded their expectation 10 times over.
The fact that our alma mater no longer existed or that the university no longer occupied a campus, seemed oddly irrelevant. All that mattered was that Bethany had called, and we had responded. Though we may have lost our school, we clearly had not lost our school spirit.
In lieu of the typical campus setting of a college reunion, the coordinators selected Laughlin, Nevada, as a central meeting place. Much as Bethany had once drawn students from as far away as Alaska and Kolkata, Hong Kong and Hawaii, it now beckoned them from 21 states. And so, they came. Ignoring the challenges of wheelchairs, flight changes, and desert drives, they came. Defying the limitations of their limbs or the conflicts of their calendars, they came.
The indefatigable leadership team proved exceptional. Phil and Pam (Edmunds) Sexauer, Nic and Mary (Kirkwood) Anderson, and Janna (Bennett) and Marty Gray together planned a program that engaged participants.
Their most practical suggestion was that each of us bring a picture from our Bethany days to insert in the lanyards that they provided. What a difference a few decades can make! There were some initial moments of awkwardness while we tried to match the faces of the attendees with those of our former classmates. Then we greeted each other amid shrieks of recognition and outbursts of familiar laughter.
The symbolic timing of the reunion was particularly meaningful, given the fact that 2019 would have marked Bethany's centennial anniversary. Being alongside our classmates once more underscored a deepened awareness of God's unbroken faithfulness. The simple act of recalling our youthful vows seemed to renew our determination to persevere in fulfilling them. Admittedly, our once-bright vision might have dimmed and our once-erect frames might have become stooped. But, our bent bodies belied the renewed soaring of our spirits.
With the telling of stories and sharing of testimonies, it became obvious that the worldwide influence of those gathered was incalculable. They had served as musicians, technicians, professors, administrators, chaplains, translators, publishers, missionaries, pastors, physicians, homemakers, educators, lawyers, analysts, authors, and scientists. These standard-bearers had circled the globe in obedient response to the Voice they once heard at Bethany's altars.
Several gifted vocalists sang the Forrest Beiser composition that contains the profound phrase:
"When I bring before my King all I've done, then everything will be worth it for I know, He'll reward me so, with just His Smile."
The proximity of that moment was made poignantly real as we pondered those whose names were inscribed on the memory boards. Standing there in solemn reflection, one could almost hear their voices joining those of "that great cloud of witnesses" urging us on, encouraging us to stay the course, and begging us to finish strong.
As the program drew to a close, the leadership team emphasized that the next reunion will be the final one: that glorious meeting in the air! For three days we gazed at life through the rearview mirror of our Bethany experience. Now, our focus shifted to the windshield, peering into the future at what stretched ahead.
Dick Foth, who served as Bethany University president from 1978 to 1992, presented the keynote address and accurately captured the reflections of many attendees.
"As to the closing of the school after 92 years, we all feel some sadness," Foth said. "And, though, the place will always have a special place in our hearts, it was always about the students. And, thousands of us have spread out around the world. When Glad Tidings Bible Institute began in San Francisco, Robert and Mary Craig believed for "100,000 souls for Christ." I believe the eternal record will show that we are good on that. And, perhaps, many more!"
We, as battle-weary pilgrims, might be limping toward eternity, but we were doing so with hope filled expectation.