Georgia's Poor on His Mind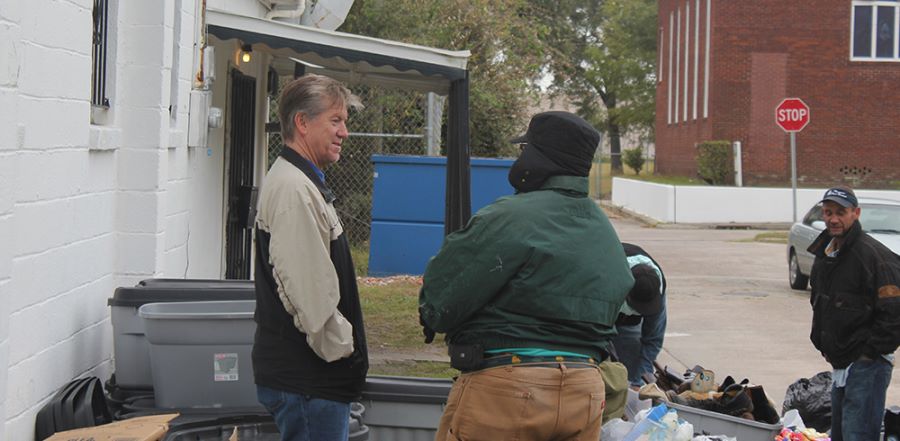 Don't miss any stories. Follow AG News!
For 21 years, an Assemblies of God U.S. missionary and a small church in the heart Savannah, Georgia, have been bringing food, friendship, and a message of hope to the city's neediest areas.
Since its inception, Life Bridge Assembly of God has been the only AG church in Savannah's inner city. Pastored by Church Planters and Developers missionary Jonathan M. Brown for the past 19 years, the church, which averages 30 weekly adherents, offers a variety of ministries and touches hundreds of lives.
Ministries include a Monday soup kitchen, Tuesday kids' program, Wednesday meal giveaway, and as-needed grocery assistance. The church also holds regular prayer and worship services throughout the week, and several holiday outreaches during the back-to-school and Thanksgiving-Christmas seasons. ­
"People are very appreciative of what we are doing for them," Brown says. "We've had single-parent moms thank us because, they said, if it weren't for some of the services that we had provided, they didn't know what they were going to do."
Life Bridge was planted in Savannah's Fred Wessels community in 1994 by Jack Moon, pastor of Southside Assembly of God in Savannah. Moon, AG Georgia district presbyter, says Life Bridge began primarily to help children living in the city's various pockets of poverty, drug use, and high crime rates.
"It's had a huge impact on the inner city in the sense that it's brought some hope and healing to some very desperate neighborhoods," Moon says. "We're into a second and third generation of children whose lives are actively involved in serving the Lord."
Brown was called to urban ministry while majoring in pastoral studies at the University of Valley Forge. He came to Life Bridge in 1997 and, since 2004, he and his wife, Sharon, have been AG U.S. missionaries. Together with their daughters, Rebecca and Hannah, they travel the country to share what God is doing in Savannah and to gather support to continue the ministry.
Brown says he has been able to maintain such a long-term involvement through this determination and the fact that the family shares in the calling.
"It's not only my heart but it's my family's heart," he says. "We are determined to stay in the inner city."
David Stanton, who pastors the Savannah AG church Radiant Life Christian Fellowship and serves on the Life Bridge board of directors, praises Brown's faithfulness to the ministry.
"He is very compassionate, and very much devoted to helping people in the inner city," Stanton says. "He has the call upon his life to do this."
For the past four years, Brown and Life Bridge's board of directors have been searching for a new location in the area. For 14 years, the church rented a half-acre that has been sold to another owner, displacing the church and its ministries from a centralized location.
The church now has its offices and Saturday, Monday, and Thursday services at First Assembly of God in Savannah and houses its food pantry for grocery assistance at Radiant Life Christian Fellowship. The church partners with other area congregations and community centers to provide a location for several of its local ministries and outreaches.
"We're praying and asking the Lord to provide us a place where we can have all the ministries underneath one roof again," Brown says. "In our previous location, we were able to have a clothes closet as well as to be able to offer washer and dryer assistance for the homeless."
Moon says the revitalization of Savannah's historic areas has been the main barrier to finding a new location.
"The areas he wants to minister in are also directly related to historic parts of our community, and so the property values are extremely high," Moon says. "It's finding something that's in his price range that will handle what he wants to do, finding something that with zoning and the city and would work out."
But no matter where it's located, Brown says the ministry continues to make a difference not only with people's physical needs, but also their spiritual ones.
"When we give an altar call for them to receive Jesus Christ as their Lord and Savior, just about every week someone's given their heart and life," Brown says.
Pictured: Pastor Jonathan Brown (left)