House Church Permanency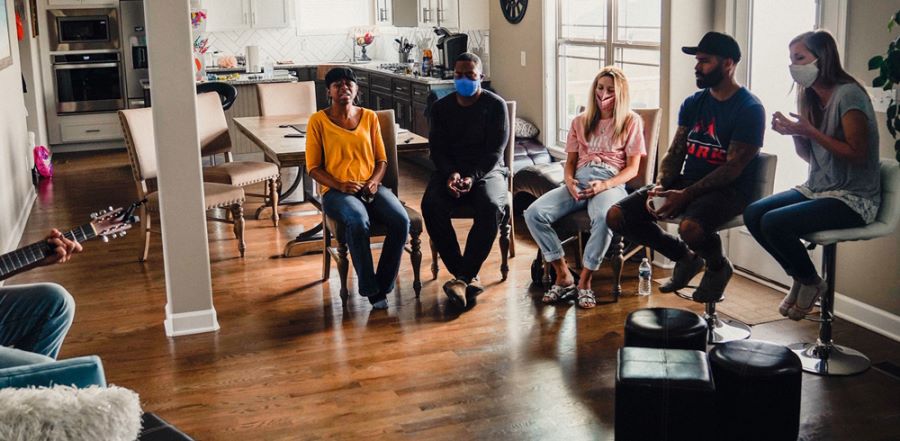 Don't miss any stories. Follow AG News!
From its inception, Bridges Nashville has been an unconventional church plant. The congregation led by Kurtis Parks in the Tennessee capital is in a parent-affiliated relationship with National Community Church (NCC), a megachurch started by Mark A. Batterson in Washington, D.C.

Parks oversaw 150 musicians and singers on eight campuses of the church in the nation's capital when he sensed the Lord leading him to launch a church in the country music capital in 2017.

Unsurprisingly, Bridges Nashville attracted a fair number of skilled vocalists and instrumentalists to its downtown meeting venue "The Listening Room," one of Nashville's premier singer/songwriter spots.

In some ways, the church early on functioned as a traditional launch, setting up and tearing down chairs every Sunday morning in a rented facility. But for the final week of December 2018 — only four months after its the first service — Bridges Nashville held a "church at home" Sunday. Congregants worshipped together, watched a sermon, ate a meal with each other, and prayed.

"When I saw pictures on Instagram, I thought, This is the Acts Church," says Parks, 38.

As Parks prayed and fasted over the first 10 days of 2019, those images kept coming back into his mind. He felt the Lord impressing him to move Bridges Nashville to a house church model. Parks put together a pamphlet labeled "Bridges Nashville: A House Church Movement Coming in 2020" for church board members. While well-received, some expressed skepticism over how adherents would react; they suggested experimenting with the concept slowly.

So in the summer of 2019, Bridges Nashville began holding quarterly house church Sunday gatherings in five homes, with trusted leaders hosting.

Then in March, COVID-19 hit.

"I felt if there was ever a time to run with this model, this was it," says Parks, who revisited the idea with board members. His innovative plan to shift strategies suddenly seemed prophetic.

Now every house church has its own acoustic worship leader who follows a set list. Adherents watch a recorded YouTube sermon preached by the telegenic Parks. Communion is served, prayers are uttered, and Scripture is studied in a back and forth format. The ideal house church gathering numbers 10 to 15 people.

"If it's bigger, the intimacy is lost; if it's smaller, it feels awkward," Parks says. Once the meeting reaches 20 people, the idea is the idea is to multiply another church out of the pre-existing one. Bridges Nashville attendees still assemble the first Sunday of the month at a central location for a combined service.

However, not needing a building in which to meet every week has reduced overhead. Instead of maintaining an office at a church, Parks meets with congregants one-on-one at a coffeehouse.

"Our goal is to give 50 percent of everything that comes in to local and global missions," Park says. The church continues to hold community service projects (such as packing bags of groceries for the food insecure) the second Saturday of every month.
The most troublesome part of residential-only gatherings is how to conduct children's ministry. For now, kids are with the adults for worship and testimonies, but they go into a different space for a more age-appropriate Bible teaching and crafts.

"Our main goal is to see discipleship happen at a very organic level," Parks says. "We want to see people becoming family."

Sara Trevino, 42, is one of the house church facilitators.

"The main thing is opening up the home in a welcoming environment that fosters community," Trevino says. "Too much is going on any given Sunday in a larger setting for people to connect on a personal level."

Trevino moved in 2018 to Nashville from NCC, where she served on the worship team. She works full time as a nonprofit researcher.

At the church, Trevino also serves as First Impressions director, overseeing the hospitality and connections team. Her main role is to link visitors to a house church, which can be challenging in a pandemic when full church gatherings are limited. Still, Trevino is confident that Bridges Nashville is the wave of the future.

"So many people coming to our door say it's unlike anything they have ever experienced," Trevino says. "People want to hang out together, get to know each other, and do life together. Building community is one of the strong points of our church."

While Parks doesn't believe the house church paradigm would work for every congregation, he is convinced Bridges Nashville is benefiting.

"We're called to make disciples, not build a church," Parks says. "Wherever there is a home, there is potential."
[PhotoGallery path = "/sitecore/Media Library/PENews/Photo Galleries/House Group 2]