Igloos Transform Lives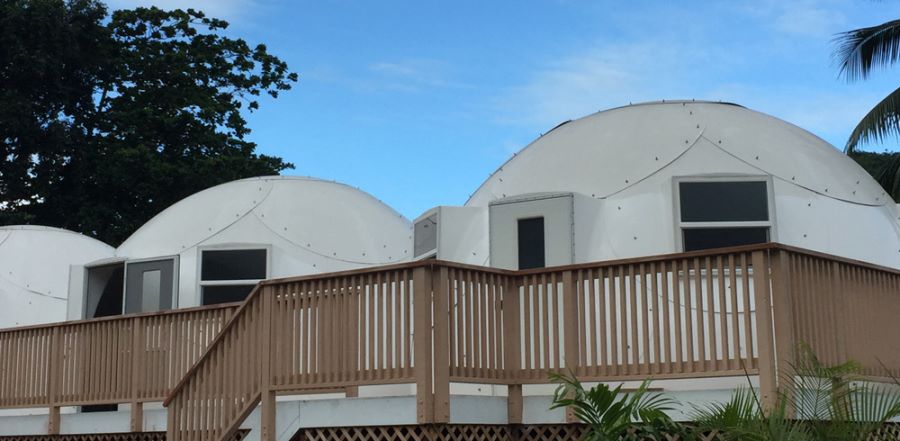 Don't miss any stories. Follow AG News!
Ana and her three children lived in her car, "bouncing around, dropping off my kids, going to work," she says. Her routine didn't change: "fighting all the time, chaos."

Kailani, pregnant, found herself living on the same beach where she earlier had lived with her homeless parents.

Jeri had a master's degree, worked hard at her self-employed job, and chased her dreams, yet couldn't afford to pay her rent. The business she launched to provide for herself and her four children ended up failing.

Each of these homeless moms and their children have found hope through a program launched in October 2018 by First Assembly of God of Honolulu called The Shelter, founded to address the spiritual component in Hawaii's growing problem of homelessness. The Shelter offers single mothers and their kids a place to stay for around nine months, find community, learn about God's plan for their lives, and plug in to a church family. Twelve fiberglass domes accommodate nine families at a time to live while engaging in church life, Bible study, daily devotionals and practical classes on topics such as personal finance and disciplining children with love.

To date, the pilot program has helped 25 female-headed households and 46 children. Today 10 families are in their own apartments and four have located and been reunited with relatives.

While Ana, Kailani, and Jeri knew of God prior to The Shelter and its Hearts and Homes project, each has developed a real relationship with the Lord. Several of their children have taken steps on their journey to faith in Christ.

When Klayton Ko, First Assembly's pastor and superintendent of the AG's Hawaii District, initially discussed his concept for the project, the priority became quick, affordable housing. But Daniel Kaneshiro, The Shelter executive director, says the ministry quickly refocused the goal.

"The number one priority is transformation of the heart," Kaneshiro says. "No matter when or where or what their future living situation is — whether in Hawaii or elsewhere — transformation of the heart has long-term effects on stability in their life. We help them find God and have a personal relationship with Him."

From there, The Shelter helps these families take baby steps, working with them on spiritual principles and practical life-issue matters.

"No matter what they've done in the past, they're forgiven," Kaneshiro says. Sharing that with residents empowers them to leave behind emotional baggage to find hope-filled futures. Teaching on forgiveness transcends to family members.

"Many of them are displaced because they got into a fight with dad or mom," he says. The women forgive their own parents, which often causes the parents to invite their daughters to return home and reconcile.

"If they weren't saved or backslidden, 90 percent either rededicate as Christians or accept Christ," Ko says. "They feel so much love and acceptance that (life in Christ) is irresistible compared to where they come from."

Even after they transition to an apartment or other living arrangement, those who stay on the island remain plugged into First Assembly as devoted followers.

Jeri says during her yearlong stay at The Shelter she learned to be a better parent, but most importantly she deepened her relationship with Jesus. "It all started to come together because of a heart change," she says.

Kailani, who gave birth while a Shelter resident, loved the camaraderie with other "sisters" and benefited from classes offered.

And Ana says "in one moment, everything changed" when she moved off the streets into The Shelter. "With God, (life) is so much easier."

Ana's daughter, Ana Barrios, 13, came to faith in Christ last summer through First Assembly's semiannual Solemn Assembly. She wrote "Welcome To The Shelter," a rap about her journey that she performed in a video featured in the fundraising telethon held when COVID-19 forced cancellation of the planned gala.