Legacy Lauded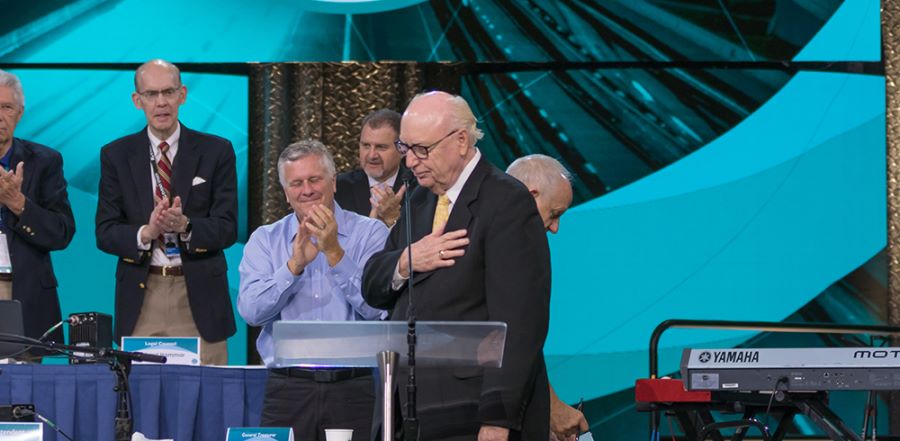 Don't miss any stories. Follow AG News!
Accolades poured in for outgoing Assemblies of God General Superintendent George O. Wood Aug. 11 during the closing business session of General Council 2017 in Anaheim, California.
Other members of the AG's Executive Leadership Team took turns lauding Wood for his decade at the helm of the U.S. Fellowship. Assistant Superintendent Alton Garrison said Wood has made so many contributions to the Assemblies of God as well as the kingdom of God that they can't be enumerated.
Garrison focused on Wood moving the AG to a more diverse body to better reflect the nation's overall demographics. The AG is now one of the most ethnically diverse denominations in America, with 42.3 percent of adherents representing ethnic minorities (compared to 36.9 percent in 2007).
Wood leaves an incoming 21-member Executive Presbytery with seven ethnic minorities and two females — compared to 14 men, all white, when he took office.
In addition, during Wood's tenure, the percentage of women ministers in the U.S. Fellowship has increased to 24.3 percent from 19.2 percent.
General Secretary James T. Bradford noted that the U.S. AG has a record number of adherents, 3,240,258, which includes 10 years of consecutive growth during Wood's leadership. Adherents numbered 2,863,265 a decade ago. The number of U.S. AG churches has risen to an all-time high of 13,023, up from 12,362 in 2007.
General Treasurer Doug Clay, who will succeed Wood as general superintendent in October, cited Wood leaving an imprint on the global Fellowship, which now numbers 68.5 million. Clay said he considers Wood a leader and a friend, and he expects to call on him for guidance in the future.
Wood, 75, was re-elected in March to a fourth three-year term as chairman of the World Assemblies of God Fellowship. He also is global co-chair for Empowered21.
Voters passed a resolution sponsored by the Southern California District Executive Presbytery and the General Presbytery designating Wood as an honorary general presbyter. Wood received a lengthy standing ovation and a few rounds of "hip hip hurray" upon passage of the resolution.
The resolution stated that Wood served "with honor and distinction as a pastor, teacher, author, and an ordained minister for 50 years." He served as director of spiritual life and student life at Evangel University in Springfield, Missouri from 1965-71, pastor of Newport Mesa Church in Costa Mesa, California, for 17 years; assistant superintendent of the Southern California District Council from 1988-93; and general secretary of the AG from 1993-97.
"His leadership of our Fellowship has represented the highest standards of integrity, loyalty, and hard work," the resolution declared. "His preaching, leadership, and personal ministry have been a resource to the ministers and churches of the Southern California District Council and the General Council of the Assemblies of God, both in the United States and around the world."