Ministering Despite Disability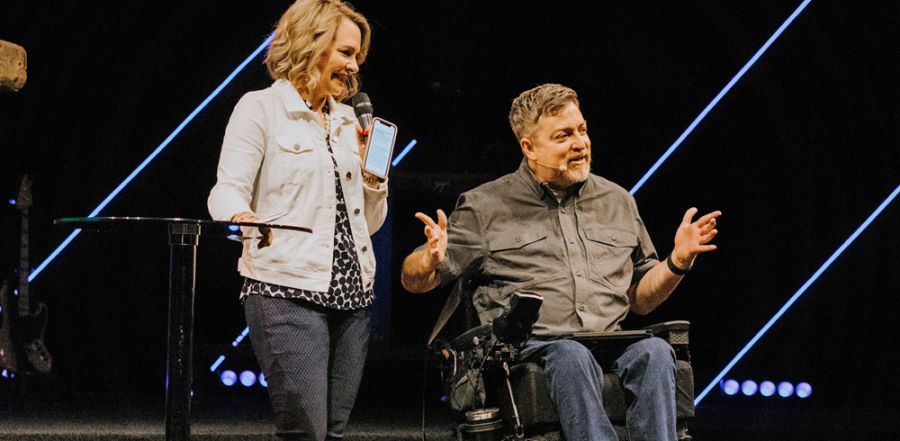 Don't miss any stories. Follow AG News!
Assemblies of God pastor Gary L. Hoyt had started to doze when he sensed the tires of the car go off the road.
He reached over to grab the steering wheel of the Toyota Corolla his 15-year-old son, Danny, was driving. But in trying to correct the car's path, Hoyt overcorrected.
The small car rolled four times on Interstate 80 near Gothenburg, Nebraska.
"While the car was rolling, the roof caved in and that's how I broke my neck," says Hoyt, pastor of Bellevue Christian Center in Nebraska.
Almost 20 years after the life-altering accident, Hoyt guides a church of seven associate pastors with an average Sunday attendance of 875 people.
At the end of 2019, Hoyt will have served the church for 38 years — 31 of those in the lead pastor role. He and his wife of 38 years, Laurie, have taken mission trips around the world, including to Kenya, Tanzania, Colombia, and Greece — all since the car wreck.
Hoyt accepted Jesus as Savior in Bellevue Christian Center's youth group at the age of 17. He served as assistant youth pastor, then worship leader before becoming lead pastor in 1989.
In February 2000, Gary and Danny went skiing in Colorado for a father-and-son-getaway. Danny, with a learner's permit, drove home when the one-car crash occurred. At age 40, Hoyt was paralyzed.
His injuries included crushed C-5, 6 and 7 vertebrae, spinal cord damage and a broken arm. He underwent surgery at Kearney Regional Medical Center. Danny sustained only multiple bruises.
"But a lot of his bruises were on the inside," Hoyt says. "He blamed himself for my situation."
Hoyt later went to Madonna Rehabilitation Hospital in Lincoln. Although he has no use of his legs, he has good mobility in his arms and shoulders, with very limited hand use. He can feed himself, but not make a fist.
Before the accident, Hoyt played several musical instruments.
"It's odd," he says. "The music is still in me. I can hear it and think it, but I can't get it out."
Hoyt had played basketball, racquetball, and tennis. Being in good condition helped him adapt quickly, and mentally to know how to use his body to its fullest after the wreck. He learned how to become independent at Madonna.
In the meantime, Laurie sold the couple's tri-story house and bought a one-level residence.
"It was like the bowl of our life got turned upside down and nothing was the same," Laurie said. "Figuring out a new normal was really difficult. We grieved. We probably cried every day for the first year."
Yet in the midst of that, they sensed God's peace, comfort, and strength. Hoyt learned to drive an auto with hand controls. Five months after the collision, he returned to his ministry duties. He especially commends the pastoral staff in the transition period.
"They were stunning in how kind, Christ-like, patient, and generous they were with us," he says. "It took a couple of years before I was back at 100 percent full speed."
Many challenges cropped up. Everything changed, from how he brushed his teeth to how he used a fork. The Hoyt family struggled with a sense of loss. Before the smashup, he played basketball in the driveway with Danny almost daily and games with his daughter, Anna, then 12.
"That was a connecting point with my kids that was suddenly gone," he says. "Even though I was there, I wasn't able to be on top of things in the same role. They had to help do certain caregiving things for me that I couldn't do for myself."
Laurie continues to help her husband with personal care tasks, getting him dressed and ready for the day, which can take over two hours.
Yet Laurie says if her husband used all his energy for such preparation, he wouldn't be able to do everything he does. Laurie knows she's appreciated. Gary has thanked her every morning since the crash.
"He doesn't complain or whine," Laurie says. "It's not that he doesn't ever have a bad day, but they're rare and he doesn't feel sorry for himself."
After the life-changing event, Laurie, who loves missions, figured they'd never travel overseas again.
"God did above and beyond what I could ever have fathomed," she says.
Today, Hoyt sits in his office, looking at photos of his family. He sees one of Anna, when they visited Kenya. He recalls her wedding day in 2013, when he elevated his chair as high as it would go.
"I rolled her down the aisle," he says. "She took my arm. I walked her down the aisle and then I went on the platform and led her marriage ceremony."
Danny, now, 35, and Anna, 31, both live in California. Gary is grateful that Danny recovered from the emotional trauma of the wreck.
"The miracle working of God is healing his heart from the mistaken belief that he caused my challenge, when it was really me," says Hoyt, now 60.
Hoyt says the Holy Spirit encourages and gives him strength, creates ideas in his heart, and makes the Scriptures come alive. Hoyt believes his experience has given him greater compassion for others.
"I tell people that God can give them strength to go through anything they face, no matter how hard it is," says Hoyt, who plans to step down as lead pastor at the end of the year. "However insurmountable the obstacles seem, He gives you strength and grace to face your giants."