Mobilizing and Retaining Missionaries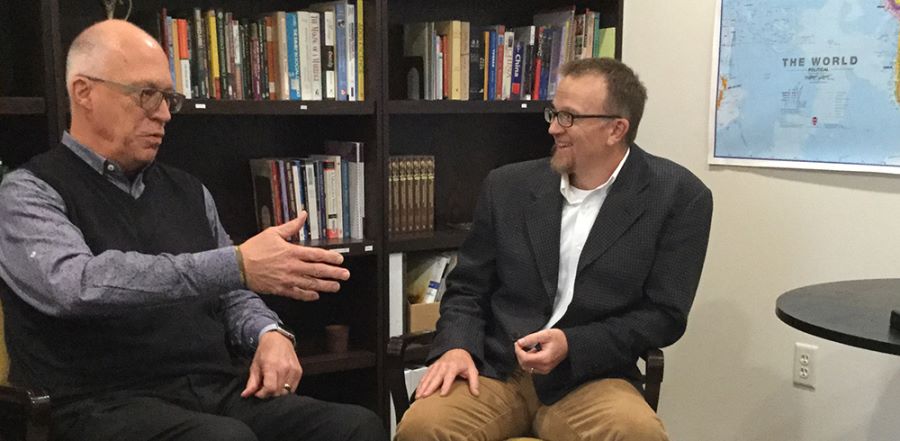 Don't miss any stories. Follow AG News!
ELLENDALE, North Dakota — The Center for Missionary Mobilization and Retention has opened at Trinity Bible College and Graduate School in an effort to keep career missionaries on the field and to open new avenues for people to respond to the call.

The center, in partnership with Assemblies of God World Missions, is the brainchild of David P. Jacob, missionary in residence at Trinity and chair of the school's Intercultural Studies Department.

"The goal of the center is to resource pastors, missionaries, and mobilizers to send and sustain more missionaries," says Jacob, 46. "It's also designed to generate interest in students who hadn't thought they were called."

Greg Mundis, who has been AGWM executive director since 2011, welcomes the connection with the Center for Missionary Mobilization and Retention.

"Having an online resource for millennials or anyone else searching the internet is extremely important," Mundis says. "Awareness of the center among pastors and adherents will help it to grow exponentially."

An important initiative of the Ellendale, North Dakota-based center, which launched Oct. 4, involves mobilization workshops that will equip pastors to create environments where would-be missionaries can clearly hear their calling. For a variety of reasons, fewer are heeding a long-term tug to foreign lands.

Unlike some denominations, the Assemblies of God doesn't actively recruit missionaries, relying rather on the Holy Spirit to stir individuals who hear about needs in the field. Also different from multiple other mission-sending agencies, the AG requires missionaries to raise their own support.

Since 2008, the overall number of long-term missionaries sent from the U.S. has been dropping. The number of AGWM career missionaries peaked at 2,100 in 2008, but has been falling ever since, down to 1,968 at present.

Various recent trends have contributed to the decline. With fewer churches holding Sunday night and Wednesday night services, missionaries don't have as many windows of opportunity to cast the vision to congregants. A recent study by AGWM indicated that hearing a sermon or message by a veteran missionary ranked as the second most significant influential factor in hearing the missionary call, exceeded only by personal prayer and Bible study.

Jacob, who began serving as an AG world missionary in Asia in 2008, wrote his thesis at Trinity Graduate School last year on mobilizing millennials for AGWM. Jacob's research indicates part of the decline is attributable to a reticence on the part of many millennials (those born between 1981 and 1997) to commit to a lifetime commitment to missions.

The center will be a repository for articles and academic papers on the subjects of missionary mobilization and retention.

Trinity Bible College President Paul Alexander and Trinity Graduate School Director Carol Alexander supported Jacob's plan to start the resource center. The Alexanders already had ramped up the school's missionary endeavors, with every student required to go on a mission trip every year, whether that's to immigrants in nearby Aberdeen, South Dakota, or to residents of faraway South Africa.

"Students learn how to raise funds, and they see a different worldview," Jacob says.

Meanwhile, Mundis believes the downward trend is starting to reverse, partly because of inventive methods implemented to reach potential missionaries. A new AGWM report shows the number of annual applications for career missionary service has risen to 107, the same as a decade ago.

While career missionaries have been declining, short-term missions has taken off. Since its inception in 1991, missionary associate numbers have skyrocketed to a current record count of 879. MAs commit to serve one to two years. Over 60 percent of missionary candidates first served as missionary associates.

An AGWM World Missions Summit held every three or four years in conjunction with U.S. Missions Chi Alpha Campus Ministries, draws thousands of students interested in "God's mission to reach the lost around the globe." The event started in 2005, with the most recent gathering (the fourth) taking place last year, drawing 6,153 students, leaders, and missionaries.

The creation of regional "pipelines" allows would-be missionaries to ask questions via phone or email from missionaries already on the field. A sustained mentorship-type relationship is a key factor in nurturing millennials who are pondering a lifetime commitment on the field.

Also, the number of ethnic minority missionaries is increasing.

"The needs and opportunities across the globe are great, and Assemblies of God World Mission's goal is to see its global missionary family grow by 20 percent over the next four years," says Mundis. The missionary force, including MAs, now stands at 2,847.

Mundis knows the importance of missionaries connecting with pastors and churchgoers. He still occasionally has someone come up to him with a prayer card he distributed 40 years ago after he and his wife, Sandie, received appointment as missionaries to Europe.

"If people are praying that God will call workers, He will," Mundis says.
IMAGE: Greg Mundis (left) and David Jacob discuss missionary strategy at Trinity.