Momentous Service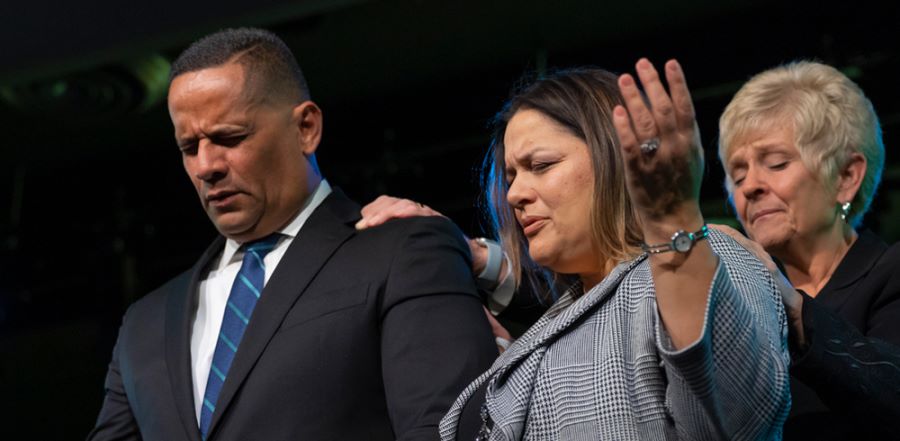 Don't miss any stories. Follow AG News!
Wilfredo "Choco" De Jesús officially was installed as the U.S. Assemblies of God general treasurer Nov. 12 in a consecration service at the AG National Office in Springfield, Missouri. De Jesús, 55, began his new role Sept. 30.

Free Worship, a team from New Life Covenant Church in Chicago, where De Jesús served as senior pastor the past 19 years, led lively worship in the chapel service.

In August, at the General Council in Orlando, Florida, the Executive Presbytery appointed De Jesús to fill the remaining two years of Rick DuBose's term as general treasurer. DuBose, following two years as general treasurer, is the newly elected assistant general superintendent of the Fellowship, replacing the retired L. Alton Garrison.

The appointment of De Jesús is groundbreaking. He is the first Hispanic to be a member of the six-member AG Executive Leadership Team. Latinos are the largest ethnic minority in the Fellowship, comprising 22.8 percent of all adherents.

"Choco lives a life and a faith worth imitating," General Superintendent Doug Clay said at the dedication event.

Superintendents of five Hispanic Districts and many from New Life Covenant Church journeyed to Springfield to witness the formal installation. That included Ignacio Marrero who flew in from Puerto Rico to see his son-in-law instated. De Jesús succeeded Marrero as senior pastor in 2000, just after Palestine Christian Temple had been renamed New Life Covenant Church.

Clay presented the framed ordination application Marrero submitted to the National Office half a century ago. Marrero founded Palestine Christian Temple in Chicago in 1965. He immigrated to Illinois from his native Puerto Rico at 17 in 1954 looking for educational opportunities. Two years later, he attended church for the first time in his life and made a salvation commitment to Jesus.
New Life Covenant is now the fourth largest church in the U.S. Assemblies of God, with 17,000 adherents. The church is based in a largely Puerto Rican neighborhood of Humboldt Park on Chicago's northwest side. There are seven additional campuses.

As a 14-year-old boy, De Jesús applied for a summer job at the Chicago mayor's office to clean streets. Instead, the city assigned him to help with a children's day camp at Palestine Christian Temple. By the end of the summer, De Jesús — the youngest of six children in a family abandoned by the father — had accepted Jesus as his Savior.

Today, New Life Covenant operates multiple programs to minister to drug addicts, prostitutes, the homeless, gang members, and other disenfranchised people. The church offers not only the basic human necessities of shelter, food, and clothing, but also community-based programs providing mentoring, educational, and job-training opportunities. New Life Covenant operates a medical clinic, resale store, teen home, and the Chicago Dream Center.

"I'm proud of what Choco has achieved," Marrero tells AG News. "Even as a teenager, he was a good leader. He was the right person to succeed me. He organized a good team around him."

Marrero, 82, moved back to Puerto Rico with Aida, his wife of 59 years, in 2005. He served as superintendent of the Midwest Latin American District, which encompasses 11 states, for 16 years, including five years after retiring as pastor.

De Jesús and his wife of 31 years, Elizabeth, have three grown children, who live in Chicago. That includes daughter Alexandria Gomez, who led worship at the National Office chapel service.

Before his appointment as national treasurer, De Jesús served as a member of the AG Executive Presbytery for four years. Prior to his election as senior pastor, De Jesús worked for eight years as Midwest Latin District youth director.

The Fellowship on Nov. 12 also formally installed DuBose as the new assistant general superintendent at the ceremony. In addition, Clay recognized four new executive presbyters in attendance who had been elected in August: Don E. Miller, D. Rick Ross, Bradley T. Trask, and Darnell Keith Williams Sr.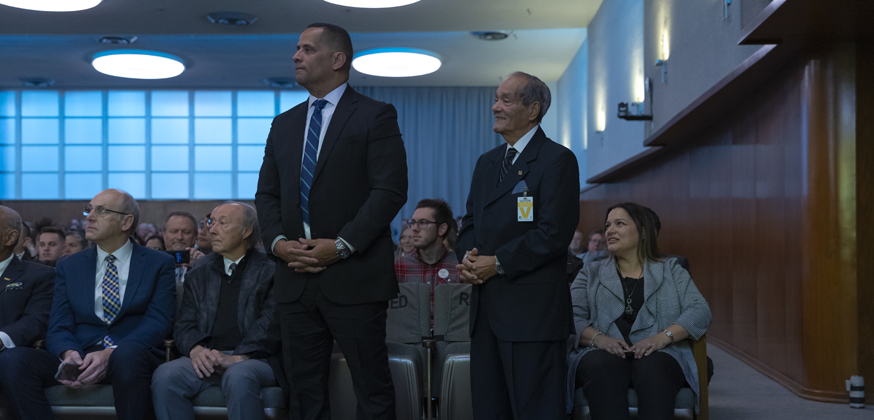 Lead Photo: AG leaders including General Secretary Donna Barrett (right) pray over Choco and Elizabeth De Jesús at the consecration service. Bottom Photo: New Life Covenant Church founder Ignacio Marrero (standing right) is recognized at the chapel service.