New Chaplains Chief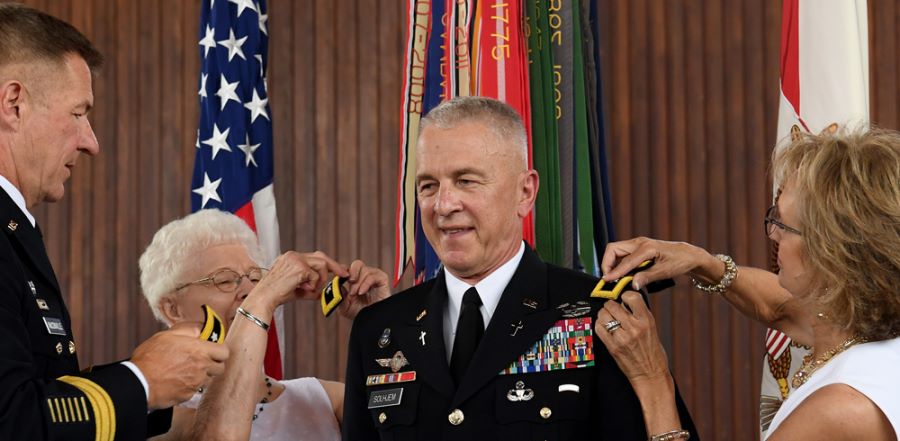 Don't miss any stories. Follow AG News!
The first Assemblies of God chaplain to become chief of chaplains for the U.S. Army took over the position on May 30. U.S. Missions chaplain Thomas L. Solhjem is the 25th Army chief of chaplains, a post inaugurated 99 years ago. The U.S. Senate approved the appointment on March 26.

Solhjem, 62, had been deputy chief of chaplains since 2015. Just before assuming his new duties, Solhjem received a promotion to major general, the highest rank available to chaplains. Solhjem succeeds Paul K. Hurley, a Catholic priest, who served as chief of chaplains since 2015.

Scott McChrystal, Assemblies of God military chaplain representative and endorser, says Solhjem has made enormous contributions to the Army Chaplain Corps, especially in the area of ministry to the special operations community.

"I particularly appreciate that his background includes duty as an enlisted soldier," says McChrystal, who attended the promotion ceremony in Fort Myer, Virginia. "Chaplain Solhjem knows how to communicate effectively across the spectrum, from private to general, and to civilians as well."

McChrystal, 70, has known Solhjem for decades. He says the new appointee leads with a pastor's heart, but also possesses extensive knowledge of military operations and culture.

"As chief of chaplains for the United States Army, I fully expect him to lead unit ministry teams to unprecedented effectiveness toward providing spiritual care for the Army community," says McChrystal, who served as an infantry officer in the Vietnam War before becoming a chaplain.

The AG has 106 Army chaplains. Overall, there are around 2,900 chaplains in the U.S. Army.

Solhjem has been an AG chaplain since 1988. He deployed a combined 68 months, including as command chaplain in both Operation Enduring Freedom in Afghanistan and Operation Iraqi Freedom. His awards and decorations include the Legion of Merit, Bronze Star Medal with four oak leaf clusters, and the Meritorious Service Medal with five oak leaf clusters.

A native of North Dakota, Solhjem enlisted in 1973 at the age of 17 and then went on active duty after high school graduation, becoming one of the first to join the all-volunteer Army following the end of the draft in the waning days of the Vietnam War.

In 1977, Solhjem married childhood friend Jill Walberg. They attended North Central University in Minneapolis together. The couple's three sons — B.J., Thad, and Sam — followed their father into the military. McChrystal says Jill Solhjem has been equally effective as her husband in ministry to military spouses and families.

Maj. Gen. Cecil R. Richardson is the only other AG chaplain ever to serve as a military chief of chaplains. He was Air Force chief of chaplains from 2008-12.

Besides Solhjem and Richardson, David H. Cyr is the only other AG chaplain to attain flag officer rank. Cyr, as a brigadier general, served as deputy chief of chaplains for the Air Force from 2008-12.