Overcoming Fatherlessness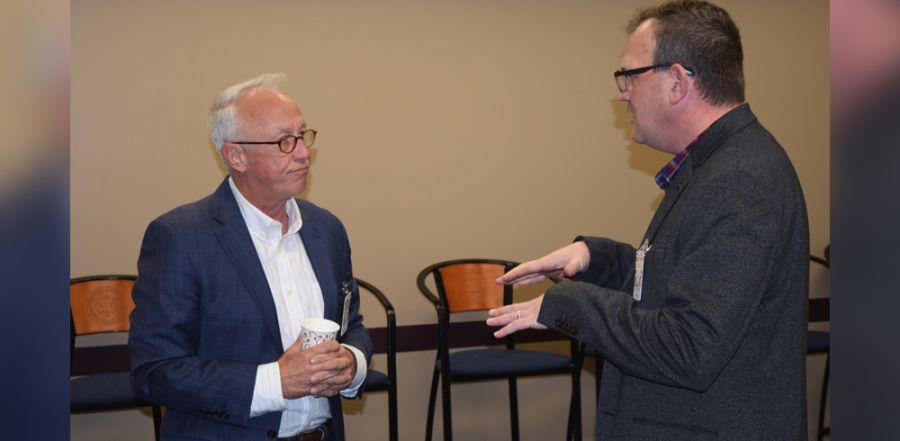 Don't miss any stories. Follow AG News!
Bill R. Hancock has been involved in child welfare for nearly four decades. His passion for children has been consistent, through his time as executive director of Mountain Top Boys' Home in Sugar Valley, Georgia, to executive pastor of Evangel Temple in Columbus, Georgia.

In 2008, Hancock launched FaithBridge Foster Care in metro Atlanta as an organization that works through local churches to provide training, certification, and ongoing operation support to families providing foster care while acting as an intermediary with government agencies.

Despite, or perhaps because of, his own broken home life as a youth, Hancock is a compassionate voice for disenfranchised children.

By the time Hancock reached 14, his third stepfather moved into the family's Hoover, Alabama, home. His mother repeatedly married men with alcoholic tendencies and a bent toward domestic violence.

When difficulties on the home front escalated, Bill's mother packed her three daughters and her son off to live with various relatives. Usually Bill ended up with his maternal grandmother. The kids would return home when their mother and her husband separated en route to divorce.

Hancock's mother kept marrying for the economic survival of her children. Between husbands, his poor and uneducated mother worked as a restaurant server.

At age 15, Bill's latest stepfather threw him out of the house. He told the boy he could take care of himself.

"I walked out of the trailer park and kept expecting to hear Mom's voice saying, 'Billy, you need to come home,'" Hancock recalls. "When I reached the highway, I realized my mother wasn't coming after me."

Instead, he found himself homeless, and with no possessions. He spent that first night in an unlocked car behind a gas station.

To have money to eat, Hancock began working at that gas station, but fell behind in his school studies. The embarrassment of low grades caused him to drop out of high school.

Early on, Hancock endured by staying with friends at their parents' homes, couch surfing night to night. Eventually, Hancock began working as a bricklaying assistant and day laborer for brick masons and carpenters.

At 19, Hancock met Elaine, who likewise had grown up in a non-Christian, absent-father home. They soon wed, but in 1980, only two years into the union, Hancock followed the family pattern of contemplating an exit strategy from the marriage.

"I was about to do the very thing my mother had done over and over," Hancock says. "I didn't know how to be a husband."

MEANINGFUL PURPOSE
Hancock even wondered whether he wanted to have a future on the planet, questioning the purpose and value of life itself. He flipped on the television set and stopped channel surfing to listen to an evangelist preaching. For the first time, Hancock heard a gospel presentation.

He understood that if God existed maybe the future didn't look so bleak after all. As he watched the TV screen, Hancock knelt at a coffee-table, confessed his sins, and asked Jesus into his heart. At the urging of Billy Graham, Hancock uttered his first prayer ever. As never before, Hancock sensed hope.

The next Sunday, Hancock went to a Bible-believing church near his home, just as Graham had recommended. Hancock, who had never been inside a church before, plopped down in the front row.

"For the first time in my life I felt as though I belonged somewhere," Hancock remembers.

"That night he told me nothing would be the same, that he would serve God with his life," Elaine remembers.

Hancock began learning about not only being a disciple of Christ, but also how to be a husband.

Two weeks later, Elaine joined him at church and committed her life to Jesus. The couple ended up at Huffman Assembly of God in East Birmingham, Alabama.

"I walked into a level of joy and celebration and realized this is where I wanted to spend my life — in the presence of God's people," Hancock remembers. For the next year, men at the church discipled Hancock, and he took a Global University course about the life of Christ.

After earning his GED diploma, Hancock worked his way through Southeastern University in Lakeland, Florida, aided by grants from a foundation at the school and contributions from several couples at the church. While attending Southeastern, Hancock developed a heart for hurting children in foster care, working weekends for the Florida Baptist Children's Home emergency shelter in Lakeland. Still in school, Bill and Elaine became group houseparents to 10 kids in foster care.

"I saw a 6-year-old with chronic sleep issues, teenagers who couldn't keep food down, and kids who fought out of boredom," Hancock recalls.

Hancock went on to graduate school thanks to a grant, then received his master's degree in youth administration. He discovered child welfare to be an industry in crisis.

"Eventually I realized God's plan for the Church was to be a safe and stable community for foster children and families — like my mom and me," Hancock says. "If my mother had options, my life would have been different. If there had been a local church willing to travel into a trailer park where a mom and four kids were living, maybe things would have been different for her. Part of my journey is trying to reach those children and those parents with the gospel."

FOSTER CARE LEADER
Despite his dysfunctional family of origin, Hancock became CEO of FaithBridge, which, in 2012 in a partnership with COMPACT Family Services, conducted research that led to the launching of COMPACT's efforts to tackle foster care needs through local Assemblies of God churches. COMPACT subsequently developed a strategy that involves congregants recruiting, training, and sustaining parents who take on the challenging role of fostering. This wraparound care model relies on church support to supply mentors, volunteers, babysitting care, and meals for families that are providing foster care.

Hancock, now a senior consultant to Fostering Our Future, remains involved in assisting the ever-growing number of AG pastors, missionaries, and laypeople involved in the movement. He advises CompaCare representatives in 10 states, including how to pursue community-based grants through state legislatures.

One of those he has been consulting with lately is Bob W. Griffith, executive pastor at Journey Church in Kenosha, Wisconsin. The church has formed an organization called 1Hope using the CompaCare model.

"Bill is a subject matter expert in the field of foster care," says Griffith, himself an adoptive father of three. "He inspires me with the vision for what the Church is able to do in caring for vulnerable children and how God is glorified as we work together in this way."

Hancock, who lives in Woodstock, Georgia, spoke at the inaugural Assemblies of God national foster care roundtable in March. Hancock, a mentor to many of the attendees, commends the Fellowship for making foster care a priority. He believes with the AG taking the lead for child welfare, there will be an unprecedented corroboration among many evangelical denominations.

"The top leadership of the AG has moved to the forefront to lead on this issue at a national level," Hancock tells AG News. "This has been my prayer for three decades, that the Church would make a priority of the most vulnerable: children who are abused, neglected, and abandoned."
COMPACT Executive Director Jay Mooney, a classmate of Hancock's at Southeastern, calls him a gift to the cause of redeeming vulnerable children and families.

"Bill is one of the rare people in this world who thinks strategically and is as knowledgeable as anyone outside the government when it comes to child welfare," Mooney says. "In fact, in many cases, he knows more than the so-called experts. He influences programming, policy, and mission."

Hancock, 63, has been married to Elaine for 42 years. They have three grown children, who helped with children in foster care while growing up. In 2013, Hancock reconnected with his mother as she entered hospice care near the end of her life.