Branching Out to a National Level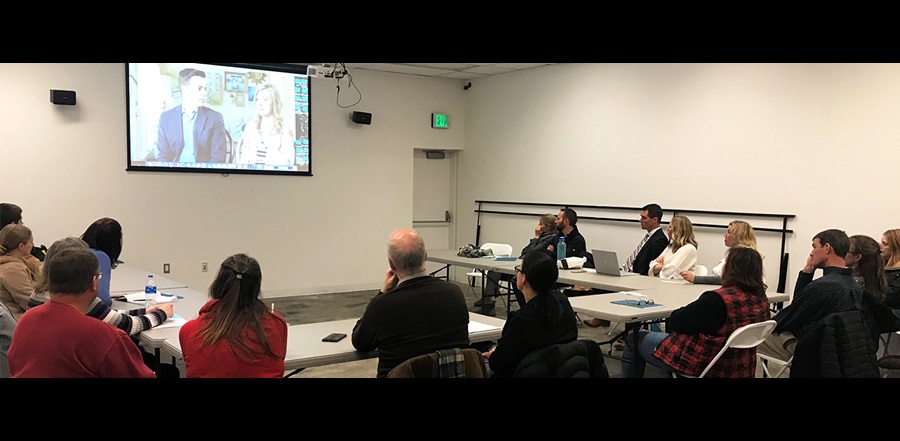 Don't miss any stories. Follow AG News!
For most of its 74 years, the Hot Springs, Arkansas-based COMPACT Family Services has been limited to helping children within the state. The Assemblies of God ministry, which includes Hillcrest Children's Home, traditionally has been restricted to caring for a few dozen foster children and orphans in a residential setting on site.
Ever since he arrived in 2012 as executive director, Jay Mooney has envisioned moving COMPACT to the forefront of foster care on a broader scale. Mooney's concept is becoming reality, as congregations around the country are adopting COMPACT's CompaCare strategy focused on wraparound care.
While Mooney maintains the local congregation is the engine that galvanizes individual families for caregiving, his current focus is ensuring that Assemblies of God districts and networks embrace the CompaCare blueprint. In various locales, COMPACT-trained representatives bring church leaders together to discuss the problem, and offer guidance for local congregational lay volunteers.
For instance, AG minister Rick L. Smith, 63, has agreed to be a CompaCare representative to the AG SoCal Network . Smith already has connected with SoCal Network Assistant Superintendent John E. Johnson , 64, for a couple of years to raise awareness of the need for more Christian families to be involved in foster care. Smith is founder and executive director of Pathway Family Services, an affiliated ministry of the SoCal Network that trains, certifies, and resources foster families.
"CompaCare recognizes the importance of a support system that a church can provide to foster parents," Smith says. According to Smith, by involving others in the congregation in supplemental roles, such as providing respite care or baby-sitting, as well as supplying materials like car seats or beds, foster parents are encouraged to persevere.
On any given day, there are roughly 428,000 children in the foster care system around the U.S., and approximately 56,000 of those are in California — compared to second-place Texas at 30,000 kids.
"A lot of good people in county governments understand there is a need for the faith community to help take care of these children," Smith says. While families are prohibited from coercing or manipulating religious beliefs of foster children, Smith says many kids emerge from a foster stay embracing a newfound faith because of spiritual experiences they've witnessed in these families.
"With its scriptural foundation, CompaCare can have a tremendous impact on the lives of thousands of kids," Smith says.
Johnson believes CompaCare can serve as the linchpin to bring disparate resources together to form the best practices from various states regarding how to assist children removed from homes because of abuse and neglect.
"Many churches are missing the opportunity to connect with a subculture that desperately needs help," Johnson says. "We're trying to bring awareness and education to our churches."
Johnson, who with his wife, LeeAnn, has been a foster parent to 13 children himself, believes congregations shouldn't let the demand go unfulfilled.
"Our goal is that the Church will rise up and take advantage of Matthew 25, offering a cold cup of water in the name of Jesus to those who are disenfranchised and marginalized," Johnson says. "Those in the foster care system in California are crying for help from any entity that will show up and assist. The Church has been negligent for too many years in this area."
Ashley B. Grant, 29, has been hired as COMPACT director in Missouri. She is in the process of networking with church leaders and child welfare system professionals. Her experience as a foster mom of nine foster children has led to adopting two of the children.
"As a foster parent, I feel like I can speak to the need and to the role the Church can play in supporting foster parents," says Grant, who served as program director at Highlands Maternity Home — a ministry of COMPACT Family Services — between 2011-14.
"States are starting to recognize they aren't able to handle this burden," Grant says. "The Church has an incredible window of opportunity to really step in and lead in the foster care movement."
A VOLUNTEER'S COMMITMENT
Also helping to spread the word is Janet Rowland, 55, executive director for Court Appointed Special Advocates of Mesa County, Colorado. Rowland also has a contract with the Colorado Department of Human Services through Project 1.27, a Denver-based Christian organization, to help recruit foster families.
A longtime advocate of COMPACT, Rowland, a licensed Assemblies of God minister, plans to dovetail her existing duties with the new CompaCare resources in order to get more AG churches involved. She recently took part in a CompaCare training that she says provided the most comprehensive child welfare tools and applications to recruit foster care families than she's ever seen.
"I've loved what COMPACT does, but it's primarily been limited to Arkansas," Rowland says. "This training will allow it to take place in all 50 states."
Rowland says she is inspired by the CompaCare manual's instructions on how to decipher foster care data at the local, state, and federal levels. Churches that do homework on how the system operates gain credibility with government social services workers, according to Rowland, who worked for the Department of Human Services for a decade, including four years as a child welfare investigator.
While DHS workers usually are eager for church involvement in helping ease the foster care burden, Rowland says congregants typically have shown little interest, in part because they haven't felt supported. She believes CompaCare's vision of wraparound care is the answer to burnout.
"So often foster families feel overwhelmed," says Rowland, who attends Victory Life Church, an AG congregation in Fruita, Colorado. "They do a couple of cases and drop out, so there is a continual cycle of recruiting new foster families. The key to maintaining foster families for more than a couple of years is having that support."
Rowland maintains that the average person isn't cut out to be a foster parent; nevertheless, everyone can do something to help.
"CompaCare lays out a menu of services of what that something is to support foster kids and families," Rowland says.
IMAGE - Volunteers from Colorado receive training at a recent foster care information night.