Pastors Emerge from Near-Fatal Fight with COVID-19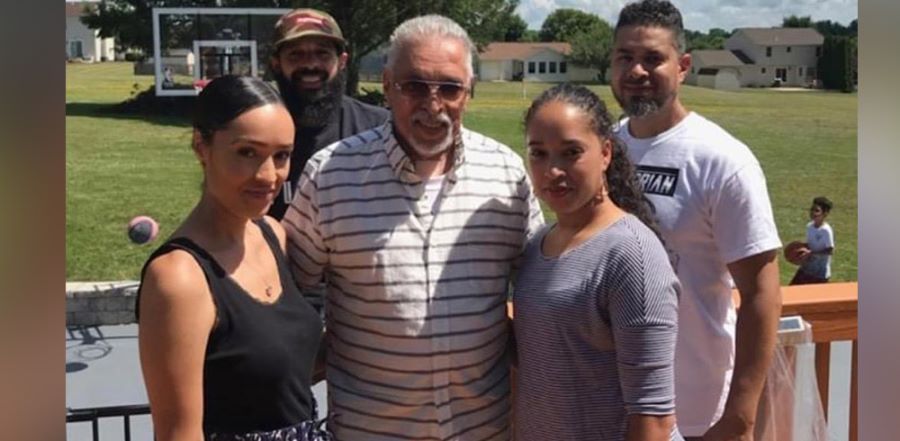 Don't miss any stories. Follow AG News!
Second of two parts.

Rafael Olavarria started feeling ill not long after shopping March 16 at a Walmart store near his home in Allentown, Pennsylvania. He didn't get any better the next several days, and his youngest daughter Stephanie Olavarria-Padin insisted on taking him to a local hospital on March 27.

Upon admittance, Olavarria had a temperature of 104 degrees. After a battery of tests, medical personnel confirmed that Olavarria had tested positive for the novel coronavirus, which in March struck the northeastern U.S. as the epicenter of the pandemic. For the past 37 years, Olavarria has been pastor of Iglesia Misionera, the oldest Hispanic Assemblies of God church in Brooklyn, New York, dating back to 1922. He makes a weekly journey to Brooklyn, where he maintains an apartment.

After news of his diagnosis, Olavarria, who turns 76 on July 28, doesn't remember much of the next 77 days he spent hospitalized. He experienced renal failure, underwent dialysis, had a blood clot in his leg, and needed a blood transfusion. Twice a defibrillator had to be used to keep his heart pumping.

He spent a month intubated in an induced coma. Despite receiving high levels of oxygen through a ventilator, he showed no signs of improvement.

Olavarria's five children — Rafael Jr., Angel, Deborah, Mary, and Stephanie — could not visit their quarantined father in person. Daily they took proactive steps to keep in touch with doctors and nurses by phone. Then the children would meet over Zoom to discuss treatment options. Olavarria's wife of 48 years, Rosita, also stayed involved in medical decisions.

Doctors decided to disconnect all the tubes to see if Olavarria would respond. They suspected he would be dead in 48 hours if he didn't make any progress.

The medical team suggested the last-ditch possibility of performing a tracheotomy on Olavarria, but thought he might be too weak to survive the surgery. And even if they did, they couldn't guarantee it would help. The siblings agreed to the surgery, which brought no immediate relief. Nevertheless, the children knew they had to keep pressing.

"It's not like the doctors and nurses were giving up, they were just facing reality," says Stephanie, 32. "So many people his age were passing away and he had underlying issues." In 2017, Olavarria received a diagnosis of an aggressive form of prostate cancer. After surgery to remove his prostate, he has been cancer-free.
With their father close to death from COVID-19, Olavarria's children — all of them Christians — convinced a nurse to hold a phone to their father's ear while they prayed for him. Olavarria, still in a coma, opened his eyes during the prayer.

The following day, the children again pleaded with nurses to allow their father to listen to their prayers for him.

"I heard the prayers, very far away," Olavarria recalls. From that point on, he gradually started getting better. He underwent therapy to be able to speak again because his esophagus had become inflamed from being intubated so long. He also had to learn how to sit, walk, and swallow once more. He had lost strength in his arms and legs from being bedbound.

Upon release from a hospital, he spent another 13 days at a rehabilitation facility before being sent home on June 11. His final at home therapy session took place Monday.

"Doctors cannot explain how I survived!" Olavarria exclaims. "But I serve a mighty and powerful God who never left me alone."

ANOTHER MIRACLE HEALING
Olavarria also credits the prayers organized by Spanish Eastern District Superintendent Manny A. Álvarez Sr. — who endured his own, less severe bout with COVID-19 — and district missions director Jacqueline Toro.

Toro posted prayer requests on Facebook daily for Olavarria and another long-serving pastor in the district, David Mercado, a fixture at Coney Island Tabernacle in New York for 49 years.

"I have known these pastors well since my teenage years," says Toro, 57. "Both ended up in hospitals around the same time in dire situations. They weren't given any hope of surviving."

Mercado, 75, has been in a rehabilitation facility for 19 days after 88 days of hospitalization. He still is unable to have personal contact with relatives.

"This has been a very strong spiritual battle," says Mercado's daughter Genie Torres, who initially took him to a veterans hospital after he exhibited COVID-19 symptoms. Mercado is a U.S. Army veteran of the Vietnam War. "We had an army of people praying and fasting and battling."

Torres phoned the hospital every morning and evening to discuss her father's condition with doctors. Physicians repeatedly called Torres to say that her coma-induced father appeared close to death due to multiple organ failures, including lungs inundated with fluid and nonfunctional kidneys. He underwent a tracheotomy and had surgery to rid him of fluids after going into septic shock. Torres has been making medical decisions with her mother, Rosita Mercado.

A doctor who volunteered her services at the swamped medical center dismissed the idea that prayer could save Mercado.

"She told us that he was practically brain dead," recalls Torres, 42. "She was adamant that we make a decision to unplug him. But we were not going to give up when there was any hope of survival."

Despite the myriad complications and grim outlook, Dr. David Lee invested time in trying to help Mercado recover. He wrote on a note on a pad to Mercado: If you want to see your family, then blink your eyes or try to move your head. Mercado did both.

Lee called Torres, who lives in Staten Island, immediately.

"He said, 'Don't let anyone tell you your father's mind is gone; his brain is intact,'" remembers Torres, who herself recovered from the coronavirus. Soon, Torres began having FaceTime conversations with her hospitalized dad. Mercado has relied on his favorite Bible passage, Isaiah 59:19. "When the enemy comes in like a flood, the Spirit of the Lord will lift up a standard against him."

Toro, whose daily social media reminders urged prayer for Mercado and Olavarria, believes God's mobilized people made the difference. She received notifications from people from Cuba to South Africa saying they had not given up praying.

"It's like these pastors came back from the dead," says Toro, who also recovered from COVID-19. "To survive in a city where they hospitals are packed, where so many people have died, is a sheer miracle."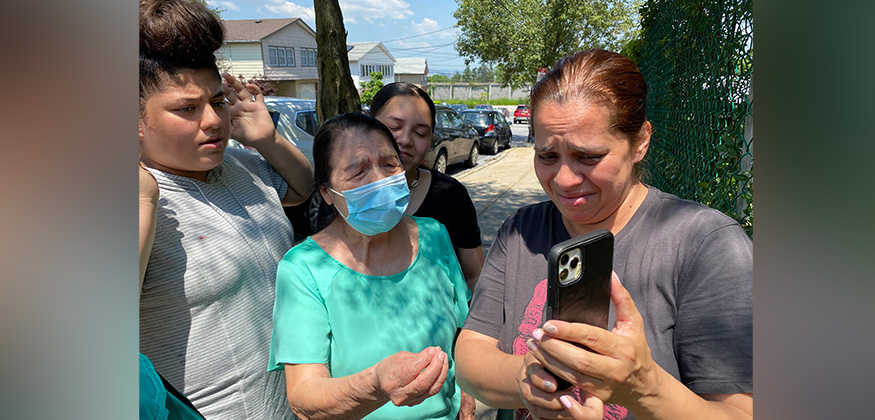 Lead Photo: Rafael Olavarria (in striped white shirt) is grateful for the prayers of his four children who live in Pennsylvania (from left: Deborah, Rafael Jr., Stephanie, and Angel).
Bottom photo Genie Torres (right) has a video phone call with her hospitalized father, David Mercado.