"Pray for Rain" -- California Fires Still Raging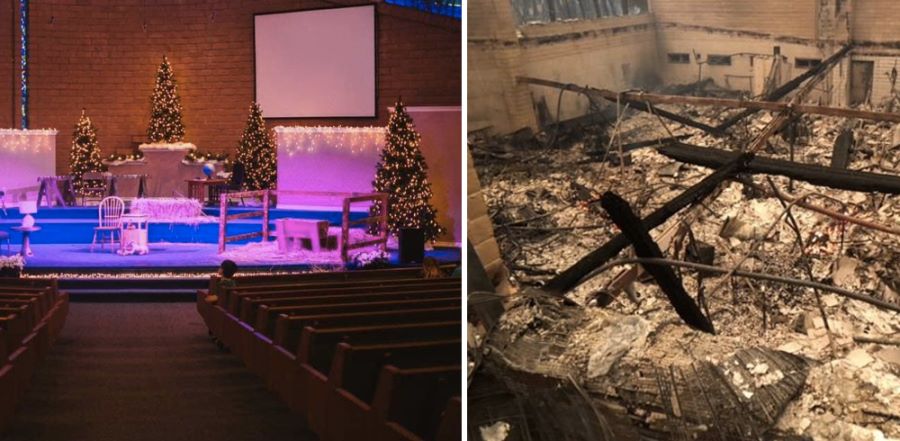 Don't miss any stories. Follow AG News!
The Camp Fire, currently burning in Northern California, has officially become the deadliest in California history as 48 deaths have now been attributed to the fire, with more than 8,800 structures destroyed and 135,000 acres burned. Those structures now confirmed destroyed include First Assembly of God and Skyway AG in Paradise. There has been no further news about the Stirling City AG.

It has been estimated that only 10 to 20 percent of Paradise survived the blaze, as schools, churches, homes, and businesses all succumbed to the fast-moving fire. Bret Allen, Northern California and Nevada district superintendent, reports the Skyway AG parsonage, home to Pastor Mike Thompson, was one of the few structures to survive.

"At this point, we still haven't learned of any church members losing their lives in the fire," Allen says, "for which we are deeply thankful." At last report, the Camp Fire was 35 percent contained.

Jim Uhey, a U.S. missionary with Chaplaincy Ministries who is helping coordinate the relief efforts in Northern California, says that in addition to a load of relief supplies already delivered to Chico First Assembly, more aid from Convoy of Hope is being delivered. "One of the loads will have 46 pallets of product and the other will be water," he says.

Currently the Southern California district is facing a growing threat from the Woolsey Fire, which is currently 47 percent contained. At this point, according to the district office, no reports of AG churches being damaged have been reported, but at least one AG minister has had to evacuate his home.

Gordon Houston, the secretary-treasurer for the Southern California district, believes communities, property, and lives are still very much at risk. "The situation is very fluid here," he says. "Even 15 minutes can mean all the difference in the world."

High winds gusting up to 45 mph are fueling and spreading the Woolsey Fire, and the high winds are forecast to continue through the remainder of the day. In addition, with humidity levels very low, it simply aids the fires in their ability to grow and spread — embers can travel significant distances and can easily ignite a fuel source in these conditions.

For now, Houston solemnly requests one thing from the AG body of believers: "Pray for rain." Some forecasts currently have no rain predicted in California until nearly Thanksgiving.

According to the district office, the red flag warning area for California has been extended all the way to San Diego.

The district is keeping in close touch with Convoy of Hope to assist in establishing a disaster relief distribution site or sites. But until authorities are convinced it's safe to allow people back into the communities already damaged by fire, the needs and relief location sites are still to be determined.
The Central Pacific Ministry Network (formerly Northern Pacific Latin District) reports that no churches in its district have been damaged, but the home of a minister, who lived in Paradise, was destroyed.
IMAGE: Paradise First Assembly of God before/after Camp Fire