Praying Through the City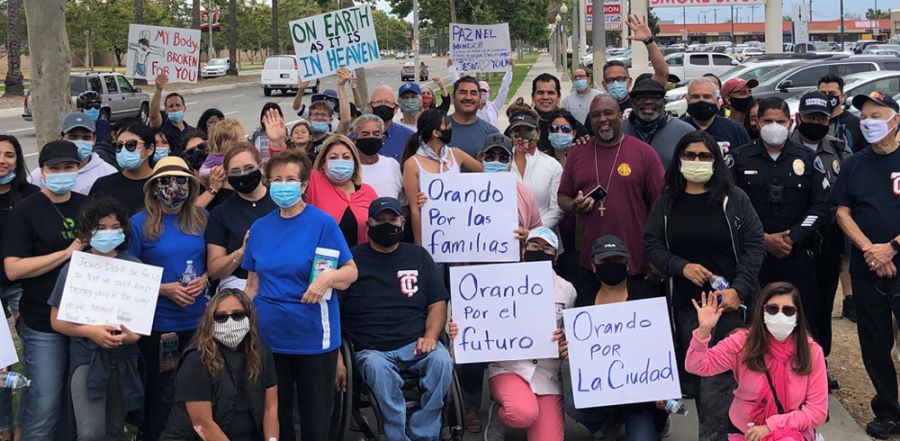 Don't miss any stories. Follow AG News!
Following the death of George Floyd while in Minneapolis police custody and days of ensuing protests — some of it violent — in Santa Ana, California, church leaders acted.

Templo Calvario in Santa Ana is one of the largest bilingual Hispanic congregations in the country. Danny de León Sr., who has pastored the 3,800-congregation church for 43 years, and is a well-known minister in the city, called for an "all pastors" prayer meeting on June 4.

De León, who is also an executive presbyter for the AG, explains that the majority of those protesting — and those involved in the looting and burning — were Hispanic. "There were not that many blacks there doing that kind of damage or protesting," de León says referring to those who moved protests into riots on May 30 and subsequent days.

"It was important to bring our pastors from the community together and pray for the city," de León continues. "We had 25 to 30 pastors from different denominations, different ethnicities — black, Asian, Hispanic, white — who came together in a parking lot downtown on the main street, so people could see us as we prayed."

Ministers took turns to speak briefly and then lead in prayer as cars drove by on busy Bristol Street. Even the superintendent of schools for Orange County, Al Mijares, attended to lend his support, with de León referring to him as "a brother in the Lord."

"Everyone prayed with a lot of heart," de Leon says. "God was in it. There's no doubt about it — He was directing and leading everyone and everything that went on, to the honor and glory of God."

Following the prayers, which took place from 6:30 p.m. to about 8:10 p.m., de León says that God has brought some calm and peace to the city, as protests and marches after that have been peaceful.

Referring to ministers as "gatekeepers" for the city, de León says that it has become important for ministers in the city to meet on a regular basis, in addition to a group of ministers who meet with city and civic leaders every other month.

"We're going to come together once a month to pray," says de León, who will lead the group. "We already have relationships established with a lot of pastors . . . and they know our group is solid biblically, so it will be a very positive gathering."

In addition to the pastoral prayer, on Saturday, through the recommendation of a councilwoman that attends Templo Calvario, de León led a march of about 100 people through the city — not to protest, but to encourage peace, unity, and the love of Christ.

"We met at the epicenter of the protests in Santa Ana, where the looting took place, with many ethnicities represented," de León says. "We had a lot of signs and half of our group went one way and the other half went the other way down the sidewalk."

Signs carried were written in Spanish and others in English. They communicated prayer, prayer for families, standing united, God's love, and other positive messages.
"When we came back to where we started, several pastors prayed," de León says, "and then some police officers came up. We brought them in and prayed for them. We told them, 'We love you, pray for you, support you, and thank you for what you do for the city.'"

Although they didn't have much time to organize the march, de León sees it as an answer to prayer in helping to bring peace to the city. "We put it on Facebook and all over social media . . . and we had a super-positive response. So yeah, it was wonderful!"

"Dan de León has been a great role model to many pastors in our AG fellowship," says Dennis Rivera, director of the Office of Hispanic Relations. "He believes that God has called him to pastor his city and has never hesitated to engage his church in meeting the needs of the people in his community, especially in times of crises. Templo Calvario is well known in the city of Santa Ana as a church that serves all people."

The pastors prayer meeting and the march gave many people in the community the opportunity to see the church united through it ministers and multiple ethnicities.

"I feel very strongly that this was an opportunity for the church to be the Church," de León states. "For us to be out in the open and they could see us and see us united . . . the community needed the message of love and forgiveness. I hope and pray as we continue to go out, and continue to talk, that it [love and forgiveness] resonates in hearts. I know God will honor that and God will make it grow."