Redefining Niche Education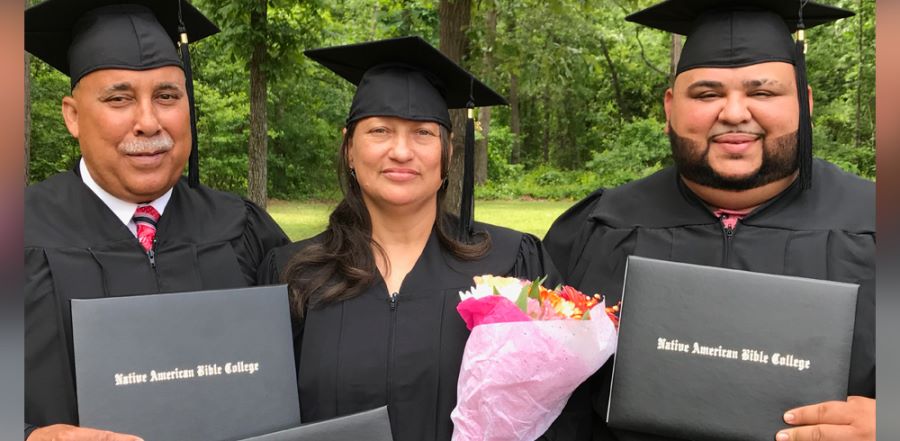 Don't miss any stories. Follow AG News!
Rebekah L. Nichols gave her life to Christ in kindergarten; at age 9 she was baptized in the Holy Spirit. At an Assemblies of God church camp as a 10-year-old, she heard the Lord call her to missions.
Nichols began studying at the
Southern Missouri District
School of Ministry
at 16; the next year, she traveled to Belgium and Luxembourg on her first mission trip abroad.
Equipped with SOM credentials at 18, the AG pastor's daughter from Bunker, Missouri, population 400, could have moved straight from her family's farm into ministry. Still, Nichols sensed the Lord telling her to pursue formal education. But where? Home-schooled all her life, the prospect of big classes seemed daunting.
The perfect fit for her proved to be
Native American Bible College
, an AG school in Shannon, North Carolina,
planted in 1968
to prepare primarily Lumbee Indians for ministry. While Nichols became more aware of her own Cherokee heritage while at the school, neither she nor her husband, Tyler, identify as Native American.
That's fine, according to
James A. Keys,
NABC president and an AG U.S. missionary serving with
Intercultural Ministries
. He notes that a third of the college's students are non-Native American. Students receive in-depth education to prepare them for situations beyond missions and the pastorate.
"They're also nontraditional students coming to night classes — Sunday School teachers, Sunday School superintendents — who want a Bible education to enhance what they do for the local church, for personal spiritual growth," Keys says.
He cites a student in his 50s who attended NABC for 17 years, taking at most two classes per semester. The student graduated two years ago, but he still takes classes for spiritual enrichment. "His is not a unique story," Keys says.
Most students are Lumbee from the Assemblies of God, and they plant and minister in churches that are self-supporting and self-propagating, meaning they build their own churches and pay their pastors, Keys says.
"Most are bivocational, and most do significant outreach to their community," he says. "The Lumbee people will out-evangelize most people. It's in their DNA to evangelize."
However, they benefit greatly from educational instruction, Keys says. While the Assemblies of God isn't the dominant denomination among the Lumbee, the role of NABC is to raise the level of biblical knowledge and training to help improve the quality of churches, according to Keys.
Tuition is affordable; students pay as they go. When they graduate, for the most part, they're debt free, Keys says. This semester's student enrollment totaled only 30. But even with every professor raising his or her own support, the school lacks an adequate income base.
In late 2019, the school set "Vision 2020" goals, asking the Lord to provide 20 new students on campus this fall, $20,000 cash above regular contributions, and 20 new three-digit monthly financial supporters. On Jan. 2, the school received a $50,000 contribution, more than meeting one of the goals for the entire year.
"When things like that start happening, we get a sense of God's favor on the school," Keys says. Over time, the college had borrowed to survive. At the end of 2019, the school had $30,000 worth of debt it could not pay plus another $15,000 in current bills due immediately. "In one day, all of that was wiped clean," Keys says.
Then came the coronavirus pandemic. Schools everywhere had to move online. As distance accreditation required a different level of accreditation, NABC has never offered classes via the internet. The accrediting body and the Department of Education, however, has waived those requirements for all schools this semester, allowing classes to continue. Within days, NABC students and teachers made a seamless switch to its first-ever virtual classrooms via Zoom. Now the school is discussing possibly pursuing distance learning accreditation, keeping some online classes even after the pandemic no longer requires the school to take special measures.
This year, Rebekah Nichols, 22, has graduated, finishing her missions degree from NABC and becoming the first in her family to receive a college diploma.
"I'm glad God put NABC in the plan," Nichols says. "Being here has really prepared me for taking on a missionary appointment." Nichols and her husband, a fellow NABC student whom she met and married while studying at the school, has two years remaining before completing his own degree and moving on to world ministry.