Native American Bible College Marks 50 Years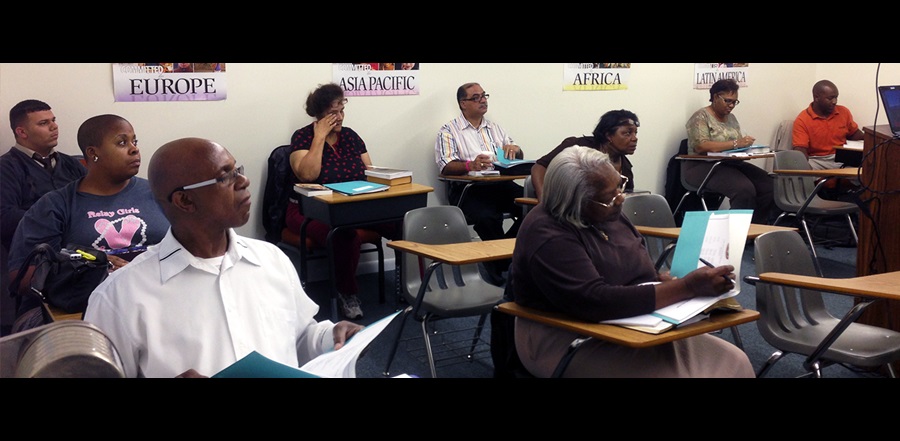 Don't miss any stories. Follow AG News!
Fresh out of a nearby university with a criminal justice degree, John G. Walker prepared to live his childhood dream: becoming a North Carolina highway patrolman. But all along, the Holy Spirit guided the son of an Assemblies of God pastor toward the ministry.
"God interrupted my plans with His plans," Walker says.
Walker, a Lumbee Indian, didn't want to go far from home. He opted to ready himself for the pastorate where his father, Gilbert, received training: Native American Bible College (NABC) in Shannon, North Carolina. Launched in 1968 to equip Native Americans, especially Lumbee Indians, this regional college of the Assemblies of God is sponsored by five AG geographical districts/networks (Georgia, Kentucky, North Carolina, Peninsular Florida, and South Carolina) and U.S. Missions. Roughly 86 percent of the school's graduates with a bachelor's degree in religious education minister as pastors, missionaries, or evangelists. In January, the college celebrated its 50th anniversary.
Native Americans in North Carolina are distinct from those in the West, notes James A. Keys, a U.S. missionary with Intercultural Ministries who serves as president of NABC. The Lumbee tribe numbers about 60,000; a large portion live in Robeson County, 40 percent of whose population is Lumbee. Significantly, they never have received federal benefits as a tribe.
"The Lumbee don't have a reservation," Keys says. "They've had to be self-sufficient."
Their churches are self-supporting. While Keys often receives calls from pastors from other states who want to conduct vacation Bible schools or other outreaches, the Lumbee don't necessarily need mass evangelization. The area's 23 Native American churches are all pastored by Native American pastors, most of whom are alumni or current students of NABC, he says.
Oppression began in colonial times when the Lumbee often became enslaved. During the Civil War, Confederates forcibly conscripted them into service. Today social blight abounds: drugs, alcohol, and poverty. Keys points out that for counties its size, Robeson has North Carolina's third-highest poverty rate, and the highest violent crime rate, murder rate, and property crime rate.
Anecdotally, Keys has observed a difference between Christian and non-Christian Lumbee.
"Those who become Christians have been lifted up out of that, and many have become successful business and professional people," he says.
NABC remains central to training the Lumbee for ministry. The college offers bachelor's and associate's degrees in religious education and professional studies, with majors in Bible, Christian education, ministerial studies, and missions.
"Among Lumbee Christians, there has always been a real zeal for evangelism, but there continues to be a need for further ministerial training," Keys says.
Most of the college's 34 students who finished last semester also ministered and/or worked bivocationally full time — while taking night classes.
"Because of our size, we can lavish attention on each student," Keys says. "Along with the academics, our focus is on the overall well-being of our students."
Walker, 37, received a two-year associate's degree from NABC; after graduation, he served as a student recruiter. He also participated in summer camp meetings held among Lumbee AG churches. Today he's the full-time pastor of Beyond the Veil Assembly of God in Laurinburg, North Carolina. Walker's father, Gilbert, is assistant pastor.
"The school has widened its vision from being primarily aimed at Lumbee to becoming a multicultural, multiethnic training ground for whosoever will come," Walker says. Last semester, around 70 percent of NABC students were Lumbee. Today, NABC's student population includes other Native American, African-American, Hispanic, other ethnic minorities, and white students.
Walker adds that while he's no longer an official recruiter, he continues to point ministers to the college.
"It's local; it's affordable," Walker says. "You don't have to take a loan out to attend. Students receive mentorship and experience God in a new and fresh way."