Refocusing Christ's Mission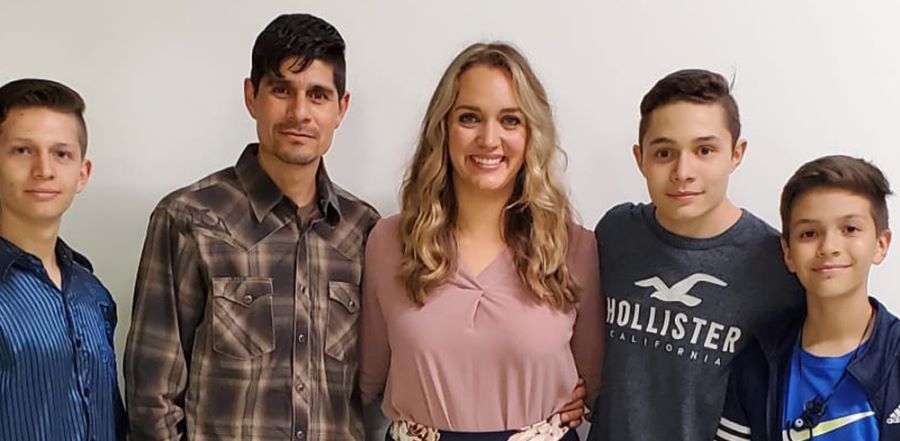 Don't miss any stories. Follow AG News!
For the first time in its 93-year history, San Antonio-based Christ Mission College is on the cusp of achieving accreditation status from the Association for Biblical Higher Education.

The school, formerly known as Latin American Bible Institute, has been on an accreditation journey since 2012 and has attained candidate status. A visiting team will be on campus in October, with a decision of the initial accreditation phase expected in February. Full accreditation could come a year after that.

"This brings value to the whole institution, because parents see the school has been qualified through the certification process," says Monte R. Madsen, CMC president since 2003. "Parents have confidence that the curriculum and the program are of collegiate quality."

H.C. Ball, the organizational leader behind the formation of the Hispanic Assemblies in the U.S., founded LABI in 1926. At the same time, Alice Luce started another LABI College in La Puente, California.

Ball viewed LABI in Texas as an institution to train pastors and missionaries. LABI began in a Sunday School room in San Antonio, moved to Saspamco, Texas, in 1935, then to El Paso in 1945. The school shifted to its current location back in San Antonio in 1981. The name change to CMC happened in 2017.

"Everyone who is a Christian has the calling to follow Christ and to fulfill His mission in the power of the Holy Spirit," says Madsen, 58.

CMC purchased its current 82-acre site from a Nazarene seminary in 1981. Growth has been slow and incremental. With 50 students currently enrolled, Madsen — a 1985 graduate — says CMC is poised for growth.

One of the drawing cards of the school is affordability — and a promise that students won't emerge saddled with student loans.

"We graduate every student debt-free," says Madsen, whose Danish father, Arthur, met his Hispanic mother, Rebecca Sanchez, while stationed in the Air Force in San Antonio. Although tuition and fees cover only 40 percent of operating expenses, CMC conducts fundraisers to help defray costs. The school also leases space on campus to three churches.

Many staff and faculty members view their roles as a sacrificial calling. Their lower-than-average pay helps keep tuition costs down.

Alumni Arturo and Alicia Carrasco are such examples. Mexican-born Arturo worked as a coal miner and Alicia as a public schoolteacher, but they left their jobs and returned as full-time employees at CMC. Arturo is director of maintenance, facilities, and safety; Alicia's myriad duties as vice president of academics include scheduling courses, working with federal aid, and hiring faculty (the school employs 22 adjunct professors, who teach in both Spanish and English).

"We feel like we're home missionaries in a way," says Alicia, 37. "A lot of the staff and leadership are homegrown. They stay on because they have a heart for the school's vision and mission." The couple's three sons, Brandon, Benjamin, and Blake (ages 17, 16, and, 12), all plan to attend CMC.

CMC has an enviable student-teacher ratio of 10 to 1. Students come primarily from Texas, as well as Oklahoma, New Mexico, Utah, Arkansas, Louisiana, and Colorado. Half a dozen are from foreign countries: Mexico, Colombia, Argentina, Nicaragua, and Ecuador. Currently, more than 90 percent of students are Latino or Latina, but Alicia Carrasco hopes there will be more diversity in the years ahead.

"We are not a school for just one demographic," says the blonde-haired, green-eyed 2006 graduate who is fluent in Spanish. "Students have never been required to be Hispanic to attend." Carrasco's Anglo father, Carroll Sluder, and Hispanic U.S.-born mother, Rosemary Sluder, live in Delta, Colorado, where Carroll has been pastor of the Spanish-speaking El Buen Pastor since 1993.

Every semester, all CMC students take missionary trips, both around the U.S. and abroad, countries such as Costa Rica, Spain, and Haiti. Students learn how to raise their own financial support.

"We can only teach so much in the classroom," says Madsen, whose grandfather Josue Sanchez served as superintendent of the then-Gulf Latin American District. "A kid who may never have left the barrio, in effect, can be a missionary by graduation."

Although the four-year undergraduate school still emphasizes ministerial and theological studies, Madsen in recent years has recalibrated the mission of CMC.

"We don't want to just graduate students with diplomas, but students who are disciples," Madsen says. "They're not just leaving with a skill set, but a call of God on their life."

For the past three years, spiritual growth discipleship groups have been meeting every Tuesday at the school. They fall under the bailiwick of Giovanni Arreola, a 2018 CMC graduate.

"The discipleship program has become the heart of the school, the heart of the way we live," says Arreola, 23. "Discipleship isn't just life on Tuesdays in the small groups; it's how we interact with friends, family, and others we see on campus."

Arreola also is in charge of dorm pastors who mentor students, and he oversees the church involvement aspect of student ministries on campus. Every student — once for those earning an associate's degree and twice for those with a bachelor's degree — must participate in a summer internship, often working in a church.

Students also plug into a local church during the school year, serving in some capacity on Sundays. Eighty percent of graduates end up in ministry.

"Pastoral mentors take students under their wing and provide practical experience to supplement classroom instruction," says Arreola, who, like Carrasco, is from Delta, Colorado.

Arreola agrees with Madsen's philosophy, that CMC is in the business of churning out not merely graduates, but Spirit-filled disciples of Jesus.

"It's not our gifts that are going to take us places, but our character," Arreola says. "CMC grounds us in the Lord to become godly teachers instead of just gifted people."

Alums of the school include AG Office of Hispanic Relations Director Dennis Rivera and the late Hispanic Pentecostal pioneer Jesse Miranda Jr.
Photo: The Carrasco family.