Remarkable Restoration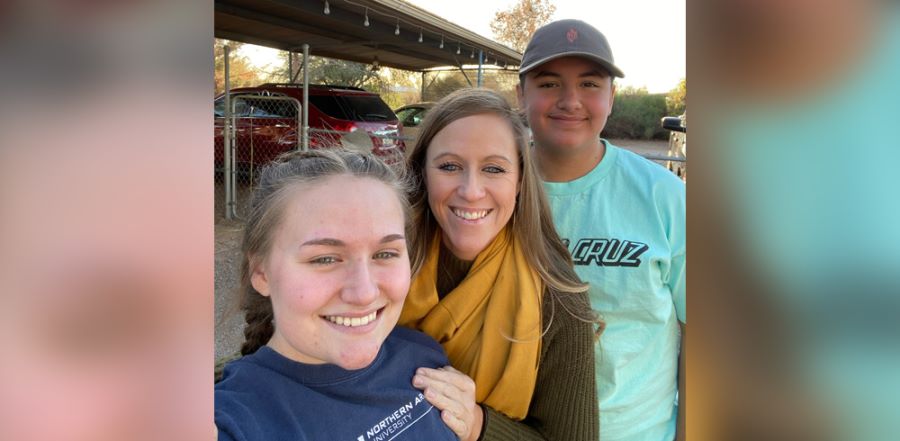 Don't miss any stories. Follow AG News!
Jennifer Louise Toro came into the recovery program at
Home of Hope
in Casa Grande, Arizona, at the age of 26 — after she had spent more than half her life addicted to methamphetamines.
"I tried it one time and I was hooked," recalls Toro, now 37. "It took my life."
Toro managed to stop using during two pregnancies. But long-term sobriety eluded her, and she ended up losing custody of both her children.
"I could stop periodically, but I kept going back," recalls Toro, a native of Chandler, Arizona. "I didn't get my heart healed."
Today, the sweet-voiced and attractive Toro doesn't appear to be someone who spent 15 years addicted to drugs. But she grew up in a home with two older brothers who fought a lot. Her parents yelled a great deal at each other as well. On many occasions, the strong-willed Jennifer engaged in heated arguments with her father.
Soon after her older brother Jordan started using drugs, Jennifer did, too. It began a quest for seeking love all the wrong places.
Toro believed if she only found the right man, everything would be all right. But she endured a series of bad relationships. She gave birth at 18 and again at 22, but neither father stuck around to be involved in the lives of either Toro or his child.
The worst experience with a man occurred when Toro moved in with a gang member, who exposed her to criminal activities she never knew existed and a caliber of people she'd never encountered.
Toro says the gang member nearly killed her four times: passing out from suffocation, having a knife held against her throat, attempted strangulation, and trying to burn her on a stove.
Toro's parents proved a lifeline, allowing Jennifer's 9-year-old daughter, Kaylie, to live with them as Jennifer raised her 5-year-old son, Romeo, as a single parent.
But Jennifer fell asleep at the wheel while driving 65 miles per hour on a freeway with Romeo in the back seat. Her sports utility vehicle rolled 12 times. While mother and son escaped serious injury, Child Protective Services (CPS) determined that Toro had been driving under the influence of drugs and removed Romeo from her home. Jennifer's parents, who had become licensed foster parents, kept the children for more than a year.
Toro's parents, Stephen and Robin, had learned to practice tough love with Jennifer.
"We would get calls in the middle of the night asking for money," Robin recalls. "When we said no, she got nasty and we had to hang up. We just hoped she would last through the night."
Losing custody of her children dropped Jennifer to a new nadir. Her drug dependency intensified, she overdosed twice, and she attempted suicide by downing an entire bottle of a nighttime pain reliever.
"Everything in my life had crashed and burned," Toro says. "I never thought I would get my kids back."
Meanwhile, Jennifer's brother Jordan, who had gone to the
Teen Challenge Arizona
Phoenix Men's Center
, urged his sister to enroll at the
Home of Hope
women and children's center in Casa Grande. Jennifer said she had no interest in relinquishing a year of her life for a treatment program.
But her situation worsened even further. A trio of gang members threatened to kill her because she knew too much about their fraudulent operations. She had no control of her life as gang leaders confiscated her cellphone and car keys.
GLIMMER OF HOPE
Although Toro had no relationship with God, she uttered a prayer, asking Him to allow her to sleep. She doubted if she would survive the night because of threats from gang members.
The next thing Toro knew, she awoke from a good night's rest. She slipped out of her apartment, ran across the street, and phoned her mother from a convenience store to come pick her up.
"If she was in real danger, we would always go and get her," Robin says. Robin sensed Jennifer had turned the corner. After detoxing for two weeks at her parents' home, Jennifer moved into Home of Hope. The new atmosphere proved unnerving for a different reason.
"I thought,
This is not real, these people are too nice,
" Toro recalls. "I had never experienced the amount of love I experienced when I first got there."
A fortnight later, Toro fell to her knees and promised God to surrender her life if He would return her children.
Three months after that, Toro appeared in court. A CPS representative argued that she remained an unfit mother. However, a judge returned Toro's two children to her and ordered the case closed — provided she follow
Adult & Teen Challenge
program guidelines. Kaylie and Romeo moved in with her at Home of Hope.
"I learned how to parent with Jesus," says Toro, who benefited from $30,000 worth of pro bono dental reconstructive surgery at Home of Hope.
When living with gang members, Toro had acquired seven felony charges.
"I did whatever they told me to do, including illegal activities," Toro remembers.
However, a judge, familiar with the transformational work of Adult & Teen Challenge, offered to reduce the sentence to a pair of misdemeanors and 24 hours in jail if Toro finished the program. She did. Afterward, she enrolled at
Pima Medical Institute
and became a certified clinical medical assistant, working at an urgent care facility for two years.
Seven years ago, Toro began volunteering once a week at Home of Hope. Then a staff position opened, and she became a full-time worker. Two years ago, Toro advanced to center director.
"It's such an honor to be able to serve God as director of the center," Toro says. "God restored me here."
Home of Hope
is a 35,000-square-foot former assisted living facility. The center includes a beauty salon, arts and crafts room, library, and nursery with an enclosed playground. Women with children have their own living spaces, often a modern furnished studio apartment.
There are 13 staff members, 16 residents, and 10 children at Home of Hope. Most women with children see no other option to simultaneously receive treatment and keep caring for their kids.
Adult & Teen Challenge, a department of
U.S. Missions
, operates 10 centers that allow children to live with their mothers.
FAMILY RESTORATION
Jennifer's daughter Kaylie, 19, now works at the Home of Hope's licensed child-care center. Son Romeo, 16, is a youth leader at
Passion Church
, the AG body the family attends in Casa Grande, a growing community of 53,658.
Jennifer's father, Stephen, quit drinking beer when his daughter was 16, but she didn't reconcile with him until after she accepted Christ at a Teen Challenge program a decade later. After 25 years away from the Lord, Stephen rededicated his life at a Wednesday night service two months after his son Jordan entered the Phoenix Men's Center. Robin followed a month later as she witnessed how Stephen, an electrician, had given up alcohol and cussing.
"I was so angry with my dad until I came into the program," remembers Jennifer, who is in the process of obtaining credentials through the
Arizona School of Ministry
. "We walked through forgiveness. My dad is an amazing man of God. I don't think I would have made it without the support of my parents."
Robin is grateful she and Stephen managed to stay married through their rough years.
"We definitely had our fights," Robin says. "It was pretty volatile." Three teenagers in the home plus the fact that Robin worked full time and attended night school to obtain a bachelor's degree added to the stress.
Robin recalls that she and her husband put locks on their bedroom door when away from the home because so many of their possessions went missing, including Stephen's wedding ring that ended up hocked.
Now a real estate agent in Maricopa, Arizona, Robin no longer hangs up the phone when her daughter calls.
"Jennifer is my prayer warrior," says Robin, 63.
"God loved me back to life and I want to do the same for other people," Jennifer says. "My heart cry is that we give them the hope that their life is not over. If they're still breathing, there is still opportunity for God to heal."