Resettled Gratitude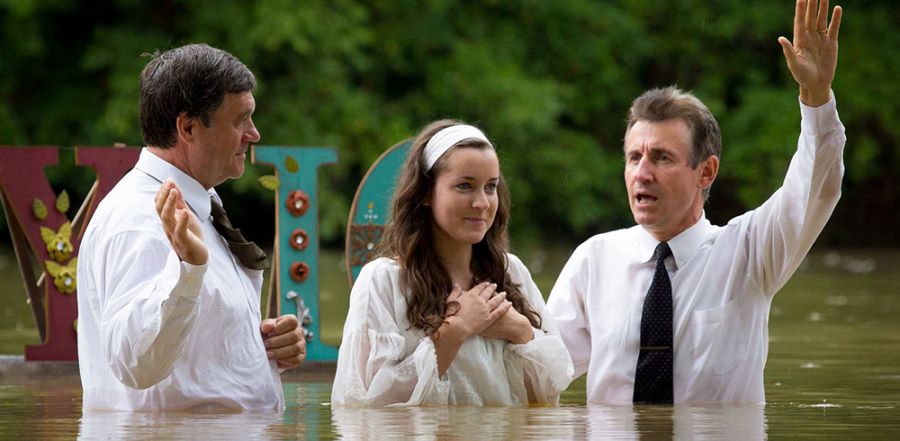 Don't miss any stories. Follow AG News!
ROGERSVILLE, Missouri -- There are various luxury cars in the parking lot of Bread of Life Christian Church, but Senior Pastor Mykola Illyuk isn't one of the owners.
Illyuk leads the church of 300 -- most of them immigrants from the former Soviet Union -- but he isn't paid. The 52-year-old father of six lives modestly and makes his living driving a school bus. In fact, all four pastors on staff of this Assemblies of God church near Rogersville, Missouri, are volunteers. In the U.S.S.R., the government prohibited churches from collecting tithes.
It's not that those at Bread of Life are tightfisted. On a recent Sunday morning, attendees dropped more than $5,100 in collection bags after watching a video about assisting orphans in Ukraine. Likewise, the 12,500-square-foot building dedicated in 2013 is well constructed, largely through volunteer labor by craftsmen in the congregation.
But some traditions from old continue to hold sway in the United States. Before immigrating to the U.S., Slavic Pentecostals often met in secret because of government oppression. Professional clergy didn't exist in the Pentecostal underground.
Yet Bread of Life is becoming Americanized in various ways. For example, some attendees head for the espresso bar adjacent to the sanctuary after the Sunday morning service.
Although the singing and prayers are in Russian, a translator fluent in English interprets sermons on stage or through headsets. Illyuk understands some children know English better than the native tongue of their parents, who by and large have immigrated from Russia, Ukraine, Belarus, and Moldova. He also understands that it's important for youth to connect with Americans who have likeminded spiritual beliefs so they won't go looking for those who don't.
Another change is there tends to be just one or perhaps two speakers delivering a 45-minute sermon now, rather than five or six every Sunday morning as in the past.
And four years ago, overcoming suspicions of authority that accompanied the days of the underground church, Bread of Life affiliated with the Southern Missouri District of U.S. Assemblies of God. Last year, the church transferred to the National Slavic District Council and is one of 48 churches in that growing ethnic group since its formation in 2008. 
Illyuk moved to the U.S. from Ukraine in 1994. In 2006, he became one of the first in the Slavic community to move to suburban Springfield, Missouri. Now, practically each week others move to the region, following relatives from urban areas around the U.S., seeking a milder climate, more affordable housing, and conservative values in which to raise their children. Nearly every family is related to someone else in the local body. There are an estimated 300,000 Slavic Pentecostals now living in the U.S. 
Illyuk tries to blend cultures and generations in leading the church, which is bursting with children, youth, and young couples. Many of the married women wear sheer black headscarves. Once a month, some adults participate in foot washing ceremonies during the service.
During a recent special harvest festival Sunday morning service, 45 minutes of music features seven singers leading worship, a 22-member youth choir, a women's trio, and a 30-member adult choir.
"Old people want to sing old Russian-language songs, but the young people don't," Illyuk says. "We have to honor each other."
Whether accompanied by a prerecorded compact disc or a live band, many attendees have an opportunity to reverberate praiseworthy songs from the platform.
At a recent thanksgiving-themed service, Illyuk preaches about not taking the blessings available in the U.S. for granted.
Using Psalm 103 as a text, Illyuk passionately intones how many immigrants arrived in the States with nothing but a couple of suitcases yet now they have a house to live in and a vehicle to drive. He cautioned the congregants not to become accustomed to the good life while forgetting the Lord. He also urged children not to be embarrassed by parents who don't speak English well.
"They came to this country for freedom and so you can have a blessed life," Illyuk tells the young people.
The pastor exhorts attendees to be grateful for full refrigerators, running water, furnaces, and employment, noting that complaining about bosses is common in the former Soviet Union.
"God gave us the liberty to immigrate to this country," Illyuk preaches. "We must have a grateful heart."
In a concluding prayer, Illyuk recounts how ancestors had been imprisoned for their faith.
"Forgive us for not valuing your Word in this country of abundance," Illyuk says. 
Nick Vedernikov emigrated from Russia with his family as a teenager in 1994, primarily to gain religious and economic freedom. Like many in the congregation, he is self-employed, working these days installing hardwood floors. He moved to Springfield in 2006 and currently is completing Global University courses. He expects to be a credentialed AG minister by spring through the Southern Missouri District.
"I feel the burden to reach out to Slavic unbelievers in this area," says Vedernikov, who has five children with his Ukrainian wife Alyona.
Alex Muzichuk is another in the congregation assimilating with the U.S. Fellowship. Muzichuk came to the U.S. at 12 in 1989 when his family escaped religious persecution in the former Soviet Union. Three years ago, he moved to Springfield to attend Assemblies of God Theological Seminary to obtain a marriage and family counseling degree. His wife Natalie is of Ukrainian heritage and they have three young children. Muzichuk is a Bread of Life associate pastor who sometimes preaches.
The Friday evening youth service is in English. A Wednesday evening Bible study is in English, translated into Russian. Among the dozen ministries mentioned on the church's website is the women's ministry. Generous missions giving, such as an offering to help print literature for military chaplains in Kiev, Ukraine, is a mark of the church.
Alvira "Ella" Kiselev is representative of the younger generation at Bread of Life. Born in 1990, two years after her parents came to the U.S. from Russia, she is quite content to be single for the time being. Traditionally, Russian girls wed while still teenagers and soon begin having children.
The bilingual Kiselev is attending a local community college, working as a server at a restaurant, enjoys a good relationship with her parents, and has been on mission trips to Russia and Mexico in the past year.
"I want to get married, have a good career, and serve in the church," Kiselev says. "I don't know if I'll marry a Russian or American, but I'll want my kids to learn Russian."