Seek and Save Partnering to Reach Nine Major U.S. Cities in 2023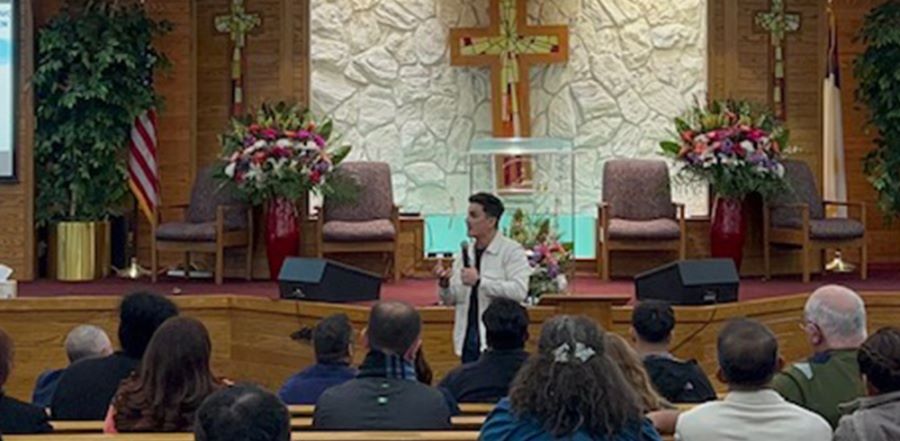 Don't miss any stories. Follow AG News!
In just a few months, the Assemblies of God's new initiative, Seek and Save, is going to launch into an ambitious nine-city tour that will span the United States, involving scores of ministries and civic organizations at each location, to bring healing to hearts and lives and salvation to souls.

Seek and Save is a collaborative initiative that began with two initial outreaches in 2022 — Yuma, Arizona, and Chicago. In reaching cities, Seek and Save partners with U.S. Missions Executive Director Malcolm Burleigh and U.S. Missions Chi Alpha, Adult and Teen Challenge, and Youth Alive as well as the AG national office, Anglo and Hispanic districts, local churches, Convoy of Hope, F.R.E.E. International, local authorities and civic leaders, missions teams, and others to love on hurting communities in such a God-directed way that people, who know God or not, can physically feel the difference — the power and presence of the Holy Spirit.

Perhaps one of the most impressive things behind these outreaches is the cooperation among all the different entities. For example, in the Chicago outreach, 68 different churches, ministries, and organizations partnered to impact thousands of lives and ultimately see hundreds give their lives to Christ.

The 2023 events kick off on May 16-20 in Detroit followed by Newark, New Jersey, May 30 – June 3. St. Louis; Columbus, Ohio; Aurora, Colorado; Southern California; Los Angeles; Memphis, Tennessee; and Oklahoma City follow through the summer and into November.

Bert Pizarro, coordinator for Seek and Save, explains that weeks before an event begins there will be personal evangelism and prayer training hosted by an AG church in the select city.

"AG World Prayer Center Director Joe Oden, a U.S. missionary candidate, will speak at that district-selected AG church six to eight weeks prior to the Seek and Save event," Pizarro says. "In addition to that church body, district officials and other local church congregations will also be present to begin ongoing prayer for the event in addition to the prayers of those at the World Prayer Center. Prayer will pave the way for every Seek and Save event."

At each location, trained Chi Alpha, Adult and Teen Challenge, and other teams will then canvas portions of the city, inviting residents to a block party where free meals will be served, live music played, inflatables are available for the kids, and opportunities to connect with civic organizations are offered.

Convoy of Hope will also provide groceries to distribute and F.R.E.E. International will work with local authorities to identify trafficked children. During the school year, Youth Alive teams will also hold assemblies at local schools speaking on character, while during the summer months, sport camps will be offered to students, where they'll be invited to the block party as well as a special service.

When Pizarro starts talking about the number of organizations involved, how the multiple ministries interact with each other, the coordination of churches and civic organizations, meeting with authorities and securing confirmations, and then realizing that each event is really two events as a duplicate effort is being made with the Hispanic districts and churches in each of the communities, one thing becomes perfectly clear: This can only be a God thing.

PIZARRO

Tracking Pizarro's journey to accepting the offer to lead Seek and Save is the very definition of multiple "God things." For even though Pizarro is undertaking a huge task in leading Seek and Save, what God has led him through in preparation for this ministry gives one confidence that God will continue to work in and through Pizarro to see Seek and Save exceed all expectations — just as He has done before.

Pizarro and his wife, Zoharis Reyes, were serving together in leading a Master's Commission in Bayamon, Puerto Rico, hosted by their church, Tabernaculo Asamblea de Dios (Tabernacle AG), in Bayamon.

Through the church, the couple saw multiple opportunities to touch lives outside the church walls. Ministries were developed for the homeless, the destitute, those trapped in addiction, and more. Their work with Master's Commission students provided an ongoing flow of ministry outreach into the community.

In 2010, while Choco De Jesús, the current general treasurer for the Assemblies of God, was still a pastor in Chicago, he became aware of the Master's Commission in Bayamon. His daughter, Yesenia, wanted to attend a Master's Commission program. As De Jesús had family in Puerto Rico, the Tabernacle AG location and reputation were very appealing.

"But like any father, he wanted to check us out in person," Pizarro says. "He knew we were involved in the community, but when he found out how much we were involved, I think it surprised him . . . I remember how God impressed upon my heart that he (De Jesús) was going to go high in the Assemblies of God, and somehow I was going to be connected with him."

Shortly after this, De Jesús told Bert and Zoharis that he had always wanted to plant a church in Puerto Rico — they should come to his next leadership training in Chicago and he would pick up the tab. The Pizarros let the invitation slide; there were so many wonderful things God was doing in Bayamon.

CONNECTED LIFE CHURCH

The following year, Pizarro accepted De Jesús' invitation to attend the leadership conference, and in 2012, the couple planted Connected Life (AG) in the capital city of San Juan.

There was no doubt that this church was built to connect with those beyond its walls. The couple worked with various ministries and organizations to meet physical and spiritual needs, establishing a strong presence and developing strong relationships within the community.

But if anything prepared Pizarro for the multitasking that Seek and Save requires, it came at the hands of Irma and Maria — a pair of hurricanes that hit Puerto Rico in 2017 just two weeks a part.

Irma took a glancing swipe at the island, knocking out power to about 1/3 of the residents, compromising some drinking water sources, and causing some flooding.

Maria was a different story.

Maria, a Category 5 hurricane, centered Puerto Rico, knocking out all power and water to the entire island, killing nearly 3,000 people, and leaving thousands more homeless as the storm dumped up to 30 inches of rain on the island, causing massive flooding.

AIDING AN ISLAND

Unwilling to wait and hope for government help, Pizarro started immediately to reach out to his contacts to help as many people as he could. His requests for help did not go unheeded. He was able to get supplies shipped in from various sources, including Convoy of Hope, to provide significant amounts of not only food and water, but teams of workers.

"Of the 46 districts that make up Puerto Rico, by the time we left to come to Springfield, we had assisted churches and communities in 43 of them," Pizarro says. "We also organized and led 129 teams to come to Puerto Rico for relief work, restored 23 churches, cleaned up and roofed hundreds of homes, and served hundreds of thousands of meals."

That kind of communication and organization in light of the magnitude of the disaster, the remote location (Miami is the closest U.S. city — nearly 1,000 miles away), and power not being fully restored to the island for 18 months, gives witness to the challenges God brought them through and used to prepare them for the future.

And then came the "crowning touch."

"A central LGBTQ building in San Juan had its entire roof ripped off by the hurricane," Pizarro says. "For four years, that building remained dormant. It is located in the heart of the financial district, and you know what that means, it's a very valuable location — God gave us that property and (after the repair and remodel) the church tripled in size in just a short time."

But here's the part that reveals the hearts of the Pizarros to see the lost find Christ.

"We have a ministry called Rescate Cenicienta, Rescue Cinderella, which is our prostitute ministry," Pizarro explains. "The Friday of the grand opening of our Roof Top, we held an event at the church specifically for transgenders and cross dressers — 30 came."

Pizarro says that a meal was served in a posh and elegant environment, a lot of fellowship took place, and a brief sermon message was given, which was not "seeker sensitive."

"We made it clear that sin is sin," he says. "However, we all miss the mark — everyone misses in different ways — and we all are in need of God's forgiveness and salvation."

Following the message, a salvation call was given, and three Sundays later, three of the men came to the service, dressed as men — and still continue to visit the church to this day. That month alone, 50 people also gave their lives to Christ.

"One of the main LGBTQ activists in Puerto Rico right now came to the event," Pizarro says. "She was testing us. But she was moved — God was there! She told me, 'I thought you guys were fake, but this was an excellent night.'"

As a minister, to see God working through you, blessing the church with new facilities and growth, seeing people coming to Christ, all while still impacting the community for Christ, it's little wonder that when De Jesús called in June 2022 to see if he would be interested in leading Seek and Save, Pizarro paused.

Moving his family from Puerto Rico to Springfield? Culture shock. Leaving behind this burgeoning ministry and countless friendships he and Zoharis had established and invested their lives in? A heart-rending loss.

"But we remembered that in October 2021, a guest speaker, Raul Aviles, had come to minister at the church," Pizarro recalls. "He told us, 'All morning long I have been listening to God about you — this is not your final destination.' I had suppressed that word until pastor Choco called me."

Zoharis gave Bert a copy of Aviles' message from that day and the Holy Spirit spoke clearly to him: "Your assignment in Puerto Rico is over."

When De Jesús presented the plan and purpose for Seek and Save to the couple and what it would take to accomplish, Zoharis looked at Bert and said, "That is you."

The family arrived in Springfield in November to begin their next divine appointment.

BEHIND THE SCENES

Through the successful initial launches of Seek and Save in Yuma and Chicago and the Pizarros willingness to come to Springfield, there has been a growing appreciation and excitement for the initiative. In addition to the nine events planned for 2023, two more have been added for 2024 with seven or eight more expected to be added to that list.

Recently, De Jesús was invited to the Mayor's Conference held in Washington, D.C. Forty to 50 mayors from some of the largest cities in the United States came together to discuss the gun violence challenges they were facing and possible solutions.

In addition to just five mayors having the opportunity to speak, De Jesús was granted a window. De Jesús, who was last to speak, presented Seek and Save to them. He explained the Assemblies of God believes the real issue is that America has a heart problem.

"If you address the heart, then the head and the hand will follow," De Jesús told them. He then offered to partner with every city represented to bring Seek and Save to their community, not to proselytize, but to mentor and help change hearts. Several of the mayors have already contacted De Jesús about bringing Seek and Save to their cities.

Although Seek and Save, which incorporates dozens of individual ministries, churches, and organizations representing hundreds of volunteers for each location, is exciting in its scope, it's far from God's lone effort.

A great awakening in colleges and across the nation has been prophesied throughout the Assemblies of God and in multiple other denominations in recent years. And signs of it beginning to take place are increasing. Seek and Save, which will utilize Chi Alpha college students in its efforts, is simply another avenue to prepare the way for the Holy Spirit to sweep across the country.

However, even with all his experiences, the task that lies before Pizarro is daunting — it is likely not humanly possible to accomplish everything that must be done in the weeks and months ahead.

Pizarro realizes there is only way for everything to come together. Glancing at his outline of the lists of things to accomplish for each event, he looks up with a smile, but with sincerity in his eyes, and simply asks: "Pray for me."
TOP PHOTO: Bert Pizarro, Seek and Save coordinator, presents the Seek and Save initiative to pastors and leaders of the Southern Pacific District at Iglesia La Roca Salvación in Los Angeles.