Still Focused on Ministers and Missionaries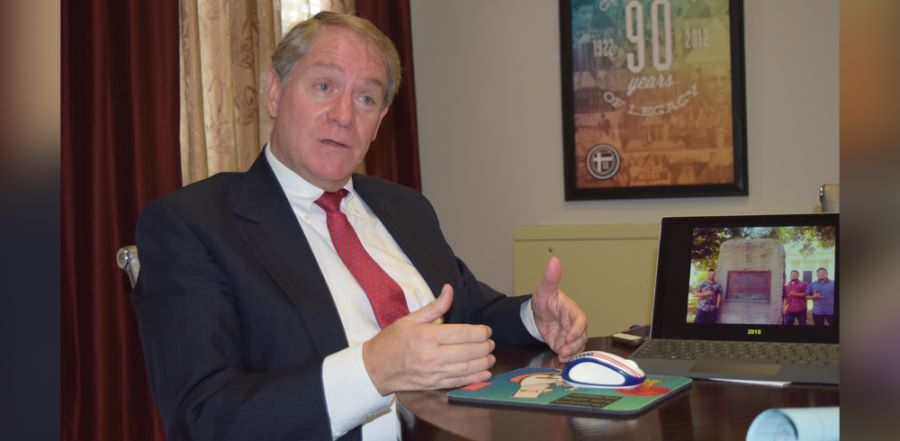 Don't miss any stories. Follow AG News!
HAVERHILL, Massachusetts — The picturesque, wooded 18-acre campus of Northpoint Bible College & Graduate School is surrounded by early American history and spiritual milestones. Colonial settlers bought land in the area in 1640 from Native Americans. Great Awakening instigator Jonathan Edwards preached nearby. Great Awakening evangelist George Whitefield is buried 20 minutes away. Some homes in the immediate neighborhood date to the Revolutionary War.

Before the Assemblies of God took over the campus 12 years ago, the grounds had been occupied by a variety of institutions affiliated with Bradford College, originally opened in 1803. The four-story Academy Hall has been around since 1868. The brick edifice covers 119,768 square feet and contains administrative offices, the dining hall, and married student housing.

Bradford initially trained ministers, but by the time it closed in 2000, it had become an indebted liberal arts school.

Meanwhile, for the next seven years, a community of Christians in Haverhill had been praying for the abandoned Bradford College property to be restored to its religious roots.

In 2007, Hobby Lobby founder David Green agreed to purchase the property for the Fellowship — if Charles T. Crabtree would serve as president of what was then called Zion Bible College. Crabtree, who retired as AG assistant general superintendent in 2007, became the school's leader when the campus shifted to Haverhill in 2008 from Rhode Island.

After paying $3.5 million to purchase the campus, Green spent another $4.5 million on initial upgrades, such as new windows and roofs as well as tuck-pointing for the seven buildings still used. Green's wife, Barbara, remains on Northpoint's board. Annually since the purchase, the Greens have financed repairs and renovations to campus buildings. The campus is now valued at $18 million.

Since 2013, J. David Arnett, former dean of the defunct Central Bible College in Springfield, Missouri, has been president of Northpoint, which is fully accredited by the Association for Biblical Higher Education.

Denworth Hall, a theater building at the entrance to the campus, is a behemoth beyond repair. It could cost upward of $20 million to repair longstanding water damage in the basement, remove asbestos and lead paint, and replace rusted pipes and faulty wiring before the structure is safe for occupancy. Instead, Arnett prefers to spend an estimated $1 million to demolish the boarded-up building, but Arnett isn't willing to borrow the funds. He'll wait on a donor.

Just before he left in 2013, Crabtree convinced the board to change the name of the school from Zion Bible College to Northpoint Bible College.

Zion Bible College had been on a spiritual journey of its own. Christine A. Gibson, who formed the Pentecostal denomination Zion Evangelistic Fellowship, founded the school in 1924 in East Providence, Rhode Island.

But the Assemblies of God connection to what is now Northpoint goes back only to the turn of the century, before it relocated from Barrington, Rhode Island, where it had been since 1985. But by the early 2000s, stringent building codes imposed by the state made operating the facilities untenable.

STREAMLINED EDUCATION
Arnett realizes in order to survive, Northpoint needs to adjust with the times. A Master of Arts in Practical Theology has been implemented. The Association of Biblical Higher Education has approved the school's plans to offer a Master of Divinity degree that would lead to military chaplaincy. All courses are available on the internet, with distance degree programs accessible anywhere in the world.

"Online education is the wave of the future, whether we like it or not," Arnett says.

Another reality in a tight fiscal environment is the frequent use of fully qualified adjunct professors. Northpoint has eight on-site faculty, which includes administrators such as Arnett. In addition to downsizing staff, Arnett has outsourced budget items such as landscaping, computer services, and the cafeteria food service. The latter is saving $100,000 annually, and the meals are plentiful, nutritious, and tasty. The fact that the school has no sports teams also saves plenty of money, according to Arnett.

"We have come through a tough season," Arnett says. "We have fought hard to keep costs down. We're unique in that we have no debt." Annual tuition, room, and board amounts to around $23,000.

Yet Arnett realizes students need some amenities. A newly installed fitness center and coffeeshop receive a lot of traffic.

Of the school's 340 students, only 150 attend in Haverhill. Branch campuses is located at Grand Rapids First in Michigan and Faith Assembly of God in Texarkana, Arkansas.

"Parents from Texarkana are not going to send their students to Boston," Arnett concedes. "We might as well be aliens in a foreign land."

In addition, the school has five sites (including Grand Rapids and Texarkana) that host Master of Arts cohorts. Weeklong intensives meet three times annually. Other locations are Louisville, Kentucky; Bangor, Maine; and Los Angeles.

MINISTRY FOCUS
As one of just five AG schools in the U.S. focused solely on a Bible, ministry, and theology curriculum — and the only one not catering to a specific ethnic demographic — Arnett sees Northpoint filling a needed niche.

"With the aging of clergy, we have to urgently produce young ministers," says Arnett, 66. "The demand for ministers won't go away until Jesus comes back. We train ministers and missionaries exclusively. If I had a hundred children's pastors graduating, I could place them all." The median age of an AG ordained minister in the U.S. is 61, compared to 53 only 20 years ago. Nearly one-third of AG credentialed ministers — 30.8 percent — are 65 and older.

Immersive chapel services are held every Monday through Thursday, with Fridays reserved for small group gatherings. Seven worship teams rotate leading chapel services, and students learn how to move in the gifts of the Holy Spirit in a safe environment. All enrollees must take at least 30 hours of Bible and theology classes.

"We'll never be embarrassed by being a Pentecostal Bible college," says Arnett, who planted four outlying AG congregations with students while employed at CBC. "We're not a glorified Sunday School. We are unabashedly, unashamedly people of God's Book. We still believe in signs and wonders and the miraculous. We don't apologize for it."

First-year student Shalyn Willis of Oxford, Connecticut, says she wanted to attend Northpoint since eighth grade. A set of grandparents are Zion graduates. She says the depth of spiritual growth she's experienced in the first semester surprised her.

"I didn't foresee how much learning would occur outside the classroom," says Willis, whose father, Chris, pastors Oxford's Cornerstone Church. "I've had one-on-one discussions with other students, prayers in the hallway, and God encounters."

Wesley Aggrey, a junior, has plans to become a full-time evangelist after graduating.

"God needs workers quick," says Aggrey, whose mother is Italian and whose father is Ghanaian. "America is in trouble, and the evangelist is still a relevant biblical office."

Aggrey decided to attend Northpoint at the urging of evangelist and Northpoint board member Tiff Shuttlesworth, a Zion Bible College graduate who operates the Lost Lamb Association in Bangor, Maine. Last year, Aggrey organized an outdoor preaching service in Haverhill and 62 residents made salvation decisions. Aggrey, who is from Fitchburg, Massachusetts, envisions conducting inner-city outreaches once he graduates.

Isaias J. Nieves, a senior from Lawrence, Massachusetts, says Northpoint provides access to Christians leaders from around the world.

"Worship leaders, pastors, evangelists, and missionaries come to speak to students," says Nieves, who is Puerto Rican and Dominican. Nieves, who already is an associate pastor at Life Vida Church in Leominster, Massachusetts, says he understands the nuts and bolts of order and organization because of his education at Northpoint. "I've learned a lot of practical things," he says.

Students must be engaged in a church ministry within an hour's radius twice a week, according to Karen J. Jacob, dean of students.

"Every student commits to being involved for the entire year," says Jacob. "A pastor must mentor the student, who shadows the pastor. Some debrief over lunch after church, and many of the students are included in weekly staff meetings. Some become interns at the churches their junior or senior year."

Three years ago, Jacob and her husband, Jerry, came to Northpoint as missionaries in residence, working with intercultural students. After over 30 years as Pacific Islands missionaries, AG World Missions allowed the couple to extend their initial one-year assignment another three years at Northpoint, and Karen has assumed additional responsibilities.

More than 50 congregations are involved in the mentoring program, with 70 percent of them being AG. Would-be missionaries can be involved in the credentialing process by the time they graduate once they've been interviewed by district officials and met district class requirements.

"We want our mission majors to be in the process of starting itineration when they leave as seniors," says Jacob, 67. "They know they're called.

Haverhill, a city of 64,000 located 30 miles north of Boston, is in a good spot. The mountains of New Hampshire and the beaches of the Atlantic Ocean are nearby. Jobs for students in the metro region are plentiful. Northpoint has an enviable student to teacher ratio of 12 to 1. Despite Haverhill being 83 percent white according to the latest U.S. census, Northpoint is ethnically diverse, with 41 percent of the student body nonwhite.

Arnett, who typically wears a suit and tie, overcame initial skepticism from some alumni because he isn't a Zion graduate. He is thoroughly AG in his education however, with a bachelor's degree from CBC as well as two master's degrees and his doctorate from Assemblies of God Theological Seminary in Springfield, Missouri.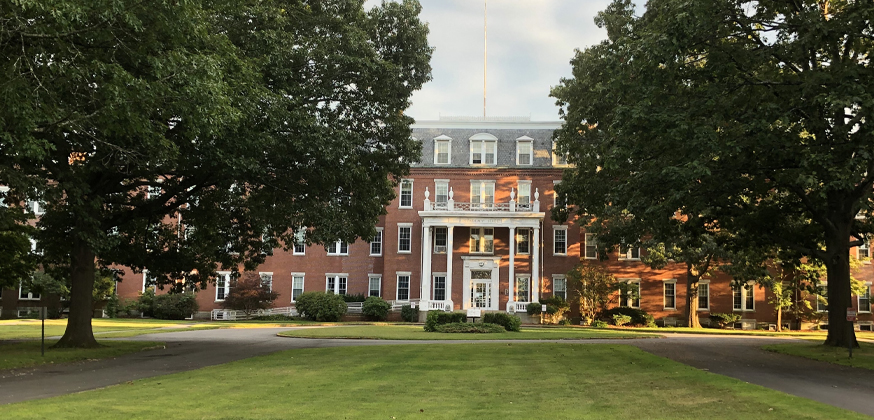 Lead Photo: Northpoint Bible College President David Arnett explains some of the history associated with the Bible college.
Bottom Photo: The four-story administration building includes faculty offices, the dining commons, and married student house.