Teen Inspired to Buy Semi for Convoy of Hope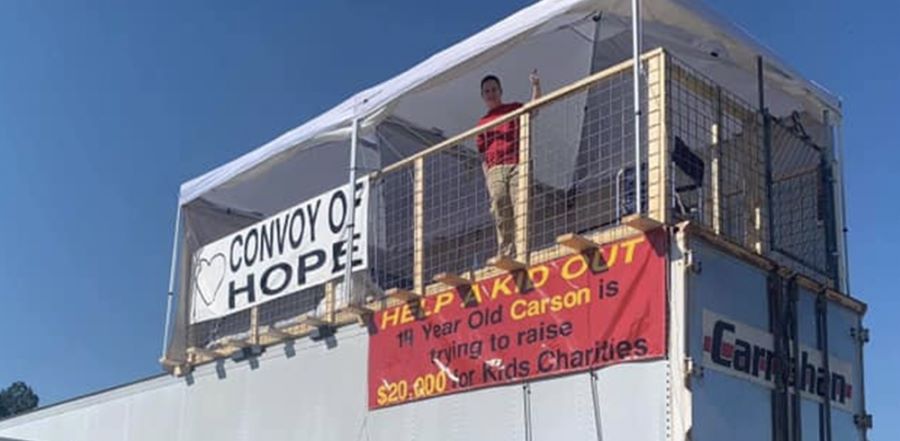 Don't miss any stories. Follow AG News!
It was at the Kidmin Conference in 2017 when a 12-year-old Carson Rudy walked outside of the First Assembly of God in Fort Wayne, Indiana, and saw the large
Convoy of Hope
(COH) semi-truck and trailer in the parking lot. Looking up to his father, he asked, "How much do you think one of those cost?" A dream was born.
Carson is not your average "sell-a-box-of-candy-bars" fundraising kid. Just prior to seeing the Convoy of Hope big rig, he had been honored at the conference by David Boyd, the Assemblies of God Boys and Girls Missionary Challenge (
BGMC
) national director. Carson had raised $100,000 for BGMC, a children's missions program that benefits AG missionaries, in his lifetime.
Carson's father, Shawn, who is the ministry director/children's pastor of
IMPACT Church
in Lake Wales, Florida, recalls how Boyd expressed his thankfulness for Carson's outstanding effort. However, as Carson was about to "age-out" of the BGMC children's program, Boyd had urged Carson to continue his efforts by supporting Speed the Light (
STL
), the missions program for AG youth.
"It is one of the greatest thrills to see the passion for missions a child received through BGMC and see it transfer to them as teenagers with Speed the Light," Boyd states. "Teenagers are an army that is being released to do amazing things for God through Speed the Light!"
When the Rudys walked out the church doors, Carson noticed that the Convoy of Hope truck had a Speed the Light logo on it. Shawn explained that Speed the Light buys trucks for Convoy of Hope to use in its outreaches and relief efforts.
The Rudys were familiar with Convoy of Hope as IMPACT church has been through four hurricanes since 2004. But what they learned at the conference was that COH was more than just disaster relief; the compassion organization also has a feeding program that provides meals for thousands of children every day, a program that teaches farmers in third world countries what crops to grow and how to grow them, another program that helps empower women through training them with marketable skills, and more.
After connecting with some COH leaders at the conference, the Rudys learned that a new truck runs about a quarter of a million dollars. Carson didn't blink.
"I believe God wants me to be a missionary in some way to North America," Carson says. "My dad mentioned to me that Convoy of Hope responds to disasters and needs throughout the United States and into Canada — perhaps this is what God has for me in the future."
Whether Carson one day serves as a missionary on the COH staff or not, his focus now is on raising the funds needed to purchase a truck.
Up through October 2019 he had already raised about $38,000 — including a cannonball fundraiser where friends joined him in collecting pledges for doing as many cannonballs into a pool as they could in an hour's time.
Then, on Nov. 19, Carson began a weeklong stay on top of a semi-tractor trailer. The top of the trailer was converted into more of a "treehouse tent" to maintain safety, but Carson only came down for 10 minutes a day to shower. Otherwise he slept, ate his meals, used the bathroom, and entertained guests on top of the trailer, with his efforts tracked on a special
Facebook page
. Through the effort Carson raised over $10,000 in donations and pledges to add to his total, which is now closing in on $50,000.
"It is thrilling for Convoy of Hope to hear the stories, and watch Carson Rudy in his effort to fund the purchase of a Convoy of Hope truck through Speed the Light," says Jeff Nene, Convoy of Hope national spokesperson. "Here is a young man that set a God-sized goal and has taken the responsibility to do everything he can to see that goal met. It's hard to imagine how many lives around the world are going to be impacted with the gospel because one young man has risen to the challenge. Carson challenges
me
to dream bigger and trust God!"
In addition to individuals giving to support Carson's efforts, for the first time he now has a national sponsor.
"Diesel Life, which sells truck-driving gear, learned about what Carson was doing on a radio interview and they decided they wanted to be a part of his ongoing effort," Shawn says. The company even donated hats, T-shirts, and sweatshirts for Carson to give away to guests who visited him and donated 50% of their online sales for the week.
Although raising funds for BGMC and STL is something Carson enjoys doing, he is quick to state, "None of this would happen without God's help."
"Carson is a bit shy when it comes to talking about what he does to raise money," Shawn explains, "he just wants the focus to be on Convoy of Hope and Speed the Light, not on himself."