The Corporation of Second Chances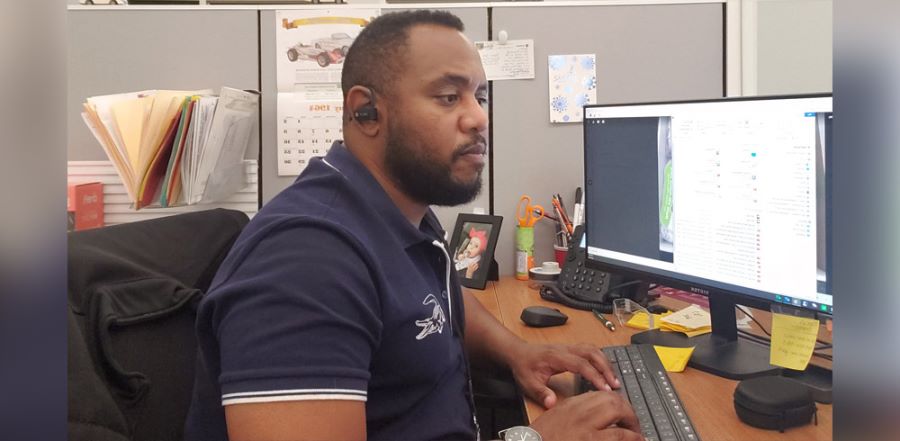 Don't miss any stories. Follow AG News!
Cincinnati native Rayshun Holt went on trial as an adult at 15 years of age. Convicted of homicide, he began serving a life sentence at 16, housed with adults.

As a teenager, Holt says he lost interest in school, started hanging out with the wrong crowd, sold illegal drugs, and joined a gang. Then the killing happened.

"I thought I knew it all," recalls Holt, now 40. "I made irrational decisions. I was young and stupid."

After a few years in prison, Holt reconnected with the long-neglected Christian faith of his childhood and he began taking classes from Cincinnati State Technical and Community College. After 21 years behind bars, Holt exited in 2016, free on parole. He's grateful he could move back home with his mother, Shirley, while transitioning to life on the outside. He had no desire to return to life on the streets.

"But when I got home, I had a difficult time finding sustainable work," Holt says. Not a lot of companies seemed eager to hire an ex-convict with no employment history.

Nehemiah Manufacturing proved to be the exception.

In 2017, the corporation brought on Holt as a full-time shift supervisor. He is now the company's commercialization coordinator, overseeing more than 100 products from the point of conception until reaching store shelves.

"Nehemiah offered me not only a job, but a career that has no ceiling," Holt says. "I feel the possibilities for me are limitless."

Nehemiah Manufacturing hires a loyal workforce predominantly from those who have served time in prison related to a felony, been chronically homeless, or long addicted to substances, thus creating gaps in employment history.

"The family-oriented atmosphere stems from the heart and mission of our leadership," Holt says. "Nehemiah is built with compassion for people. Employees can't help but feel that energy in our culture."

BUILDING THE WALL
CEO Daniel F. Meyer founded Nehemiah Manufacturing in 2009. The company makes its own brands of items such as Kandoo flushable wipes and Sun & Earth natural cleaning products, while licensing and marketing other merchandises from companies such as Cincinnati-based Procter & Gamble. For example, Mayer says P&G opted to let Nehemiah develop underperforming offshoots such as Downey Wrinkle Releaser or Febreze In Wash Odor Eliminator so both corporations could realize a profit.

Nehemiah Manufacturing has remained open during the pandemic as an essential industry because its cleaning supplies and household goods are deemed necessary products for retailers.

Before starting Nehemiah, Meyer had 16 years' of marketing and management experience in the corporate world at Quaker Oats, the Drackett Co., and Procter & Gamble. He launched a consumer goods start-up firm called Changing Paradigm in 1994, then sold it in 2006.

Meyer, a Cincinnati native, wanted to provide stable employment to the inner city. Because of his faith, he envisioned uplifting one person at a time, much like the Old Testament prophet Nehemiah oversaw rebuilding the wall around Jerusalem one stone at a time. That involved hiring local residents in the high crime and unemployment neighborhood. When a local nonprofit asked Meyer if he would give felons an opportunity, he readily agreed.

"We tried and quickly realized they performed well and deserved a second chance," says Meyer, 64. However, after a while, some highly productive people just stopped showing up for work. Meyer did some digging and discovered people particularly struggled to find affordable housing, available transportation, and medical care. They also needed help maintaining basic household finances.

So, Meyer devised a plan to help. Now Nehemiah has three full-time social service team members, including Elle A. Baker, the daughter of Chris N. Beard, pastor of Peoples Church in Cincinnati. Beard has long made racial reconciliation and economic justice pillars of his ministry and he also is involved with Meyer in the nonprofit Beacon of Hope Business Alliance. Meyer launched Beacon in 2016 to engage business, church, and government leaders in creating jobs, following Nehemiah's example in hiring those in need of a second chance. Over 80 companies have done so.

With assistance from a multitude of social service agencies in the city, Nehemiah supports distraught employees in everything from opening a checking account to expunging a criminal record. The company also sponsors 20 different programs designed to assist workers, from providing free flu shots to giving away backpacks to children of jobholders. Employees also can visit an on-site fitness center for free.

Today, 130 of the 180 on Nehemiah's team are "second chance" workers who have been incarcerated, homeless, or — two-thirds of them — long out of work due to alcohol or drug problems. Because the company takes such an interest in them, Nehemiah workers are fiercely loyal. Turnover is only around 15 percent, compared to about four times that rate in the manufacturing sector overall.

One-third of the Nehemiah workforce began on a three- to six-month temp-to-hire basis to see if they are committed and a good fit. Meyer says he isn't interested in the specifics of a worker's background.

"If they've served time, that's history," Meyer says. "We just want people who show up on time and are team players. We're looking at people's hearts and a willingness to change."

Nehemiah pays competitive wages ($12.50 an hour to start), covers three-fourths of employees' medical costs, and offers a 401(k) plan. Several workers have advanced to supervisory roles in which they are earning six figures. The company operates from a new 180,000-square-foot facility that integrates offices, the plant, and warehouse. By and large, Meyer believes his workforce is more devoted, motivated, and productive than that of the average company.

Due to Meyer's moral compass, Nehemiah gives back to the community, supporting over 20 ministries with monthly donations.

"However, we couldn't do what we do unless we're highly profitable," Meyer says. "We're here to win in the marketplace. We want retailers to have our brands on their shelves."

SISTER ACT
Elle Baker, 24, started as an intern at Nehemiah in 2016 and moved to a full-time position after graduating from Evangel University in 2018. She particularly helps employees overcome barriers they may have erected in the past. With referrals to local agencies, Baker can point the way for a worker to arrange to make child support payments, obtain a driver's license, devise a monthly budget, or secure furniture.

"We can support team members in areas where they might not be successful," Baker says. "It's not just workplace issues; we want them to succeed in life."

As a stopgap measure, Nehemiah even owns a four-family housing unit that new personnel can rent for half the market rate. Many new hires had been living in a drug rehabilitation center, halfway house, or on the streets. For recruits with no savings and a poor credit rating, Nehemiah has arranged for guaranteed zero- or low-interest loans with a local credit union.

"It's harder to find housing if you have a criminal record," Baker says. Many such employees are passionate about their performance because they are appreciative of being given a job after repeatedly being told they didn't qualify elsewhere, she says. Because most novice workers didn't have a vehicle, Nehemiah has purchased bus passes and organized carpools.

Baker's sister, Colette A. Beard, started working at Nehemiah in 2019 as a gap year endeavor following graduation from Vanguard University. She is working as a laboratory assistant in research and development before beginning medical school at Wright State University in July.

"This company is intentional about building relationships with co-workers," says Beard, 22. The sisters attend the church their father pastors.

RECOGNIZING GOD'S PROTECTION
Tameka Miller is another grateful laborer. She is a forklift driver who has been at the plant for 2½ years.

"I don't know where I'd be without the support from Nehemiah," says Miller, also a lifelong Cincy resident. "It's like I'm working with family."

Miller, 39, says she really never has had a functional family. She grew up as a ward of the state in foster care. Circumstances didn't improve as an adult. Miller says she spent seven years in a physically and verbally abusive relationship. She temporarily lived in a couple of women's shelters.

"I kept going back to the relationship, hoping it would work out," she says. It didn't. Instead, she spent four months living on the streets — sleeping on couches of friends or on park benches.

Co-workers, including her friend Baker, have directed her to counseling that deals with her past traumas, which include being raped and depression that left her suicidal.

"A lot of childhood stuff still bothered me on the inside," Miller says. "But if I'm having a bad day, I can always get insight, love, and encouragement from the support team."

When she started her job, Miller says she didn't believe in a higher power because of all the emotional pain she'd endured.

"Now I read the Bible a lot," Miller says. "I have a lot of faith in God. I believe He kept me safe."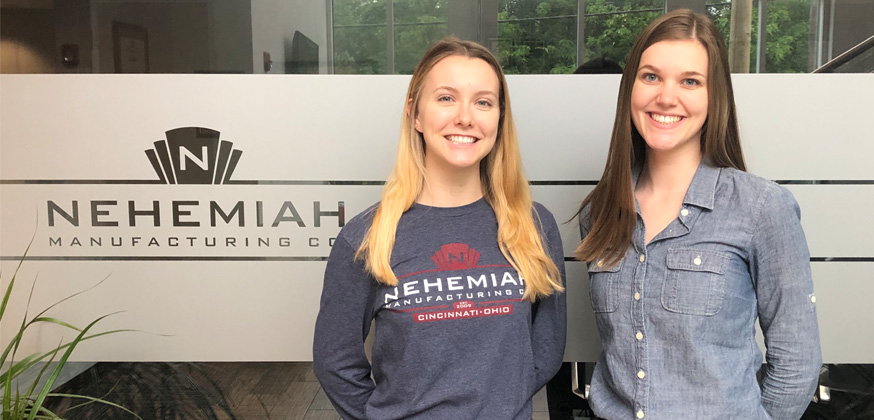 Lead Photo: Rayshun Holt is advancing in his career after spending 21 years in prison.
Bottom Photo: Sisters Colette Beard (left) and Elle Baker are employed by Nehemiah Manufacturing.