---
Maintaining Mental Health in a Pandemic
Counselors and pastors offer advice for not letting COVID-19 get the best of you.
As the coronavirus lockdown drags into its second full month, Assemblies of God counselors and pastors say Americans need to take precautions to avoid sinking into anxiety and depression.

The unanticipated world pandemic has altered lifestyles in numerous ways. Forced isolation orders have been ratcheted up to the point where many people haven't left their residence for weeks.

Americans are experiencing various levels of sorrow that are difficult to process. Not only are people staying away from their jobs — if they still are employed — but they can't attend church services, visit relatives, or gather with friends.

Funerals are conducted in solitude. Weddings — if not postponed — are conducted without guests. High school and college graduation celebrations have been canceled. Such an environment produces profound sadness.

"Grief is a major contributor to the mental malaise of our culture because people feel hopeless and powerless," says licensed clinical and consulting psychologist Jared Pingleton of Lynchburg, Virginia. "Many people are suffering from unprocessed loss."

"Some people are going to experience emotions they never have before, because isolation triggers feelings that have been dormant for a while — maybe since childhood," says Brittany Charise Jones, teacher and worship leader at Motivation Church in Richmond, Virginia. "Although we're all going through the same thing, we still need to talk about it and not pretend our feelings don't exist."

"It's healthy to acknowledge this is a fearful time, unlike anything we've ever known before," says psychologist Donald A. Lichi, vice president of Emerge Counseling Ministries, the primary counseling partner for the Assemblies of God. "Nothing will ever be the same."

STAYING IN TOUCH
Pingleton, who is director of mental health and ministry at the American Association of Christian Counselors, maintains that "social distancing" is a misnomer that should be retitled physical distancing.

"We still need to be social," says Pingleton, 63. "It just has to be virtual."

He notes that his church small group currently meets via Zoom Video Communications, a remote conferencing services company. While not ideal, Pingleton says he is grateful for the electronic connectivity, which didn't exist a decade ago.

"It's hard to stay depressed if we're grateful," says Pingleton, a credentialed AG minister. "Brain science proves it is humanly impossible to worry and worship at the same time. But grief has to be shared for healing to occur."

Of course being transparent must be done in the right way. Pingleton notes that the coronavirus crisis has strained nuclear familial dynamics, as relatives accustomed to being apart all day at work or school now suddenly are in each other's presence around the clock.

"Familiarity can breed contempt in relationships," says Pingleton, a graduate of Evangel University. "For people we're closest to and have unresolved conflict with, it can lead to uncomfortable discussions."

When testy exchanges occur, Lichi recommends one of the participants go for a walk alone to process thoughts and to pray.

"Don't deny the emotions, but on the other hand, don't be overwhelmed or controlled by them," says Lichi, 67. "Use the time to reflect deeper on God."

The whole process can be especially challenging for Pentecostals, who traditionally emphasize God's healing power over any situation.

"Historically in the Church we've struggled with discussing mental health because we don't see mental health as a part of physical health," says Kathy Kerfoot Cannon, pastor of Sacred Church in San Bruno, California. "Being transparent allows us to normalize the conversation, realizing that everybody goes through down seasons and some deal with it on a long-term basis."

Candidness, however, must be shared with the right people.

"Social media is great — in moderation," says Assemblies of God endorsed chaplain Anna M. Rosteck, an ordained minister. But when some users post photos and messages indicating they are having a splendid time in quarantine, it may not reflect reality. The cheery descriptions presented also may lead social media watchers to somehow think they are missing out stuck by themselves in their abode, she says.

"We can get into a cycle where we think life is bad and it's never going to get better," says Rosteck, 39. "But that's not the truth."

However, Pingleton cautions this isn't the time for people to bottle up their emotions.

"Whatever is not processed is passed on, whether directly or indirectly, consciously or unconsciously," Pingleton says.

"It only becomes harder if you hold your feelings in," says Jones, 34. "If you don't deal with emotions, they tend to linger longer."

Rosteck, a licensed clinical social worker, encourages people to cultivate a small circle of friends who can act as their support system.

"Keep connected and be real with people you can trust," advises Rosteck, a telehealth supervisor with Open Doors Counseling. "Facebook might not be the right forum for that."

TAKING CARE OF YOURSELF
While the loss of freedoms not too long ago taken for granted is troubling, the disruption of everyday routines can be equally disturbing. The longer the pandemic extends, the more stress accumulates.

"We can cope as humans when we know there is an end point to the uncertainty," Pingleton says. "But the indefiniteness of this scourge is what's so discombobulating."

That's why maintaining a daily structure that includes eating right, exercising adequately, and sleeping enough is so vital.

"Any food that is packaged or processed is not going to help our mental health," Pingleton says. "And movement is medicine. If we vegetate, muscle turns to fat."

"People have to control what they can," Lichi says. "That includes waking up at a regular time and having a devotional quiet time. Consistency is huge."

As a pastor, Cannon, 38, says she has heard numerous conversations about the opportunity to relax, with the presumption that individuals now have extra time on their hands. But those in occupations on the front lines — medical personnel, social workers, law enforcement officers, pastors, even supermarket cashiers — actually may be dealing with additional stress.

"They are carrying the weight of society as essential workers," Cannon says. "Shelter in place for some people means working extra hours."

Stay-at-home orders should inspire Christians to spend more time reading their Bibles than binge-watching TV shows, Lichi says. Journaling can be beneficial, he believes.

In such extraordinary times, many adults will be tempted to revert to previous unhealthy behaviors because they mistakenly viewed the time as more stable. He notes that the ancient Israelites during the Exodus longed to return to slavery in Egypt merely because they had regular meals.

"People not working have a lot of time for introspection, which is not always good," Rosteck says. "That can lead us to focus on our own problems rather than seeing the needs of others."

Jones is trying to do some different activity every day with her husband, Travis, and their two daughters, Jalynn, 9, and Jayda, 6.

And there are other ways to interact besides electronically, including phone conversations, texting, and even snail mail.

"When I get a greeting card here I can't tell you how much that means to me," says Rosteck, who is serving a two-year missionary associate term in Tanzania with Assemblies of God World Missions.

Lichi agrees serving others can be an antidote to depression. He urges folks to find creative ways to serve others, such as making food for a neighbor, ringing the doorbell, and leaving the edibles on the front porch.

THOSE ALREADY STRUGGLING
Before COVID-19 struck, one in four American adults already experienced a diagnosable mental disorder annually.

Cannon struggled with infertility before she and her husband, Ben, adopted five ethnic minority children. She received a diagnosis of complex post-traumatic stress disorder in 2017. Cannon says the church she pastors welcomed her revelation. She contends Christians need to view mental health struggles as no different than physical maladies.

"We're a trauma-experienced family and we've been very open about there being a lot of therapists and doctors in our lives," says Cannon, who suffered panic attacks while a student at Evangel University.

"This is an even more important season for those who already have struggled with mental health," says Cannon, a participant in a new AG campaign telling her story. "Right now they are the teachers because trauma is familiar."

According to the National Institute of Mental Health, 3 percent of adults in the U.S. have been diagnosed with bipolar disorder. That includes Brittany Jones.

Motivation Church has become a healing center for many attendees, in part because Jones has been transparent about her past trauma and current struggles . Jones doesn't have to put on a happy face just because she is expected to as the wife of the pastor, Travis S. Jones.

As Virginia issued a shelter-in-place edict, Jones proactively took a step to ensure that adherents wouldn't feel besieged. Motivation Church has partnered with Footstep Counseling Center, a Christian agency in Richmond, to help pay for adherents to receive necessary treatment.

"I deal with the things going on now on a regular basis, the highs and lows," Jones says. "But a lot of people didn't realize they would be so anxious dealing with these raw emotions."

With new restrictions put in place seemingly every day, Jones has ramped up efforts to engage with her therapist, emotional support team, and husband.

"It's really good to have somebody to process thoughts with you," Jones says. "I'm healthier because I'm surrounded by people who love me and understand me, and I can go to them anytime."

Lichi says the number of clients Emerge is seeing has risen to over 500 since the onset of the novel coronavirus — even though 15 of the ministry's therapists are doing so exclusively through Microsoft Teams Telehealth. Clearly it's a new era.

Jones is telling her contacts to keep a new perspective.

"It's OK to grieve and to be grateful at the same time," Jones says.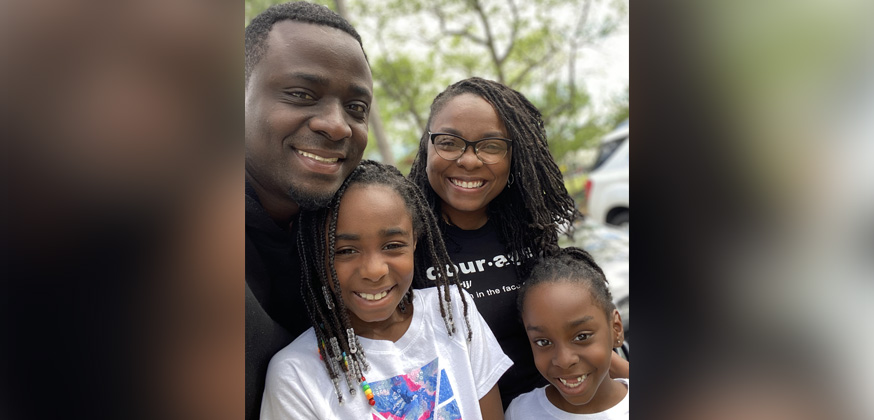 Lead Photo: Psychologist Jared Pingleton believes exercising outdoors is a necessary tool to stay healthy, physically and mentally.
Bottom Photo: Brittany Jones is trying to engage in new activities every day with her husband and daughters.