South Carolina AG Church Destroyed by Fire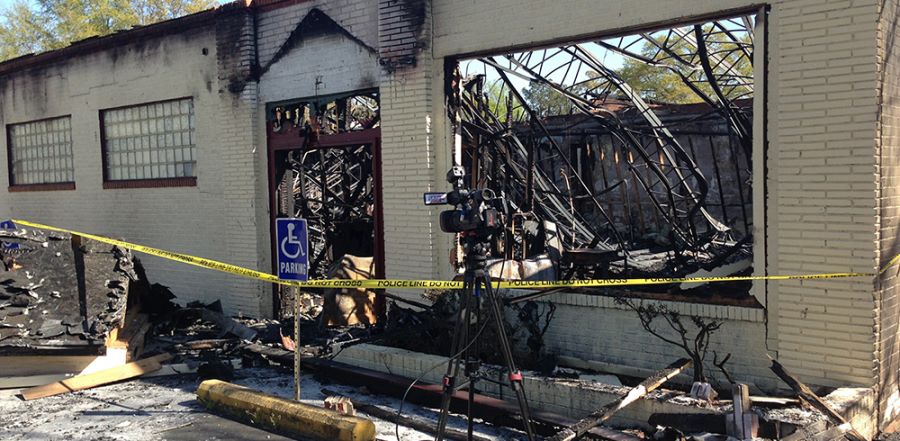 Don't miss any stories. Follow AG News!
New Life Assembly of God in Florence, South Carolina, was gutted by fire early Sunday morning, with the church declared a total loss. Pastor Burton (Andrew) Ross Jr. says that call came into the fire department at 4:30 a.m. When he was notified and arrived some 40 minutes later, the entire building was engulfed in flames.
At this point, no official reason for the fire has been determined, but the ATF (Bureau of Alcohol, Tobacco, Firearms, and Explosives) and SLED (State Law Enforcement Division) have been called in to investigate the cause and origin of the fire, including the potential of arson.
New Life is the daughter church of Florence First Assembly of God and Pastor Richard (Ron) Denham. Ross explains New Life was purposely planted in an economically challenged section of Florence to minister to those living there. Although the church itself only runs 50 to 60 people on Sunday mornings, Ross says 50 people a day call in to their prayer line, many of those people being homebound.
"Our prayer line was a virtual church for many of those people calling in," Ross explains. "We would pray with them and twice a month have a communion service with them."
In addition to the prayer line, the church regularly ministered to its community through special events as well as gathering donated groceries from four local supermarkets, sorting, bagging and delivering them to community members in need every week.
However, perhaps what has hit the church the hardest is the timing of the fire. Ross' father, Burton A. Ross Sr., was the highly regarded and much beloved former minister at New Life and the former assistant general superintendent of the Guyana Assemblies of God. Referred to simply as "Bishop," he unexpectedly passed away on Good Friday 2013. With fire destroying the church on Palm Sunday, the proximity of the dates has brought back a flood of emotions.
"It's almost like we've lost Bishop all over again," Ross says, pain clearly evident in his voice. "There are so many emotions . . . it's like a fresh wave of grief."
On Monday, the day after the fire, South Carolina District Secretary-Treasurer Ed Nelson, traveled to Florence to meet with Ross. "When I arrived on the scene of the fire's aftermath and met Pastor Andrew Burton, as we embraced in grief, I whispered in his ear: 'When all is lost in the fire and nothing can be saved, save the fire.' He thought about what was said just for a moment, then smiled knowingly. He understood that I referred to the fire of the Holy Spirit burning bright within the congregation."
Ross says he's deeply thankful that the fire occurred when no one was in the building and no fire fighters were injured fighting the blaze. "On Saturday, we had our very first baptismal service using our new portable baptismal tank," Ross says. "We baptized seven people. My wife and I and the church custodian were the last to leave, about 8 Saturday night."
Although the church was insured, it appears that it may have been underinsured as the insurance coverage had not been evaluated lately. "We will definitely be looking for friends and neighbors and partners in the faith to get us back to where we need to be," Ross says.
In tragic times like this, our faith in our Lord Jesus Christ always triumphs," states Victor E. Smith, South Carolina District superintendent. "So it will be today as we look upon the ashes of what was, remembering the good times, but looking forward with great anticipation to a much better day to come."
Currently the church is looking to rent some facilities to meet at for their weekly services. "We are also talking with Pastor Denham and we hope to come together for one service a month at First Assembly," Ross says.
Looking forward, Ross says he and his church leaders are in desperate need of prayer. "We need a tremendous amount of wisdom and agape love to walk our people and community through this tragedy," he says. "We also need the Lord to help us know what to do — should we rebuild outside of the community and pour into it or do we stay the course and build back in the middle of it? We need God's leading and help."