Foster Care Roundtable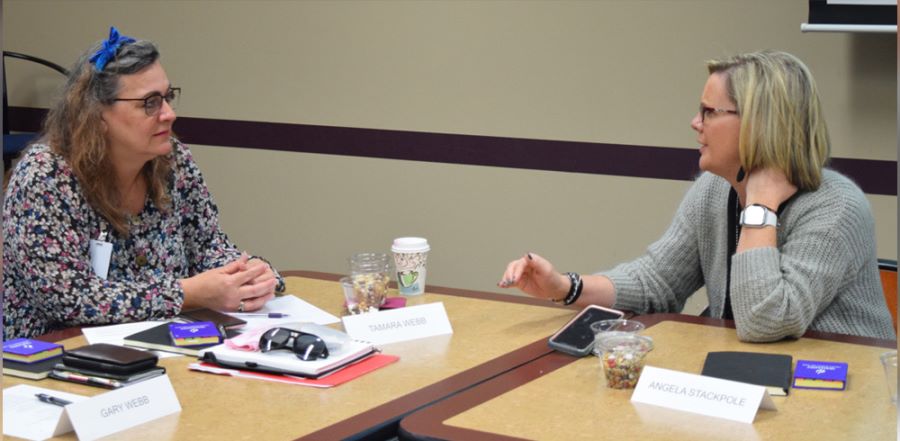 Don't miss any stories. Follow AG News!
Thirty ministry leaders, many delivering passionate pleas for cooperation, gathered Wednesday for the inaugural Assemblies of God foster care roundtable. They concurred that the Fellowship is poised to become an influential force alongside the country's foster care system, which currently oversees 437,000 children who have been removed from their homes.

Twenty-two attendees — national and district officials, pastors, missionaries, and lay leaders — spoke at the information-packed event, held at Evangel University in Springfield, Missouri. Most have been foster parents themselves; some became a statistic in the foster care system as children.

"We're excited about the potential in this room to impact the lives of children," said General Treasurer Wilfredo "Choco" De Jesús. De Jesús organized the roundtable, as he did with the first national AG human trafficking summit in November.

"There comes a time when we must come together and the time is now," said De Jesús, one of four AG Executive Leadership Team members to address the group. "The Church is the answer to this."

At the end of the meeting, De Jesús announced that Assistant General Superintendent Rick DuBose and COMPACT Family Services Executive Director Jay Mooney would devise a presentation for the six-member ELT.

De Jesús said he hoped a contingent of AG foster care ministry leaders then could meet with congressional representatives in Washington, D.C. De Jesús and others noted that foster care — unlike abortion or LGBT rights — is a bipartisan issue that both Democrats and Republicans are comfortable supporting.

"We're not going to be absent anymore," De Jesús declared. "With revelation comes responsibility."

Multiple speakers expressed beliefs that the Assemblies of God has the opportunity to spearhead the issue, more can be accomplished together versus individually,
social workers should be viewed with appreciation rather than enmity, and God is intrinsically concerned with what happens to each foster child.

"This is the Church's opportunity to make an impact on culture, to redeem kids, and to depopulate the foster care system," said General Superintendent Doug Clay, who mentioned he has two adopted grandchildren.

DuBose stated that God sometimes removes children from terrible circumstances for their benefit. He drew parallels to Joseph feeling abandoned and rejected after being sold into slavery as a teenager (Genesis 37).

"Joseph was painfully removed from his home so he could be delivered to his destiny and fulfill the dream God had given to him," said DuBose, who, along with his wife, Rita, has provided respite foster care. DuBose told the leaders they have an opportunity to make a collective imprint on society.

"This is the right moment, you are the right people," DuBose declared.

THE CHURCH'S ROLE
Mischa Martin, director of the Arkansas Division of Children & Family Services, dispelled myths about why children are removed from homes. While severe physical and sexual abuse do occur, she said half the cases are related to parental substance abuse.

Martin argued that congregations have an important role to play in prevention. While James 1:27 (pure religion is caring for orphans) has become a lynchpin Scripture for adoption advocates, Martin suggested a more appropriate verse for foster care is James 2:13 — mercy triumphs over judgment.

Faith-based agencies are essential for alleviating the foster care load, according to Martin, and she commended COMPACT Family Services, the AG agency in Hot Springs, for providing compassionate foster care. She encouraged churches to step up to do more.

"Government can't do it alone, and this really isn't the government's job," Martin said. "We need your partnership."

Through its CompaCare wraparound model, COMPACT Family Services has become a leading faith-based agency in the U.S. Mooney noted that one-third of the foster care population lives with three families a year.

"Doors are opening for the body of Christ to make a difference," said Mooney. "We're committed to influencing, mobilizing, and serving the Assemblies of God Fellowship in its collective cause to reach kids."

Earlier this month, Bethany Christian Services, the largest Christian adoption agency in the nation, announced a policy change, reversing a ban on placing foster and adoptive children with LGBT families. Mooney vowed that COMPACT won't be making a similar pivot.
Mooney lamented that limited seating COVID-19 restrictions prevented a larger gathering.
"There are scores of other adherents, leaders, and churches in the Assemblies of God who are engaged in this cause," Mooney said.
U.S. missionary Eric D. Porter, based in Midlothian, Texas, has engaged in foster care ministry for a decade. He said Bible college didn't prepare him for children he's seen burned with cigarettes and even abandoned in a trash can. He urged attendees to cross denominational lines to find solutions.

"We need to drop our logos and drop our egos," said Porter, who has trained foster care workers in Southern Baptist and Anglican circles. The Church should be involved not only in finding permanent homes for foster kids, but also in preventing the numbers from increasing, he said. Churches have the opportunity to influence foster kids through children's and youth ministry, according to Porter, who is founder of Backyard Orphans. Those who age out of the system too often end up incarcerated or being sexually trafficked, according to Porter, who, with his wife, Tricia, has adopted two children.

Kile B. Bateman, senior pastor of Evangel Temple in Wichita Falls, Texas, became involved in foster ministry eight years ago after seeing a California child welfare services van repeatedly dropping off aged-out kids on Skid Row in Los Angeles. Bateman started a ministry called Phased IN, a transitional living program for emancipated foster youth.

"God never intended for children to be raised by a system," said Bateman. "In Texas, it's not a separation of church and state, but a collaboration of church and state."

Bob W. Griffith, teaching pastor at Journey Church in Kenosha, Wisconsin, suggested that retaining already-involved foster parents is just as important as recruiting new families. Griffith and his wife, Wendy, have adopted three children. Using the CompaCare wraparound model, Journey Church has implemented a program called 1Hope creating a network support system among multiple area congregations.

"If churches work together, there won't be any wait for foster kids," said Griffith, noting that 30 percent of all families in Kenosha County attend Journey Church. "We've changed policy at a local level because the Church has decided to be the tip of the spear on this issue. Jesus came to raise up the vulnerable to be oaks of righteousness."

Gary P. Webb, who in 2010 became the first U.S. missionary specializing in foster care along with his wife, Tammie, urged listeners to minister to often-overworked government child services workers. The Webbs' ministry, OCJ Kids, acts as a liaison between congregations and group foster homes in the state.

PAINFUL FOSTER MEMORIES
U.S. Missions Executive Director Malcolm Burleigh reminded the crowd that merely placing a child in a different residence isn't a solution. In a poignant presentation, Burleigh recounted his painful memories of spending a decade in three foster homes.

Burleigh told how, at age 7, he and his five younger siblings each went into foster care in separate locations. The trauma initiated a lonely and insecure childhood existence.

"Being separated from family steals innocence and trust," he said.

Burleigh described being slapped by the foster dad at his first home, beaten by his foster mom with an extension cord until bloody at the second residence, and faithfully attending church with the third family — although no member ever expressed the love of Jesus to him. Instead, he received prolonged beatings.

"That foster care system created a terrorist," Burleigh proclaimed. "My anger drove me, my pain drove me, rejection drove me, belittling drove me."

Burleigh said he still wrestles with the insecurities of those experiences. He exhorted attendees to recognize the fear, abandonment, and hurt all foster children feel.

As an alternative to murdering his foster father, Burleigh at 17 fled and ended up in a Chicago gang. Before committing his life to Christ, Burleigh sustained stabbing and gunshot wounds in separate incidents.

Kari E. Stewart, an adoptive mother of six who is missions pastor at Timberline Church in Fort Collins, Colorado, talked about the need for the majority of congregants to be involved in helping foster kids in some manner. She said everyone can do something: pack welcoming kits for youngsters removed from their home; buy gift cards for foster families to restaurants or discount stores; sew quilts; cook meals.

Aaron C. Blake Sr., pastor of Greater Faith Community Church in Waxahachie, Texas, concluded the presentations. Many in the room consider him the grandfather of the movement in the AG. Blake and his wife, Mary, already had six grown biological children when they began to foster.
While serving as a bivocational pastor and high school counselor, Blake learned of the troubles foster kids faced in finishing school courses because of repeated relocations to different placements. The couple eventually allowed six of those students to live in their home so they could remain on the school's football team.

But one night, one of the teenagers left a burning candle unattended, which soon engulfed the house in a conflagration. The Blakes and their charges fled the house with only the clothes on their backs. All the Blakes' possessions, including family photos, went up in flames. Wrapped in blankets, Aaron and Mary, with the boys in tow, trudged off to Walmart to purchase new duds.

The instigator of the blaze immediately figured he would be placed elsewhere. Blake set him straight.

"You are no longer in foster care," Blake told him. "You are engrafted into our family."
Lead Photo: Foster care veterans Tammie Webb (left) and Angie Stackpole talk during the meeting.
Bottom photo: Chris Beard (left) and Malcolm Burleigh discuss foster care at the gathering at Evangel University.