Children's Pastor Breaks World Record for BGMC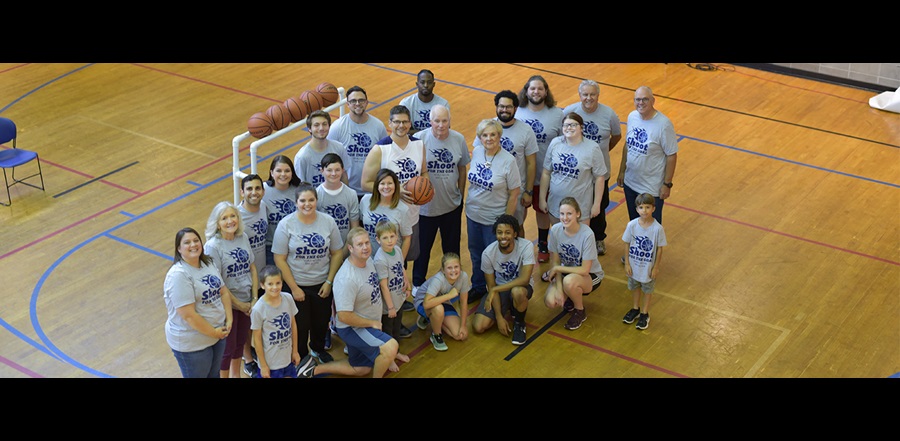 Don't miss any stories. Follow AG News!
On Sept. 25, the
Guinness Book of World Records
confirmed that Perry Dissmore, children's pastor at
Freedom Church
in Tallahassee, Florida, had reclaimed his world-record free throw shooting title, sinking 2,395 free throw in one hour.
What's more, Dissmore and the church raised more than $6,250 — and counting — for their Boys and Girls Missionary Challenge (
BGMC
) project: helping people in Puerto Rico recover from last year's hurricane through
Convoy of Hope
.
However, this world-record effort, which was accomplished on May 13 (Mother's Day), almost never took place, and Dissmore readily points to God's orchestration rather than his desire.
In 2009, Dissmore set the world record for free throws with 1,926 in an hour. Upon finishing, the elation was incredible. In 2010, on national TV, Dissmore beat his world record, hitting 1,968 free throws in an hour. During both those attempts, Dissmore was serving as a senior pastor of an AG church.
But then came a cold dose of reality. In 2011, Dissmore's record was crushed when Bob Fisher made 2,371 free throws in an hour. In 2013, Dissmore made a valiant attempt to regain the record for BGMC, but even though he broke his old records, he fell 371 short of Fisher's record.
"I failed miserably," Dissmore admits, "and I gave up on it."
"In 2013 I had taken a missions trip with David Boyd (the Assemblies of God national BGMC director)," Dissmore recalls. "I just started talking about life with him, and suddenly, David tells me, 'You know, Perry, you'd make an incredible children's pastor.'"
From a senior pastor to a children's pastor? Most people would see that as taking a step down. Dissmore wasn't sure what to think about that as well, but the words stuck in his mind.
"I used to watch Perry squat his 6-foot-5-inch frame down close to the floor in order to shake hands with kids on an eye-to-eye level," Boyd says. "Watching him give these kids 100 percent of his effort at that moment made me realize that he had an innate passion for kids."
Life took some odd twists and turns from that point. Perry, his wife Nicole, and their three children ultimately moved to Florida later in 2013 to be closer to family. However, a door to pastor a church didn't open. So, the family started attending Freedom Church.
Dissmore went to lunch with the children's pastor of the church at the time, and for some reason, shared what Boyd had told him about being a children's pastor. That message was then communicated to senior pastor Larry Perry. Unknown to Dissmore or anyone in the church, the current children's pastor was preparing to go to Sri Lanka as a missionary. Perry offered Dissmore the job.
For the past four years, Dissmore, 47, has served as children's pastor at Freedom Church. At first, he admits, there were some adjustments for him, but now his entire family is involved with children's ministries — his wife and his daughter, Kimberly (17), involved in leading and his daughter Kathryn (10) and J.P. (9) attending.
"My wife and kids are actually in my ministry and we're all walking together in it — the whole family," Dissmore says. "And that's really cool."
Last year, after many people suggesting that Dissmore once again pursue the world record for BGMC, he began to pray about it. He felt, even after missing the mark by hundreds of baskets in 2013, God wanted him to try again. He texted Pastor Larry Perry inquiring his opinion. The response? "You can do it!"
Dissmore involved a score of volunteers to help him train for the event. Beginning in August 2017, they held practices — starting out at 5 minutes of shooting free throws at a time. That time extended to 10, 15, 20, and then 30 minutes, slowly developing the personal stamina as well as the routine volunteers would need to follow in order to officially break the world record.
"I figured I needed to make 40 free throws a minute," Dissmore says. "During the hour, my daughter, Kimberly, would call out 'minute' at the beginning of each minute and I would restart my counting, trying to reach 40 or more made baskets each minute."
Dissmore also had the opportunity to begin his preparations by starting out using a custom-made backboard featuring an illustrated basketball-playing Buddy Barrel (created by one of his main rebounders, Marcus Thomas) that he used at the church's facility. As the months proceeded, he and his volunteers began practicing at a local gym. As his confidence grew, so did the passion to raise funds for BGMC and minister to the victims in Puerto Rico.
He also makes note that the months of practice resulted in a friendship with a young man who was a volunteer, but he didn't know very well — Dissmore now meets to pray with him every week.
Although the world record was achieved about five months ago, through the experience Dissmore's belief was reaffirmed in what can be achieved with the support of others, and more importantly, though simply obeying God.
"If someone steps up and beats the record, we'll just try to win it back for BGMC again," he says with confidence.
Boyd observes that whatever position of leadership Dissmore has held — youth leader, senior pastor, and children's pastor — he's always had a heart for missions.
"As a children's pastors, he endeavors to teach his kids about the lost and hurting of the world," Boyd says. "He is a giant of a man with a giant heart for the next generation — and seeing missions continue in that next generation."