This Week in AG History -- April 5, 1947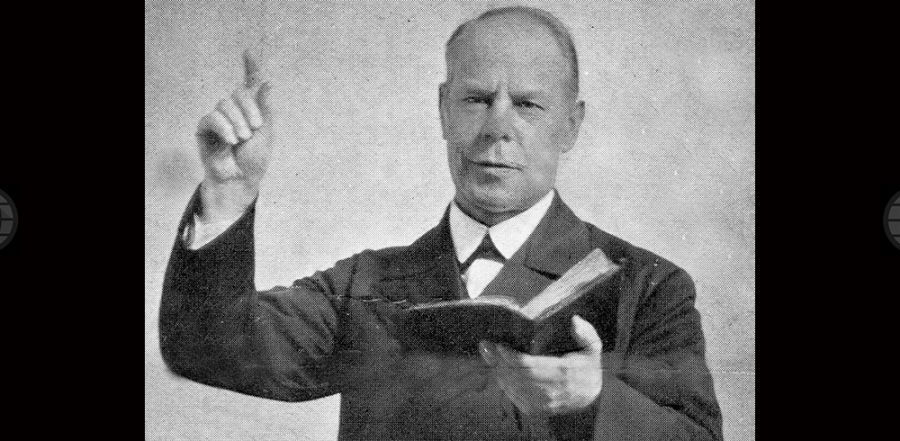 Don't miss any stories. Follow AG News!
Smith Wigglesworth (1859-1947) was one of the most prominent healing evangelists of the early Pentecostal movement. He was, however, largely unknown outside his town in northern England until he was 48 years old. That was when, in 1907, he was baptized in the Holy Spirit under the ministry of a Pentecostal Anglican vicar, A. A. Boddy.
Born into a very poor family, Wigglesworth started working at age 6 in factories and farms to help support his family. He had little formal education and did not learn to read or write properly until married. While his parents were not committed Christians, Wigglesworth found the gospel message compelling and spent his youth in varied churches. He accepted Christ at a Methodist revival at 8 years old, was confirmed by an Anglican bishop, was immersed in water as a Baptist, and was discipled under the Plymouth Brethren.
Wigglesworth operated a plumbing business in Bradford, England, and helped his wife with a small gospel mission. Early in his ministry, he began encouraging people to have bold faith for both salvation and healing. His stalwart belief in divine healing arose from his own experience of healing from a ruptured appendix. He understood suffering, and he felt a special call to minister to the sick.
Prior to experiencing the baptism in the Holy Spirit, Wigglesworth had gained a reputation for aggressive evangelism, but he spent little time in the pulpit. After he was baptized in the Holy Spirit, he found himself preaching with uncharacteristic fluency and boldness. People who heard him preach experienced deep conviction, and healings and miracles often followed his ministry. He became a well-known speaker across Europe and North America and also helped to establish the Pentecostal movement in New Zealand and Australia.
Wigglesworth held credentials with the Assemblies of God USA from 1924 to 1929, and Gospel Publishing House published two books of his sermons: Ever Increasing Faith (1924) and Faith That Prevails (1938). Stanley Frodsham, the editor of the Pentecostal Evangel, wrote a best-selling biography, Smith Wigglesworth: Apostle of Faith (1948). These books remain in print and have been translated into many other languages.
When Wigglesworth died suddenly of a stroke in 1947, the Pentecostal Evangel published an obituary by Donald Gee and also republished one of the healing evangelist's classic sermons, "Be Not Afraid, Only Believe." Gee wrote that Wigglesworth had "a unique ministry, a gift of Christ to His church." Seventy years after his death, Smith Wigglesworth's ministry continues to inspire and influence new generations of Pentecostals.
Read "Be Not Afraid, Only Believe" by Smith Wigglesworth and "Awaiting the Resurrection" by Donald Gee on pages 3 and 11-12 of the April 5, 1947, issue of the Pentecostal Evangel.
Also featured in this issue:
• "Walking to Emmaus," by John Wright Follette
• "Hallelujah! Christ Arose," by Ernest S. Williams
And many more!
Click here to read this issue now.
Pentecostal Evangel archived editions courtesy of the Flower Pentecostal Heritage Center.