A Church Outgrows its Town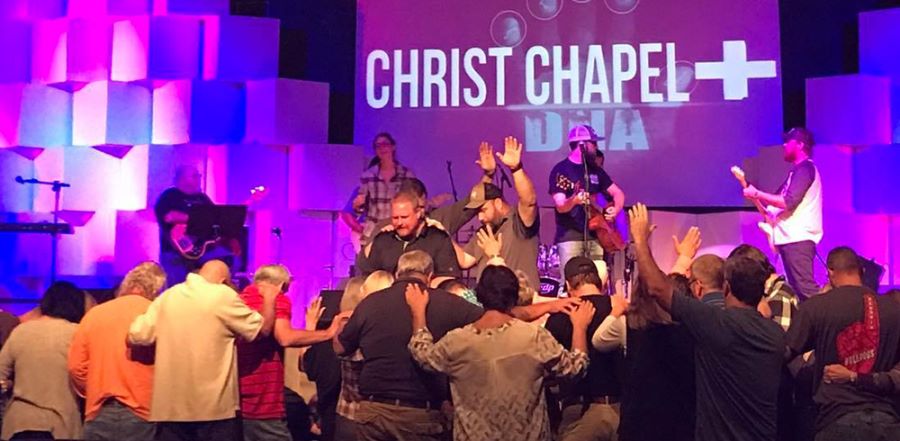 Don't miss any stories. Follow AG News!
If it's Sunday morning in Zebulon, Georgia, odds are good that people passing by
Christ Chapel Community Church
will hear cowbells clanging and shouts of excitement. The hubbub signals joy over another conversion, which over the past decade has averaged about two per week.
That's how a church of 80 at its launch service in 2003 has ballooned to a weekly attendance of 1,400. While such church growth may not seem extraordinary, it really is considering the town's population: 1,160.
"We wanted to reach people many churches thought were unreachable," says Pastor Billy T. Smith, 43. "It's beautiful to watch God take people that others had given up on and change their life."
That includes the first person Smith led to Jesus after planting Christ Chapel. Bo L. Hatchett, now 77, had attended church as a child, but the onetime craftsman never had made a decision to follow the Lord. That all changed after a heart attack landed him in a specialized care unit.
"Pastor Billy prayed with us before I went to surgery," Hatchett says. "After that, in the recovery room, I thought I was going to die. I prayed for the Lord to spare me. He came into the room and a stillness came over me like I've never known. If it wasn't for him, I wouldn't be here."
Hatchett accepted Christ as Savior that day and never looked back.
"Bo started attending and bringing people with him," Smith says. "Those kinds of people who have been away from church hang out with people who aren't Christians either. They're the kind of people who want to learn and grow."
Not all those who come through the doors are foreign to church. Corissa D. Betts is a 27-year-old medical assistant who grew up in a Baptist congregation with 40 members. She decided to look for a church offering more to young adults. She sensed an instantaneous connection at Christ Chapel when Smith preached a sermon called "Toxic Thoughts."
"I had been having all these toxic thoughts and when I heard that I knew God was speaking to me," says Betts, who joined the church a year ago.
Since then, she has become a youth leader and regular attendee, despite a 30-minute drive. Though she admires Smith for the way he relates the Bible to everyday life, there's more that attracts her.
"The people are so loving," Betts says. "You walk in the door and leave better. They're so vulnerable and open about their life they make you feel like it doesn't matter what you've done in the past."
A search for an active, spiritually growing youth group where her oldest daughter could get involved brought Melanie M. Bramlett, 42, to Zebulon in 2016. She started volunteering and now is on staff as communications director.
Transparency is a key factor in drawing people to the church, according to Bramlett, a former youth pastor.
"I've been in churches before where people pretend everything's OK, even the leaders," Bramlett says. "Here you have permission to say, 'I'm having a bad day' and people come around and try to love on that person."
The son of an AG pastor, Smith grew up about 20 miles south of Zebulon. He served as a youth pastor at two churches before he felt God calling him to return to his native area to start a church.
Christ Chapel has planted a second site in
Cochran
. Although it's 90 miles south, adherents periodically make the trip to Zebulon for various activities.
Although the Zebulon sanctuary only holds 625 — making three Sunday services necessary — Christ Chapel has started site preparation for a 45,000-square-foot building with a sanctuary seating 1,100. Completion is at least a year away. A number of masons, electricians, and plumbers in the largely blue-collar congregation will help with construction.