A New Mission Trip Model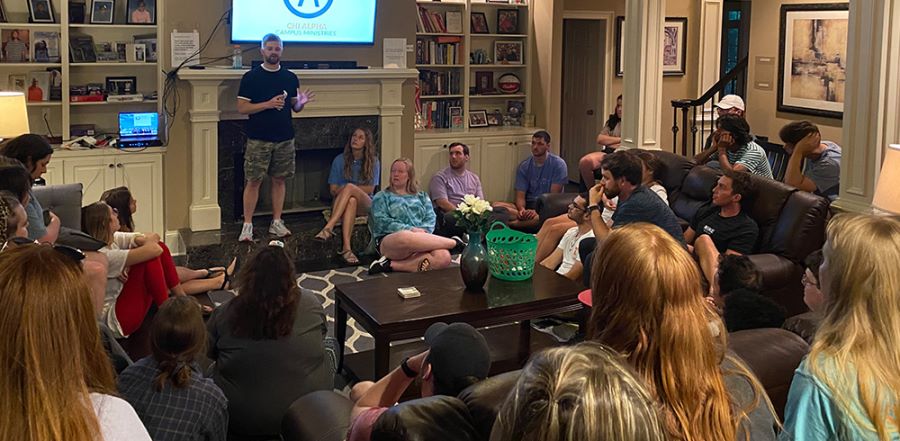 Don't miss any stories. Follow AG News!
In 2020, as international borders closed due to the novel coronavirus, more than 200 teams planning international trips through U.S. Missions
Chi Alpha Campus Ministries
needed to pivot. But how could a 7-10-day international trip to a missionary team oversees be replicated online?
Brian S. Hargett, missions mobilization director for Chi Alpha, along with a brainstorming team of other Chi Alpha staff and campus directors, worked to identify the core aspects of an overseas trip. Three main areas emerged: abiding, immersive experiences, and missionary engagement. Then group members worked to set up a framework that would allow trip leaders nationwide to recreate the missions experience originally planned before the COVID-19 shutdowns and closures.
"In the next few years we will see fully appointed missionaries itinerating and telling supporters that their journey began with a virtual missions experience," predicts Hargett, 53.
Most mission trips include extra daily abiding time spent in prayer, devotion, and Bible reading, as the experience allows God to move in participants' hearts in new ways. This became the easiest aspect to recreate virtually, as teams spent time together either in central locations or at set times throughout the day. However, to recreate immersive experiences and missionary engagement, Hargett and others worked tirelessly to envision creative ways to engage teams.
They highlighted three areas of immersive missions experiences. First, being in a new and different setting creates many physical challenges, such as unstable internet or unreliable electricity, extreme heat, or difficulty accessing safe water. To replicate this aspect of life overseas, virtual teams were encouraged to consider adopting challenge scenarios from an
online list of examples
. These involved activities such as turning their air conditioning off at home; walking or taking public transportation everywhere they needed to go; and using bottled water to complete daily tasks such as brushing their teeth.
Cultural differences are another aspect of immersive missionary experiences. Leaders encouraged virtual teams to check out international films, books, and YouTube videos; to try new foods available locally; and to explore other aspects of the host country's culture during their virtual trip.
Finally, the work of gospel missions and engagement with missionaries is ultimately the goal of serving internationally through short-term trips. Chi Alpha leaders challenged virtual teams to go, give, pray, and welcome, four tenets of Chi Alpha's mission.
"From studying missiology to raising funds for the trip to donate to their host missionary to identifying ways to engage with people in their community, students were challenged to contextualize the story of Jesus globally and locally," Hargett says. "These virtual trips mobilized students with a variety of ideas of how to pray strategically for global missionaries and give sacrificially to support their work."
Virtual trip participants engaged in daily Zoom calls with host missionaries and sometimes received an "experience box" full of items representing their host country's people and culture.
Ann Marie, 58, a seasoned missionary serving in a sensitive country in Central Eurasia, hosted
multiple virtual teams
last year. Now she's seeing some of those involved in a virtual trip in 2020 able to participate in a physical trip in 2021.
"Every host experience is an opportunity to invest in the next generation, and by the end of each trip I see how God has spoken directly to people and given them a burden to share the story of Jesus with the lost," says Ann Marie. "As a host missionary, I have the incredible privilege to hear what God has spoken to students through their experience and then I get to see what God will do in their lives. After teaching people how to engage with unreached people, it's thrilling to hear them plan to start evangelizing their own communities."
Ann Marie says another critical aspect of short-term teams is the inspiration and motivation these teams can bring to the host missionary.
"It's one thing to know that supporters in the U.S. are praying for them," Ann Marie says. "It's another thing entirely to get to hear them pray out loud. Those moments are refreshing and keep us going on difficult days."
Virtual missions experiences also provide an opportunity for individuals who might not otherwise do so to become involved,. Various local congregations are utilizing this open door to broaden missions engagement. Youth groups unable to travel internationally due to mobility barriers can participate in a virtual trip more easily. Other individuals, especially those in Gen Z, who may be skeptical of global missions endeavors and an expensive and lengthy international trip, might be more willing to participate in a virtual experience.
Overall, between March 2020 and August 2021, 85 campus groups engaged in 144 virtual missions experiences, for a total of 562 total participants and 21 countries explored virtually.