A Wounded Warrior Gives Back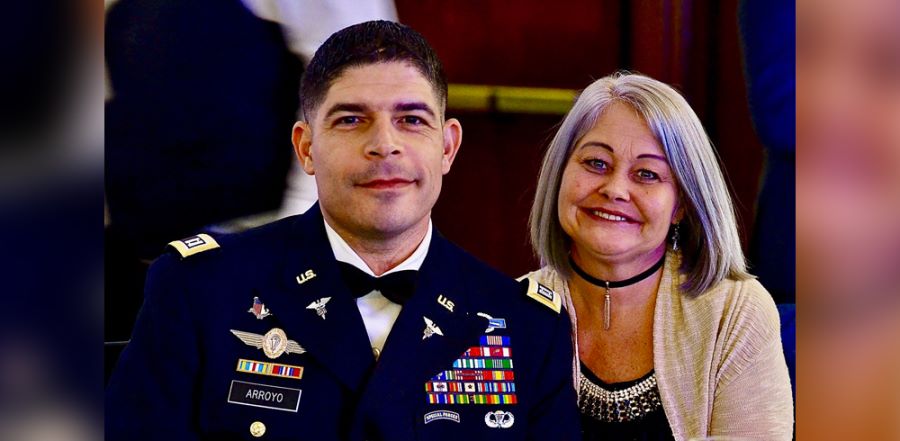 Don't miss any stories. Follow AG News!
John M. Arroyo Jr. didn't have a role model growing up. His father died of cirrhosis of the liver at the age of 34.

"When you lose your father at 5 years old, you lose your identity," says Arroyo.

By 7th grade, Arroyo began trying to find a place to belong by joining a violent gang in Santa Fe Springs, California. By 9th grade, he became a young teenage father. By 12th grade, a methamphetamine addiction gripped him.

After high school, Arroyo spent his nights ingesting drugs and his days sleeping. His sister Donna Mendoza urged him to join the military to instill some discipline — unless he wanted to be a loser the rest of his life.

Arroyo didn't score high enough on an Army entrance exam, but six months later he tried again and squeaked by. With no plans of an Army career, he simply viewed the military as a short-term means of supplying income. Initially, he became a truck driver at Fort Bragg in North Carolina. But soon, still searching for an identity, he envisioned joining the Green Berets, the U.S. Army special operations command. Once more, however, he scored too low to gain admission.

So, while still enlisted, he started attending classes at Fayetteville Technical Community College in the Tarheel State. There he met pre-nursing student Angel, a single mom to two children. John and Angel wed 1½ years later in August 2003. By then, John had made it to the Green Berets. Two tours of Afghanistan, each six months long, followed starting in 2004, with patrolling as his primary role. He experienced heavier combat duty during a 4-month stay in Iraq in 2007.

Early in his military career, as part of the 82nd Airborne Division, Arroyo looked like one of the most physically fit soldiers in uniform. However in reality he remained a heavy substance abuser, with alcohol now his drug of choice.

When he returned home, his volatility destabilized the young marriage. He took out the stresses of war by verbally abusing Angel. He insisted his wife join him in drinking. Twice while under the influence of alcohol, she attempted suicide by overdosing on pills.

"I was angry and mean, and drinking made it worse," recalls Arroyo, now 44.

After five years of the rocky relationship, the couple turned to God in desperation. They started attending a nondenominational church in Fayetteville at the invitation of one of Angel's friends. Even though drunk the first time they went, they began a relationship with Jesus. Two years later, John, Angel, and her then-teenage children, Tia and Mason, all got baptized together.

With a decade behind him in the service, Arroyo applied to be an officer and gained acceptance into the Green to Gold Active Duty program. Finally confident of his academic skills, he finished college with a 3.9 grade point average at Campbell University, a Christian school in Buies Creek, North Carolina.

Shortly after graduation, with a dozen years in Special Forces under his belt, Arroyo received his commission as an officer and headed to Fort Hood.

Simultaneously, Angel endured a series of hardships that culminated in November 2013. Her mother, Sylvia Wood, died of an aneurysm while recovering from a broken hip. Nine days later, her father, Robert Wood Sr., succumbed to cancer. Two years earlier, her brother Robert Jr. had died in a hunting mishap.

NEAR-DEATH EXPERIENCE
John began serving as a platoon leader for the Medical Services Corps at Fort Hood, as a recently promoted first lieutenant assigned to the 61st Multifunctional Medical Battalion, part of the 1st Medical Brigade.

As he got out of his car on base April 2, 2014, Arroyo heard shots fired, but gave it little consideration. After all, he no longer engaged in fighting insurgents in the Global War on Terror; he worked on a secure military base. He figured the shots came from a funeral detail training.

The next thing Arroyo knew, a vehicle pulled alongside him. Army Spc. Ivan A. Lopez, a 34-year-old Iraq War veteran, aimed a .45-caliber pistol at him and fired at point-blank range. The bullet entered Arroyo's throat, ripped through his left jugular vein, shattered his larynx, and lodged in his right shoulder.

Arroyo spun around, began walking back toward his car, and fell flat on his face.

Lopez drove off.

Is this it? Arroyo wondered. Is this where it ends?

Realizing his wounds caused profuse bleeding from his neck, Arroyo thought about his family. He figured he only had seconds to live.

Then, he says, he heard an audible voice: John, get up, or your wife will die.

He says Jesus then repeated the message in a sterner tone. Arroyo then understood he needed to keep living in order that Angel — still fragile from the series of family deaths — wouldn't end her own life.

"I had to have faith to try to obey Jesus' voice," Arroyo says. "The Lord gave me supernatural ability."

So Arroyo struggled to his feet, clasped his left arm over his throat to stanch the bleeding, and started stumbling to the First Medical Brigade headquarters. He saw a figure coming toward him in the distance. When that soldier came into focus only 10 feet away, Arroyo grasped that his would-be killer had returned.

"I'm standing in front of Ivan Lopez once again," Arroyo recalls. But curiously, miraculously, Lopez turned and walked into the headquarters building.

The only explanation Arroyo has to offer is that Jesus hid him from view.

By the end of the day, Lopez had killed three people and wounded 16 others at the base before turning the gun on himself when confronted by a military police officer. Ironically, the shooter had been distraught about the deaths of his grandfather and mother in a two-month span.

Arroyo nearly became the fourth mortally wounded victim, but a trio of other soldiers, seeing blood squirting out of his neck, loaded him into the back of a pickup truck and sped to Darnell Army Medical Center at Fort Hood. They didn't think he would make it if they waited for an ambulance.

With multiple gunshot casualties arriving at the hospital, Arroyo's prospects seemed grim. He appeared ashen. His pulse weakened.

Yet providentially, two ear, nose, and throat surgeon specialists were at the hospital that day for training. They ordered Arroyo whisked into surgery right away.

"God linked up the doctors I needed," Arroyo says.

The news that her husband was in emergency surgery for a gunshot wound shocked Angel.

"En route to the hospital, I kept thinking, This is a dream, this isn't really happening," recalls Angel, 52. "He had been deployed three times and nothing ever happened. Yet he goes to work on the base and he doesn't come home."

Arroyo spent the next month hospitalized at Fort Sam Houston in San Antonio. Physical rehabilitation took a grueling four years. Although he couldn't speak for two months, the energetic and passionate Arroyo now has full use of his voice. Thanks to nerve graft surgery, he has regained 30% use of his previously paralyzed right arm.

He credits Angel's help with keeping him going through the tough times of recovery.

"Everything in my life was utterly shaken physically, mentally, and emotionally," Arroyo says. "My life and career hung on by a thread. But with the help of the Holy Spirit, Angel carried me where I could not get myself."

Angel's faith overrode her early disbelief at the turn of events.

"I just believed it would be OK and God would see us through this," she says.

DAVE ROEVER CONNECTION
Arroyo retired from the Army in 2018 as a captain, an aide to a two-star general. He now serves as executive vice president of the Roever Foundation. He joined the Fort Worth-based organization after attending a wounded warrior session led by founder Dave Roever.

Roever sustained devastating injuries in 1969 when a phosphorous grenade exploded in his hand, six inches from his face, as he fought in the Vietnam War. He remained hospitalized for 14 months recovering from the burns. Roever, an ordained AG minister since 1971, has been ministering to injured returning military personnel ever since.

Only months after being shot, Arroyo met Roever in 2014. As Roever spoke at Hillcrest Church, an Assemblies of God congregation in Seguin, Texas, he stopped and pointed at Arroyo.

"Young man, stand up," Roever ordered Arroyo. "You and I will work together in the future."

As the two connected four years later, Roever, a Purple Heart recipient, explained that he would train Arroyo to use his scars to help others with their scars, both physical and emotional.

For the Roever Foundation, Arroyo is an inspirational speaker. Using his testimony, he brings a resilient message of hope around the country, everywhere from high school assemblies to military bases — where he seeks to bring families shattered by the trauma of war back to health. He obtained a master's degree in Christian leadership from SUM Bible College & Theological Seminary.

Arroyo has written a book about his ordeal: Attacked at Home! A Green Beret's Survival of the Fort Hood Shooting.
"We've seen miracle after miracle after miracle to bring us through everything," Angel says. "We're closer now than we've ever been."