Cross-Cultural Ministry in Tulsa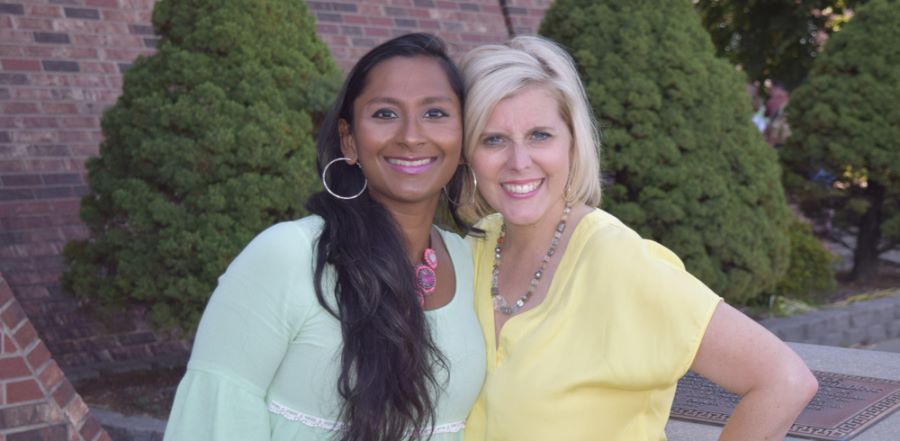 Don't miss any stories. Follow AG News!
Cynthia Gandhi Dobbs, who grew up the daughter of a father lawyer and mother magistrate in India, is now part of cowboy culture in Oklahoma.

Dobbs and her Oklahoma-born husband, the son of a rancher Destry Dobbs, are restarting a Chi Alpha Campus Ministries chapter for multiple schools in Tulsa, Oklahoma. There are upward of 40,000 college students in the city of 400,000, anchored by the University of Tulsa, four campuses of Tulsa Community College, extension sites of Oklahoma State University and the University of Oklahoma (plus Oral Roberts University). Four other staff members are joining Destry and Cynthia.

"We're in the seedling stage now," Dobbs says. "We hope it grows into a giant tree."

While Tulsa may seem to be a homogenous place compared to coastal urban centers, Dobbs notes that more than 100 countries are represented among college students there. More than 15 percent of the students at the University of Tulsa are foreigners. Dobbs want to make sure students out of the mainstream — atheists, agnostics, and especially international students of non-Christian faiths — feel welcome at Chi Alpha gatherings.

"You don't have to look far to see international students on campus," Dobbs says. "Jesus told us to make disciples of all nations; anything less is disobedience."

Dobbs also has a national Chi Alpha role, as cross-cultural missions resource specialist. In that position, Dobbs provides information to field personnel on how to share the gospel with the diverse swath of international students on their campus. She has authored an intensive leadership training devotional designed to get international students who have accepted Christ to see themselves as ministers and missionaries once they return home.

"Many will go back to their countries that are closed to outsiders," Dobbs says. "But if they take the gospel with them and reach their families, it will have a Kingdom impact."

IMMIGRATION TO THE U.S.
At the age of 18, Cynthia moved to New York with her diplomat father, Manimuthu Gandhi, then India's legal ambassador to the United Nations. Her father is now dean of the Vellore Institute of Technology School of Law in Chennai, India. Although Spirit-filled at the time, Dobbs considered herself nonetheless a "couch potato Christian."

Cynthia and Destry met at Glad Tidings Tabernacle in Manhattan in 2002. Destry recruited Cynthia to help him pioneer Chi Alpha groups in New York in the wake of the terrorist attacks. Destry had been heavily involved in Chi Alpha as a student at Oklahoma State University in Stillwater. He pioneered Chi Alpha chapters at Hunter College, City College of New York, and Borough of Manhattan Community College.

The couple wed in 2005. They moved to Oklahoma for family support when their only child, Obadiah, now 15, was born three months prematurely.

Although she never spent time in a refugee camp, immigrated to a country where she didn't know the language, endured financial stress, or faced job discrimination, Dobbs still can Identify with the isolation many international students experience. She went to a boarding school at the age of 11 far from her home because of her mother's cancer diagnosis. The following year her mother died.

Dobbs felt close to her mother, who introduced her to the Christian faith. Cynthia vowed to become a medical missionary in an effort to find a cure for cancer.

After she obtained her bachelor's degree and her master's — in biochemistry and molecular biology — Cynthia felt called to assist Destry in campus ministry full time. Before moving to Tulsa, the couple led the Oklahoma State University Chi Alpha in Stillwater. Chi Alpha is a department of U.S. Missions.

"There are times, especially in small-town Oklahoma, when I'm the only one in the room who looks like me," says Dobbs, who is 36 but could easily pass for a college student. Overall, however, she says experiences in the Sooner State have been wonderful.

CROSS-CULTURAL SPECIALIST
After struggling with whether to relinquish allegiance to her native country, Dobbs became a U.S. citizen in 2018.

"I feel like I belong to both places — but also that I belong nowhere," says Dobbs, who became an ordained Assemblies of God minister in April.

Crystal M. Martin, Chi Alpha Campus Ministries cross-cultural missions director, interacts frequently with Dobbs. Because of the academic rigor focus of most foreign students, Martin says Dobbs is the perfect fit as Chi Alpha cross-cultural missions resource specialist.

"Cynthia brings an intellect to the position, she is a Ph.D. candidate, and she knows what it means to be an international student," says Martin, a U.S. missionary and ordained AG minister. "She is a high-level leader who speaks multiple languages and has cross-cultural skills and experiences that will serve our staff and students."

Tamil is the native language for Dobbs. She learned English in a Montessori school as a child in India. She speaks four other Indian languages, and is most fluent in Hindi and Tamil. She has written for the AG's Bible Engagement Project.

Martin, who also is national director of the National Network of Women Ministers, connects with Dobbs in that capacity as well. Dobbs is on the NWM training team.

"Cynthia is a strong writer who has led webinars and online conferences," says Martin, 46. "She speaks about the supernatural and is incredibly prophetic."
Photo: Cynthia Dobbs (left) and Crystal Martin are leaders in Chi Alpha and ministry for women.