Hispanics Anticipate the Future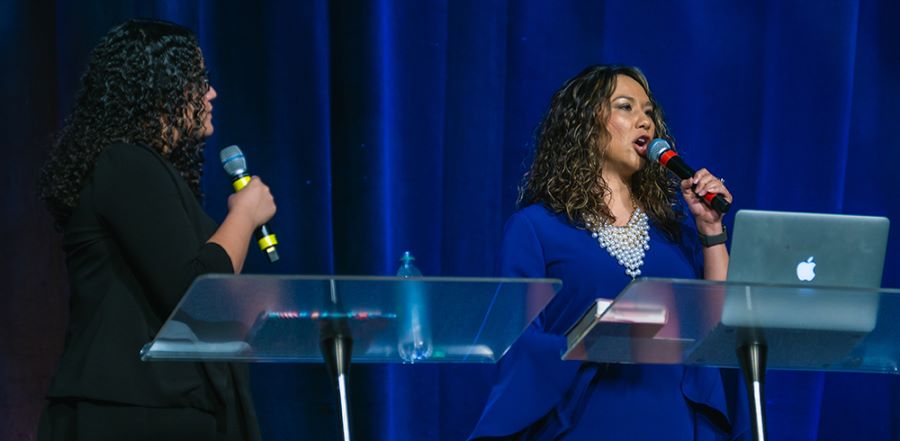 Don't miss any stories. Follow AG News!
HOUSTON — The greatest story of the Hispanic Assemblies of God is still being written, but it will only be realized once multiple generations embrace one another, align with the heart of God, and work toward a common purpose, Executive Presbyter Melissa J. Alfaro declared in a fiery and forceful closing consecration service Aug. 3 at the Hispanic Centennial celebration.

In sermons looking toward the future of the Fellowship, Alfaro and General Superintendent Doug Clay wrapped up the three-day gathering at the George R. Brown Convention Center.

"If we disconnect our past from our future, we either end up with a nostalgic church, or a contextually displaced church," said the 36-year-old Alfaro, the youngest member of the 21-member Executive Presbytery. "In order for the church to be effective in its mission, the past and present must converge, and the young and old must embrace, in a united effort toward 'generational synergy.'"

Christians miss many blessings because they surrender to the limitations of circumstances rather than surrender to the power of God, according to Alfaro, who serves as senior pastor of El Tabernaculo in Houston, with her husband, Jay.

"Our voice is not just to teach our children a history lesson, it's to empower the next generation for their divine assignment," said Alfaro, who has been Texas Louisiana Hispanic District Girls Ministries director the past eight years. "Our history should not only speak to what God has done but should prophetically infuse passion, vision, and hope in our children so that they can do more!"

Alfaro said if young people are unfamiliar with their spiritual heritage, they won't have the wherewithal and confidence to conquer the challenges that await them.

"We cannot allow fear or spiritual laxity to cause us to contract spiritual amnesia where we forget the faithfulness of God," Alfaro said.

Alfaro told the pastors and other ministry leaders that it's their responsibility to speak about the power of God to children. The faithfulness of one generation to communicate what God has done is imperative to the victories of the next generation, she asserted.

"Biblical history shows us that we are always one generation away from promise — or demise," Alfaro said. "Voiceless fathers and mothers will produce powerless sons and daughters. Your voice, your worship, your faith, your prayers, your speaking in tongues are connected to the protection and preservation of a generation!"

While pastors and other ministry leaders can lead, it takes a father and a mother to raise an influential generation, Alfaro said.

"Our children and youth are the generation that seeks the authentic and the supernatural," Alfaro said. "They are not content to just hear stories of the past. They want to experience it for themselves. And that determination will make them a mouthpiece in these moments of crisis."

In April, Alfaro gave birth to her first child, Jay David Alfaro III. Speaking at the centennial on her 16th wedding anniversary, she called the birth a miracle from God after struggling for years with infertility.
In his closing remarks, Clay commended pioneer Henry C. Ball, who, right after he became a Christian at the age of 14, began evangelizing Latinos — even though he knew no Spanish.

Ball became an Anglo missionary who co-organized the original AG Hispanic convention a century ago. He went on to serve as the first superintendent of the Latin America District Council in 1929 until a decade later.

"Your destiny is determined by God, and that destiny is set when He decided when and where you would be born," Clay said. "Our destinies are connected. You have a destiny that's tied with the Assemblies of God."

Clay cautioned attendees not to miss God's plans by following their own ambitions instead of the path the Lord has designed, whether that's becoming a church planter, inner-city educator, or missionary to a Muslim-dominated country.

"If you keep placing your will under God's will, then you will do the will of God," Clay said. "If you will give the Holy Spirit prime space in your life, He will keep your dream in focus."

Christians must align their plans with God's intentions for them, Clay stressed.

"Don't let fear cause you to abandon your dreams," Clay said. "Your dreams determine your destiny. God is giving you a dream this week. Don't settle for the American dream; capture God's dream."

Dennis Rivera, director of the Office of Hispanic Relations, proclaimed that the U.S. Hispanic Assemblies of God is set to become a sending church rather than being a scattered church. The 14 Hispanic district leaders announced a series of short-term and long-range goals. One vows to work more closely with the Missouri-based Assemblies of God national office.

Among the Hispanic districts' goals to reach by 2030, are 1 million conversions, $10 million in missions giving, and1,000 churches planted.