Keys to Great Volunteers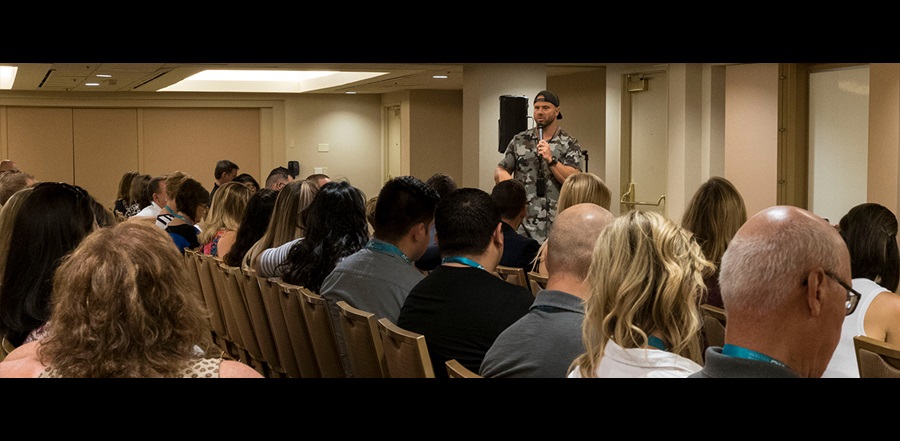 Don't miss any stories. Follow AG News!
"If you're motivated to find volunteers due to the shortage of volunteers rather than the potential of the person, everyone ends up feeling used," explained Greg Ford during the Influence Conference: Volunteerism breakout session held on Monday afternoon in Anaheim, California. "We must be motivated by the potential of the person, about their spiritual growth, and development."
Ford, who pastors One Church in Gahanna, Ohio, with his wife Shaylyn, originally moved to the city in 2010 with a vision to ignite a movement of Christ-centered, multiplying churches. After a year of building relationships, One Church was launched with a handful of people. Today, more than 1,000 people call One Church home — with much growth credited to volunteers.
As one of 28 breakout sessions, more than 100 filled the room to hear Ford's insights on finding, developing, and motivating volunteers.
Explaining that leaders need to approach each person according to their giftings — because smart people don't volunteer for things that don't inspire them— Ford urged leaders to identify potential volunteers' strengths and offer them opportunities according to those strengths.
Using a unique example, Ford says that those in the church who complain about the details, should be asked about volunteering for detailed oriented jobs.
Ford also recommended celebrating volunteers over attendance.
Loren Zamora, campus pastor at Project Church in Sacramento, California, identified with the recommendation. "Having serving goals rather than attendance goals really stood out to me," he said. "It was very helpful."
Ford took time out to help pastors put into perspective the incredible value of volunteers. Pastors need to be able to explain how every volunteer effort can legitimately be considered "the most important job in the church," whether that be working in the parking lot, being security in the children's area, or whatever position it may be. "If you can't do it, then you don't need to be doing what you're doing," he said.
Timothy Cruz, youth and young adult pastor for Liberty Church in Shrewsbury, Massachusetts, was impressed by Ford's straightforwardness.
"I appreciated his honest and vulnerability in that we need volunteers and can't do it without them," Cruz observed. It's not all about the pulpit — it's not the pastor— it's the person who's volunteering."
Ford admits that sometimes volunteers and positions don't work out. If it's a character or attitude issue, and guidance doesn't correct the issue, Ford advises to remove the volunteer; if it's a matter of competency, simply moving the individual to a lesser role while they learn and develop keeps the person involved while their abilities develop.
One of the keys to helping people to be willing volunteers, Ford says, is to clearly state what a person would be volunteering for as well as for how long, such as once a week for the next six months, as it gives the person an endpoint rather than something vague and "until Jesus comes." "It also gives the church a chance to re-evaluate if that person is right for the position," he says.
According to Ford, a big part of a church moving forward and experiencing growth occurs when someone gets a "good job" in the church — the person become emotionally connected, attends more regularly (and therefore their family does as well), gives more to the church, and develops spiritually.
We've found that there are five reason people stay at a church, Ford says. They enjoy the services, their family enjoys the church, they have a friend or friends at church, they have a good job in the church, or they feel like they're a part of changing the world. Any one of those things can cause a person to stay at a church . . . , but what if they found all five of those things in your church? It would be a hard church to leave!