Millennial Missionary Breaks Generational Barriers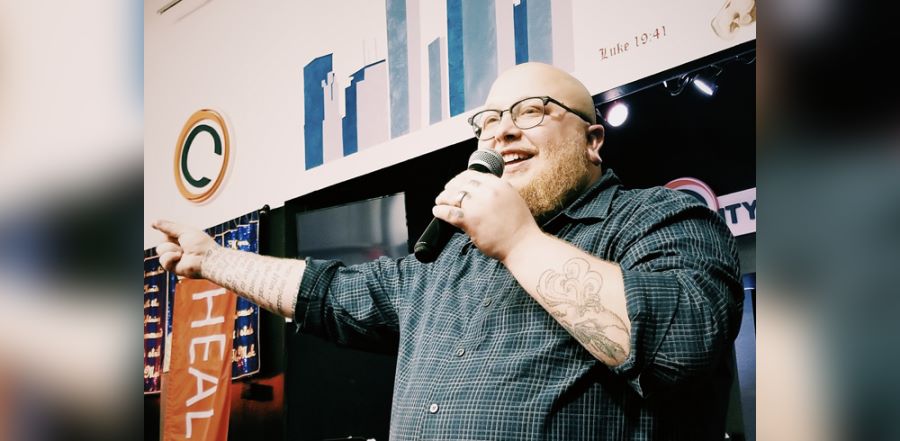 Don't miss any stories. Follow AG News!
Assemblies of God U.S. missionary Daniel B. Robertson, 31, doesn't fit the old-fashioned stereotype of what missionaries look like. He sports a beard, tattooed sleeves, and gauges in his earlobes.
His multitude of tattoos point people to the gospel and have proved to be an incredible evangelistic tool. They include the "Romans Road" (a presentation of salvation based on the biblical book of Romans). On a previous mission in Mexico, the tattoos even opened the door for him to witness to drug cartel members.
"He can literally tell people the gospel from his arm," says his wife, Elisha, 34.
The Robertsons, with their 7-year-old daughter, Elizabeth, work cross-generationally to help build churches and strengthen congregations. In their ministry with U.S. Church Mobilization in Indiana and Ohio, Daniel oversees volunteer church teams and RVers who build, remodel, and renovate churches. The team assignments usually last one to three weeks, whereas the RVers may spend months at a job site.
Many of the RVers are retirees who leverage their free time and considerable expertise for church projects. Robertson's unconventional appearance sometimes makes for a comical dynamic.
"It's not lost on anyone that we work with a lot of older people," Robertson says with a chuckle.
Billy D. Thomas, senior director of Church Mobilization in Springfield, Missouri, has found RVers take to Robertson because many of their grandchildren have tattoos.
The younger couple fosters humility and mutual respect when collaborating with people of different ages. These cross-generational encounters have held surprises for all involved.
"We've found that the older people are, the less they care about how others look," Elisha says. "They're just all about the Kingdom."
Daniel recounts visiting a senior pastor who had been ordained for 60 years and wore a three-piece suit to preach. The old-school Pentecostal minister invited Robertson — attired in jeans and a polo shirt — to preach from his pulpit without hesitation.
Retiree and RV volunteer Al H. Martin is a veteran construction supervisor who has overseen church building projects for 12 years. Being newly tasked with supervising building projects and teams, Robertson sought him out, eager to learn.
"He was like a sponge, just wanting to absorb everything," says Martin, 74, of Bradenton, Florida. "He's a good worker. And he has a jolly personality. There are a lot of laughs."
The Robertsons are quick to honor the contributions of the retirees. Robertson has been impressed by their knowledge.
"Many of them have forgotten twice as much as everything I know," he jokes. While not a contractor, Robertson is a jack-of-all-trades, with a variety of construction skills, as well as other talents.
Church mobilization requires all types of skill sets. As an example, Elisha and Daniel help not only on building projects, but with whatever a church needs to thrive. They founded a teaching and evangelism ministry in 2017. And as musicians, they help train and mentor worship leaders, often assisting congregations that want to develop live music for services. With her administrative and computer skills, Elisha, who is pursuing ministerial accreditation, also has provided training in accounting software for church staff.
With the current trend toward working remotely and living small (such as tiny houses or RV living), the Robertsons hope to recruit more younger adults. With these recent developments, volunteers can be more mobile and may not have to wait until retirement to serve at various locations.
Even the youngest volunteer has a part to play. Elizabeth pitches in on job sites alongside the adults, helping with kid-friendly tasks, like cleaning and painting. At the tender age of 7, she already shows a penchant for management.
"She'll walk around with a clipboard and her checklist, keeping the grown-ups on task," Elisha says. "Sometimes she's bossing around pastors."