Miracle Inspires Faith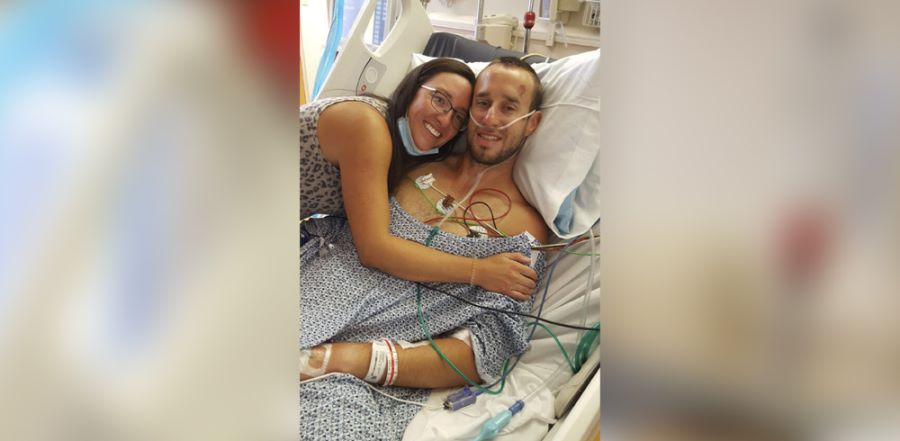 Don't miss any stories. Follow AG News!
The next generation of Christians are seeing prayers turn to miracles at the multigenerational
Hilltop Church
, an Assemblies of God congregation in Waukee, Iowa, a western suburb of Des Moines.
One answered prayer involved Brian Huber, 31, an adherent who suffered sudden death cardiac arrest while running a half marathon in August. Taken to a hospital and put on a ventilator, Huber's chances of recovery appeared low, according to Hilltop pastor
Brandon K. Beaman
, 31.
The next day, a Sunday, more than 50 church attendees gathered outside the hospital, reached their hands toward Huber's room, and prayed for his healing.
"We worshipped a little bit and then we prayed a simple prayer," Beaman recalls. "We said,
Brian, wake up
."
Huber's wife, Nichole, one of those outside praying, subsequently received a call from a nurse that Brian had started responding to a doctor's commands as the group prayed outside. The following day, Brian had progressed to the point he could be taken off of the ventilator. In practical ways, too, the church supported the family — which includes a 5-year-old son and 3-year-old daughter — with meals, lawn mowing, and heartfelt notes while Brian recovered. The Hubers moved to Iowa in 2016 and have no relatives in the region, but the experience has made them feel as though they do.
"The way people showed up for us from the church, we absolutely have a family here," says Brian, who is Midwest regional sales manager for Ferrero USA.
The effects of praying and receiving a miracle ignited churchgoers to have faith for other miracles, says Beaman, who launched the church in 2018 with the help of the AG's
Church Multiplication Network
Matching Fund
.
"Prayer has shot off like a rocket at our church," Beaman says. "It was a really cool moment for our church family, being so young, to see that God does heal and He does move mountains, and that our prayers are effective when we come together."
Three years ago, the dreams of Brandon and his wife, Katie, to plant a church in central Iowa went from hopes written on sticky notes covering the basement walls in their home to reality. Relationships and discipleship are key ingredients at Hilltop. The church grew because of
internet services
, sparked by both Iowa winter snowstorms and the challenges of COVID-19.
"Our goal is not to build big buildings, it's to build big people," Beaman says. "We value community most. We think Jesus left us with a model to disciple a smaller group of people who would eventually affect the entire world."
Hilltop Church is meeting in an IMAX theater complex. The congregation of 400 regular attendees has rented out a local zoo for a day in August, welcoming local residents to enjoy it for free, and holding a worship night there at the end of the day, with more than 1,000 people staying.
At the event, people were healed, saved, and baptized spontaneously.
"When you believe big, God shows up in big ways," Beaman says.
Prayer remains the heart of the burgeoning community. Together, attendees prayed Jericho-style around the theater complex in which they hoped to meet. While the opportunity had not existed before, they received an answer and began meeting there the following Sunday.
"I've never seen people so willing and so ready to serve the Lord every Sunday," says Brian Huber. "I see tremendous plans for the church from the standpoint of what God has planned for Hilltop: getting out into the community, making a difference, reaching people who need to hear the good word of Jesus."
Beaman says that Huber's miraculous recovery sparked faith among the congregants.
"Our prayer requests have gone through the roof since then," Beaman says. "People are believing big for miracles."
Huber had surgery to insert an implantable cardioverter-defibrillator into the side of his ribs. He received medical clearance to return to work and resume all normal activities on Oct. 4.
"My kids are so happy they can give me hugs now that my incision has healed," Huber says.