More than 50 AG Churches Damaged or Destroyed by Hurricane Michael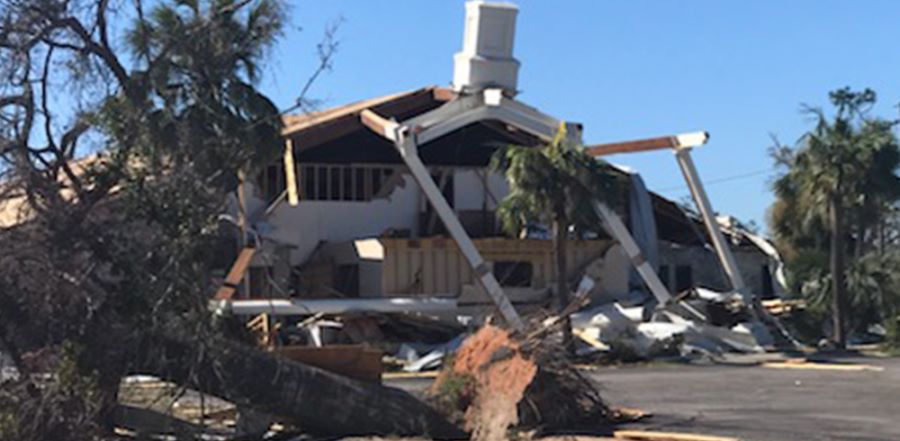 Don't miss any stories. Follow AG News!
Of the 85 Assemblies of God churches in the Florida panhandle that were in Hurricane Michael's strike zone last week, 50 have reported damages. Of those, 20 churches were seriously damaged and five have catastrophic damages.

Tommy Moore, the West Florida district superintendent, shares that there's devastation for about 70 square miles from where the hurricane made landfall — Mexico Beach — which encompasses the heart of the West Florida district.

According to Convoy of Hope reports, the compassion organization had already unloaded more than 20 tractor-trailer loads of relief supplies for the victims of the hurricane. In addition to distributing more than 300,000 pounds of food, water, and other disaster relief supplies to thousands of victims from their central hub in Marianna (which is also home to the West Florida District Council offices), Convoy of Hope volunteers loaded dozens of police patrol cars with supplies to be delivered to devastated neighborhoods. Supplies have also been delivered to 18 surrounding communities.

The West Florida district has also launched Project 2:20, a comprehensive effort aimed at a long-term recovery effort based on Nehemiah 2:20, with the tag line: "We His servants will arise and rebuild."

Moore explains that Project 2:20 divides the impacted area into three tiers, each with its own coordinator and central distribution point. The district office team will focus on assisting with church insurance and financial assistance, coordinating Convoy of Hope distribution, providing Serve Team (volunteer) coordination, and be home to the tier management coordinator.

The Project 2:20 plan of action states, "The objective is for every church to be able to do as much as they are able to do to serve the needs of their community as soon as the immediate needs are met at their facilities."

One of the key financial aspects of the plan is the request for churches to "adopt a church" that has been impacted to help pay the pastor's salary for the next three months. It is expected that with so many homes impacted, attendance will drop dramatically in some areas, and especially if the church building itself also has significant damage.

A miracle of sorts was reported by Moore. The tidal surge from the hurricane came to the very front door of the New Beginning AG in Port St. Joe/Highland View and stopped, leaving an approximately 6-foot wide and over 1-foot-high bank of debris along the edge of the building. "The tidal surge moved inland several blocks beyond the church in other areas of the community, but for some reason, stopped at the very edge of New Beginning," Moore says.

According to the Georgia district office, Hurricane Michael damaged several churches. So far seven AG churches have reported damage from the hurricane, including:
• Connection Church in Bainbridge, Pastor Ken Davidson
• Harvest Assembly of God in Bainbridge, Pastor James Scarborough
• First Assembly of God in Blakely, Pastor Jerry Murkerson
• First Assembly of God in Colquitt, Pastor Richard Vaughn
• New Covenant Assembly of God in Cordele, Pastor Rodney Chappell
• First Assembly of God in Donalsonville, Pastor James Scarborough
• Cornerstone Assembly of God in Pelham, Pastor Billy Smith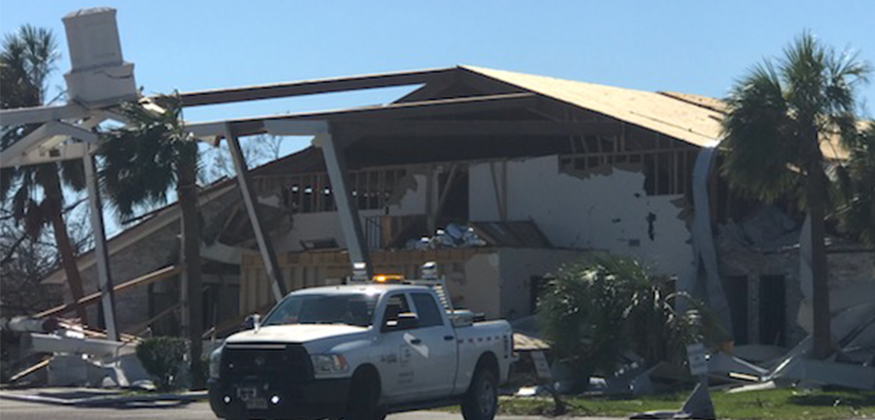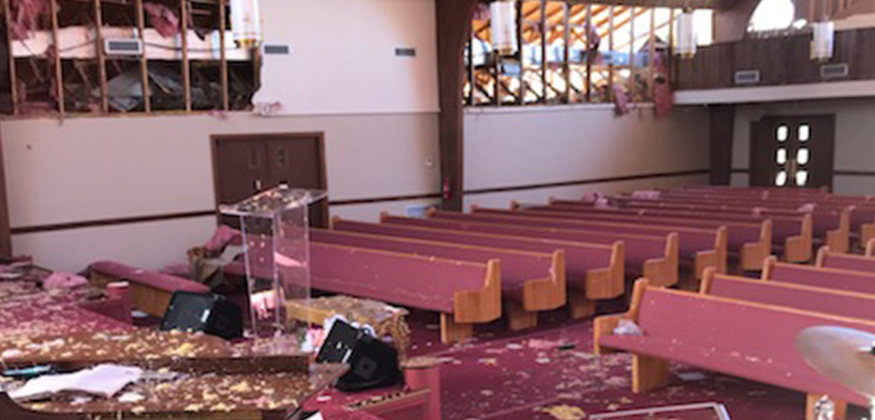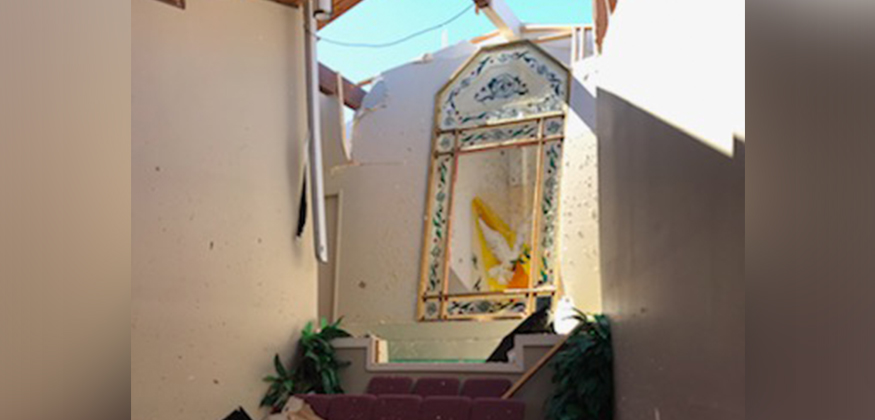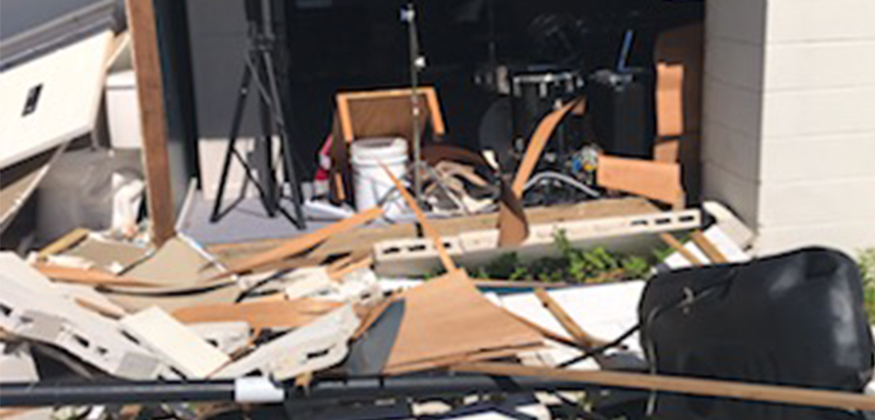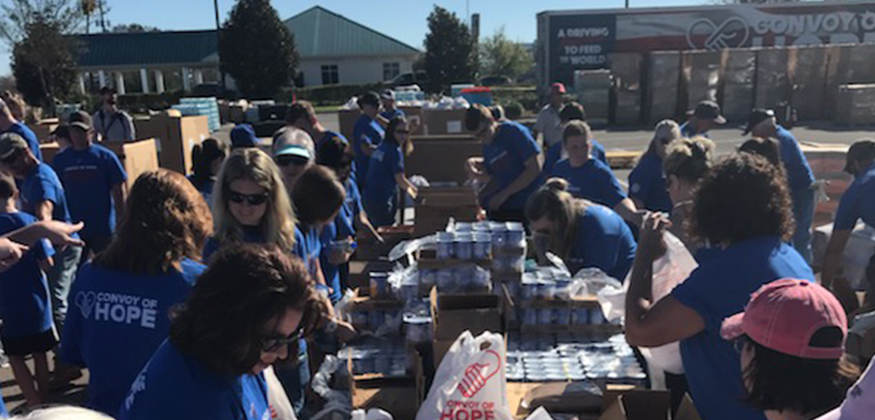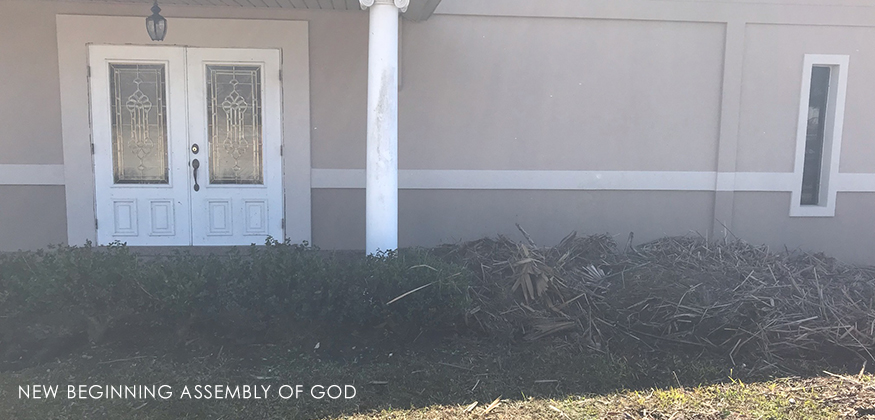 There were no reports of additional damage in the South Carolina or North Carolina districts. However, North Carolina, still reeling from the impact of the historic flooding due to Hurricane Florence, has had some amazing reports.

According to John Wotford, pastor of Cornerstone church in New Bern, North Carolina, and the district's Disaster Relief coordinator, multiple church-based agencies have been making their presence felt in the area.

"Convoy of Hope has distributed 1.5 million pounds of relief, Christ in Action has already gutted 40 homes, and volunteers from churches from well over a half-dozen states have come to help," Wotford says. "In addition, the Fuller Center for Disaster Recovery has just agreed to spend the next three to five years helping people rebuild their homes."

Wotford and Cornerstone church have agreed to house 40 volunteers a week for the next year from the Fuller Center. The volunteers are coming to rebuild homes and will not charge for their labor.

"There are 4,700 homes in our county alone that were damaged by flooding," Wotford says. "And of those, it's been reported that only about 3 percent had flood insurance."

According to Wotford, FEMA will only pay up to $34,000 to homeowners — with many only receiving $5,000 to $6,000 — not near enough to gut and restore a home. However, the Christ in Action workers are saving home owners tens of thousands of dollars. Wotford says a company gutted a home next door to a home Christ in Action was gutting, charging the customer $22,000 to gut their 1,500-square-foot home; the similar-sized Christ in Action home was gutted at no charge. The Fuller Center for Disaster Recovery volunteers' efforts will likely save home owners even more.

"I would estimate 90 percent of clean-up work and work being done on people's home is being done by non-profit church groups," Wotford says. "This is where Christians really shine . . . people can lose hope very quickly. It can be frustrating and scary — people not knowing where to turn — but when the Church steps up, it gives people hope."

Even though Cornerstone itself suffered up to $200,000 in flood damage, the church is continuing to focus on its community. After homes are gutted, they present home owners with a gift basket that also includes a little information about the church — and shares about the planned arrival of the rebuilding teams.

"People taking off weeks of work and taking their vacation days to come in and pull out wet moldy carpet and sheet rock, and only asking for a place to sleep and eat," Wotford says thoughtfully. "I believe that's one of the greatest examples of Christianity for any community."

For more information about the efforts in North Carolina, contact Wotford through the Cornerstone website. For more information about the Georgia efforts, contact the Georgia district office. To learn how to help the West Florida district, connect through its website or, to volunteer, send an email to: Melissarenee88@gmail.com (put "Hurricane Michael volunteer" in subject line) or call/text 480-773-3577.